DICE recently unveiled two new trailers for Battlefield V during Gamescom 2018. The studio also showcased several new gameplay demos, giving fans a chance to see what the game will look and play like. NVIDIA has used the opportunity to highlight their new series of GPUs; used to power at least one of the demos, and which were designed to include a feature known as ray tracing.
Ray Tracing in the Battlefield 5 Graphics
Ray tracing is a relatively new rendering technique used in video game graphics. When applied, the technique helps to run a variety of real-time cinematic effects, especially based around light reflections. NVIDIA released a video showcasing the power of their new GPU series; the RTX 2000. The company also partnered with DICE to run a stage demo of Battlefield 5 for part of their Gaming Celebration event. The results are impressive, to say the least.
To illustrate the power of ray tracing, the demo sets off an explosion next to a car; as a result, the car's surface lights up in real-time with reflections of the blast. The same also occurs in the reflection of a flamethrower in puddles and glass windows. With RTX switched off, these details were lost in their entirety. The technique goes a long way to improving the realism of the game. Explosions and other effects were even reflected on things as small as the metal parts of firearms.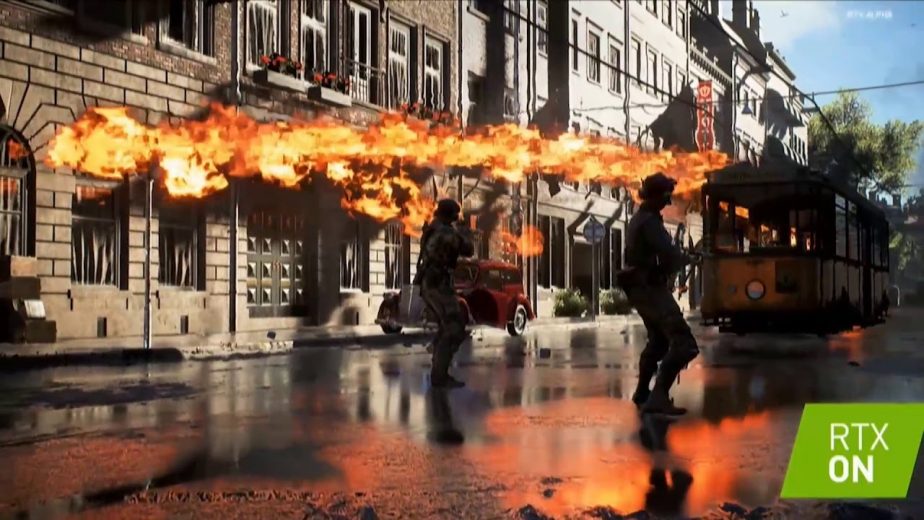 Battlefield 5 is one of several upcoming games which will feature support for ray tracing. Shadow of the Tomb Raider will as well, along with Metro Exodus and several others. Of course, it will only be possible to run on a new and high-quality GPU, so unfortunately console players likely won't see anything like it for some time. NVIDIA CEO Jensen Huang has described ray tracing, and the "Turing" architecture which supports it, as; "the single greatest leap that we have ever made in one generation."