Earlier today, DICE officially announced Battlefield 5 Chapter 6 'Into the Jungle,' the first Tides of War chapter to arrive in 2020. When this new Chapter launches on the 6th of February, it will be continuing the Pacific Theatre conflict with the addition of a new map; Solomon Islands. In contrast to the War in the Pacific maps, the Battlefield 5 Solomon Islands map is dominated by dense jungle. As such, the map favours stealth, ambushes, and close-quarters combat.
Battlefield 5 Solomon Islands Map Coming in 'Into the Jungle'
"Danger and opportunity are everywhere," writes DICE; "On Solomon Islands, you'll fight through a jungle environment where you never know what's lurking around the riverbend, by the dark mangroves, or in the hidden bunkers. Whether you're launching an American attack or defending the Japanese lines, the terrain can be your best friend – or your worst enemy."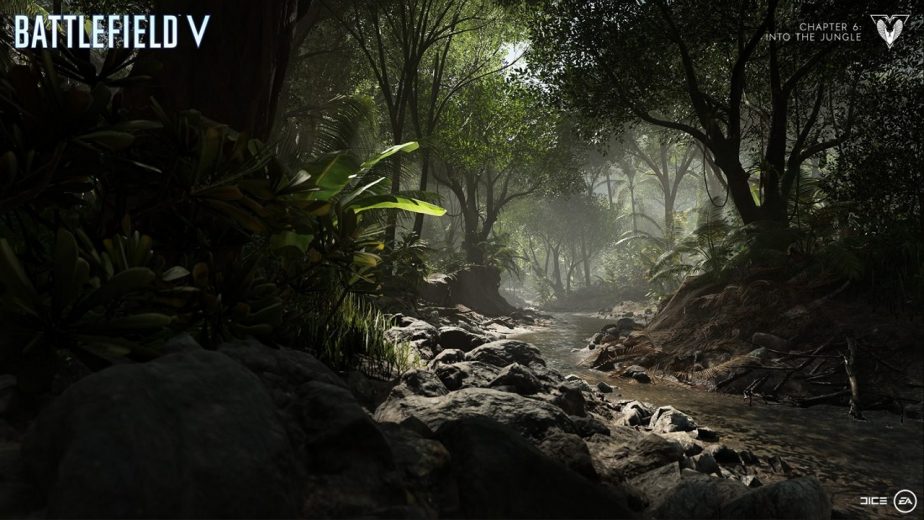 Unlike the open vistas of Wake Island and the other War in the Pacific maps, the Battlefield 5 Solomon Islands map gives players a new look at the Pacific Theatre. Although it does feature some coastal areas with less dense cover, much of the map consists of winding jungle. These paths are full of bottlenecks and other places to launch ambushes. As such, the map puts vehicles at a disadvantage, especially with the arrival of the Lunge Mine. This new gadget allows players to dramatically destroy tanks, but only at extreme close-range.
"We've designed Solomon Islands for intimiate jungle infantry combat combined with land and sea vehicle warfare," explains DICE; "You'll notice how a mode like Breakthrough shines when played on this map. Defenders can stay hidden and use the terrain to hold the line, but attackers will have several options: flanking, sending in infantry, or utilising landing boats for a frontal assault."
The Battlefield 5 Solomon Islands map will be available in one week's time; Into the Jungle will launch in-game on the 6th of February. Beyond Solomon Islands, DICE has yet to reveal what other maps might be coming later in the Chapter. However, they have revealed several new weapons and gadgets, as well as three new Elites.