The fifth Chapter of Tides of War, Battlefield 5's War in the Pacific, is due to launch tomorrow. Ahead of that launch, DICE has now released the full War in the Pacific patch notes. These detail exactly what's coming to the game in Chapter 5. While these notes do confirm the launch content that will be immediately available, they also detail an array of changes and fixes, including quality-of-life improvements.
The Battlefield 5 War in the Pacific Patch Notes
In addition to confirming the content available at launch for Chapter 5, the War in the Pacific patch notes include several new gameplay features. For example, players will now be able to inspect both of their weapons while playing by holding down the commorose button and pressing reload. The update also fixes numerous weapon bugs, improves the detection of fire damage against soldiers, and more. It also increases Incendiary Grenade damage. As healing rates no longer stack, Medical Crates now have a greater regeneration rate.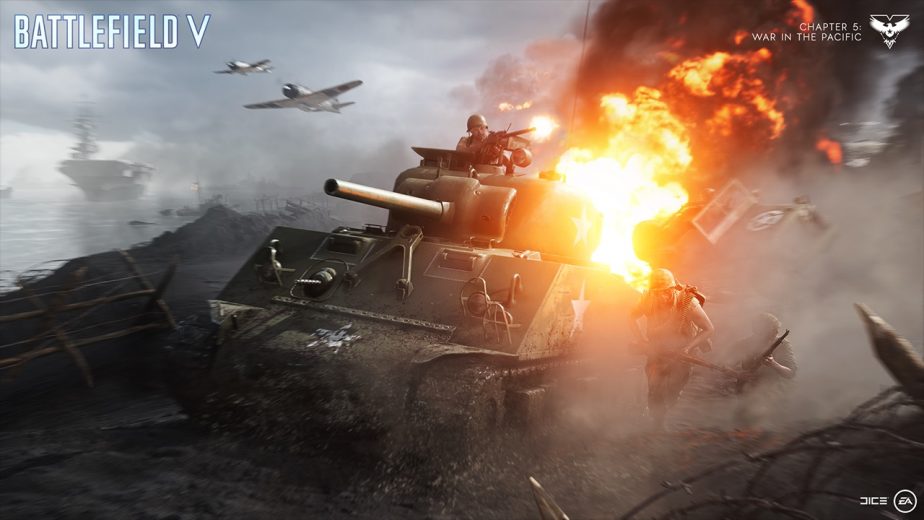 As far as balancing is concerned; the patch increases the fire rate of the Model 8, reduces the recoil of the Suomi, and slightly reduces the accuracy of the Lewis Gun. Additionally, a problem that made all fully automatic and burst fire weapons less accurate when burst-firing has been fixed. More than two dozen minor bugs affecting soldiers have also been fixed. Interestingly, soldier collision has now been disabled as soon as a player dies. This means that players can now move through dying soldiers immediately.
Of course, the patch notes also include dozens of vehicle and map fixes, audio improvements, and updates to the UI. If you want to peruse these fixes in detail, the patch notes are available here. At the very end, DICE also confirms that in addition to Wake Island, they are working on bringing private games to Battlefield 5 later in Chapter 5. Details for this addition are currently under wraps, however.