After teasing a new Fallout 76 PvP mode since December, Bethesda has now revealed details about the upcoming new way to play the game. The mode will be called 'Survival,' and will soon be available to play in a Beta form as part of a game update. The mode removes most of the PvP restrictions from the normal version of the game, making PvP much more risky.
Survival: The Upcoming "Hardcore" Fallout 76 PvP Mode
"Since the launch of Fallout 76," explains Bethesda, in their latest 'Inside the Vault' news blog; "we've received lots of feedback from some of our more competitive players who requested greater challenge, fewer restrictions, and more incentives when it comes to PvP combat. With this is mind, we began developing Survival mode, which will bring a new way for you to engage in even more demanding, high-stakes, and deadly adventures in Fallout 76."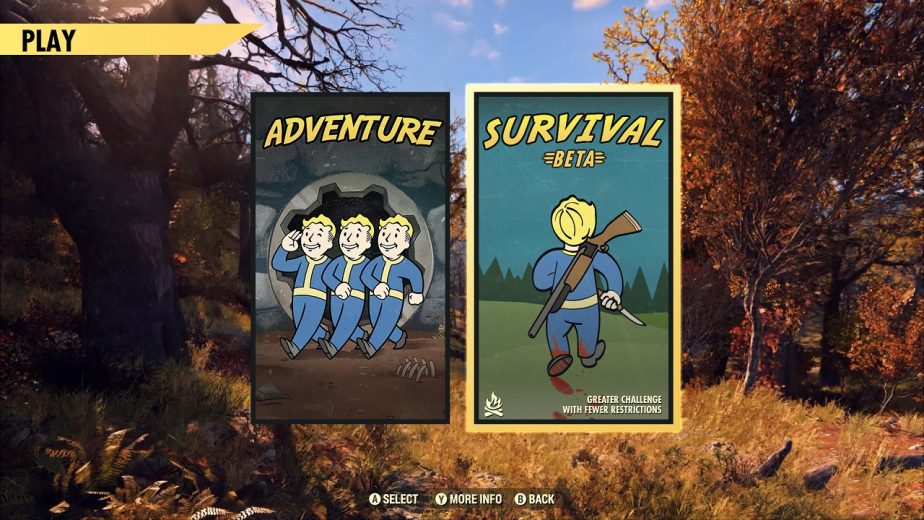 This upcoming 'Survival' Fallout 76 PvP mode is still in development at Bethesda. However, the studio is hoping to release a playable Beta for the mode in March. The mode is a new way to play Fallout 76, distinct from the main game. When you select Play in the game's Main Menu, you'll have the option of playing the game normally, or in Survival mode. The two modes have identical content besides the changes to PvP. Players can use their existing characters from the game's standard version when they choose to play in Survival, or make new characters. Of course, any progress made in Survival mode will carry over.
In Survival mode, every other player in your server is automatically hostile toward every other player. This means that there's no opt-in system for PvP, and players won't see their damage reduced when shooting at people who don't want to engage in PvP. If you see another player, either of you are free to turn on the other at any time. However, the level scaling seen in PvP in the standard version of Fallout 76 will still be present. As such, high-level players won't be invincible when fighting against new, lower-level players. Also available when the Beta first launches, Bethesda is planning to create in-game leaderboards. They have yet to detail exactly what stats they will be tracking with these, however.
Changes and Features Aren't Set in Stone
For now, the same revenge mechanics which exist in the standard game don't exist in Survival mode. You can only choose to respawn at Vault 76 or your C.A.M.P. On the other hand, killing another player will award you with double the usual amount of Caps in Survival mode. Plus, the player may drop Aid items or other things along with their Junk when they die. As a result, there's higher risk and reward throughout the new mode, at least for now; "It's important to note that these changes aren't set in stone," says Bethesda; "and we'll be looking to make adjustments based on playtesting and your feedback during the Survival Beta."