Marking the one-year anniversary of the launch of Borderlands 3, Gearbox today launched the 'Borderlands 3 Anniversary Celebration'; an extended period of weekly mini-events which will last for the next six weeks. The first of these events, ECHOcast Overload, is now live in-game following a patch that went out earlier today.
Borderlands 3 Anniversary Celebration: ECHOcast Overload
"The Borderlands 3 Anniversary Celebration events start today," explains Gearbox; "with ECHOcast Overload! During this event, viewers watching their favourite streamers play Borderlands 3 will have a greater chance of winning loot during Rare Chest Events in the ECHOcast Twitch Extension."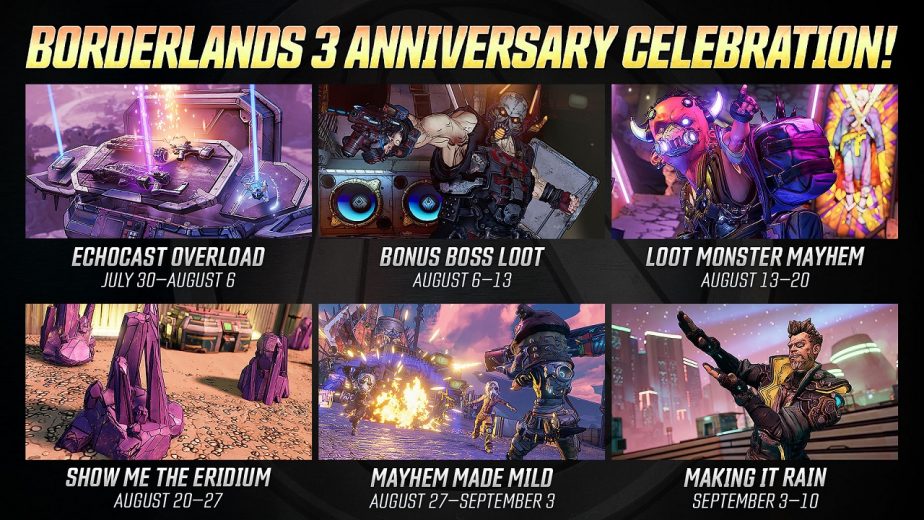 The ECHOcast Overload event, which is the first of six planned events in the Borderlands 3 Anniversary Celebration, will be live until 9:00 AM PST on the 6th of August. After that, Bonus Boss Loot will take over, and so on and so on for the next six weeks. Like previous mini-events, each one is relatively minor, only making small changes to the game in each case. Bonus Boss Loot, for example, simply increases the chance that bosses will drop Legendary loot.
Players have one week from today to enjoy the bonus chance at scoring loot in ECHOcast Overload. While watching Borderlands 3 streamed on Twitch might not be for everyone, other types of players should find a mini-event more to their liking in the next month-and-a-half. Mayhem Mode players, for example, can look forward to all Easy modifiers being activated in the fifth mini-event. Indeed, in the sixth and final week, all enemies will simply drop more cash during the Making It Rain event; something which almost every player should be able to get behind. The full six events during the Anniversary Celebration are as follows:
ECHOcast Overload (July 30th – August 6th)
Bonus Boss Loot (August 6th – August 13th)
Loot Monster Mayhem (August 13th – August 20th)
Show Me The Eridium (August 20th – August 27th)
Mayhem Made Mild (August 27th – September 3rd)
Making It Rain (September 3rd – September 10th)