Following the recent fifth episode of The Borderlands Show, Gearbox has given fans a clearer picture of what they can expect from Borderlands 3. Not only is a new Valentine's Day event available from today, alongside the launch of a new patch, but another large patch is due to arrive in March; delivering even more requested changes and new features. When it comes to the next Borderlands 3 DLC, however, fans now know when they can expect to see an official reveal.
Borderlands 3 DLC Details and More Coming at PAX East
Moxxi's Heist of the Handsome Jackpot, which launched back in December, was the first major Borderlands 3 DLC. It was the first of four planned story DLC releases which together comprise the game's Season Pass. The remainder of these add-ons are expected to launch throughout 2020. As such, the second DLC may not be that far from its own release. Although Gearbox didn't reveal anything about this upcoming expansion in The Borderlands Show, they did subsequently detail when fans will get to see an official reveal.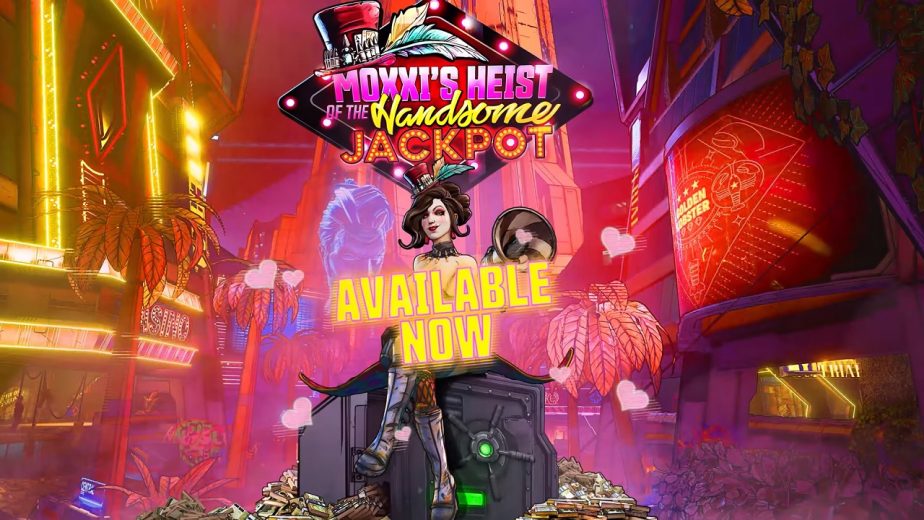 "You'll be happy to know that some major announcements are coming at the end of the month," wrote Gearbox, in a news post on the game's official website; "Expect tons of Borderlands 3 goodness – including a reveal of the second campaign add-on – at Gearbox's PAX East panel."
PAX East 2020 is taking place towards the end of February. Specifically, Gearbox's panel itself will be on the 27th. The panel will start at 11:30 AM PST / 2:30 PM EST / 7:30 PM GMT. Of course, if you're not going to be attending the event, you'll still be able to watch the panel live. The whole event will be livestreamed on Gearbox's Borderlands Twitch channel. Gearbox went on to note that; "it's sure to lead to some big points of discussion during next month's episode of The Borderlands Show". As such, it's likely that the DLC's release date will be in late March or early April, after the March episode of the show.