The third week of Gearbox's month-long Borderlands Anniversary celebration is here, and that means another weekly event for players to enjoy. This week, the event is "Show Me the Eridium!" and this Borderlands 3 Eridium event makes it far easier for players to gather the rare purple currency. In fact, you can even get Eridium drops from standard enemies!
"Show Me the Eridium!" – The Borderlands 3 Eridium Week Event
All through October, Gearbox is celebrating the 10-year anniversary of the release of Borderlands with five weekly events. The first focused on bosses, while the second drew players' attention to rare spawns. Now, the focus is firmly on Eridium. This week is the perfect time to gather up this currency to purchase any of the cosmetic items or weapons you've been wanting from Crazy Earl; the sole merchant in the game who only accepts Eridium as payment. Normally rare, Eridium is now incredibly plentiful, but only for the next week.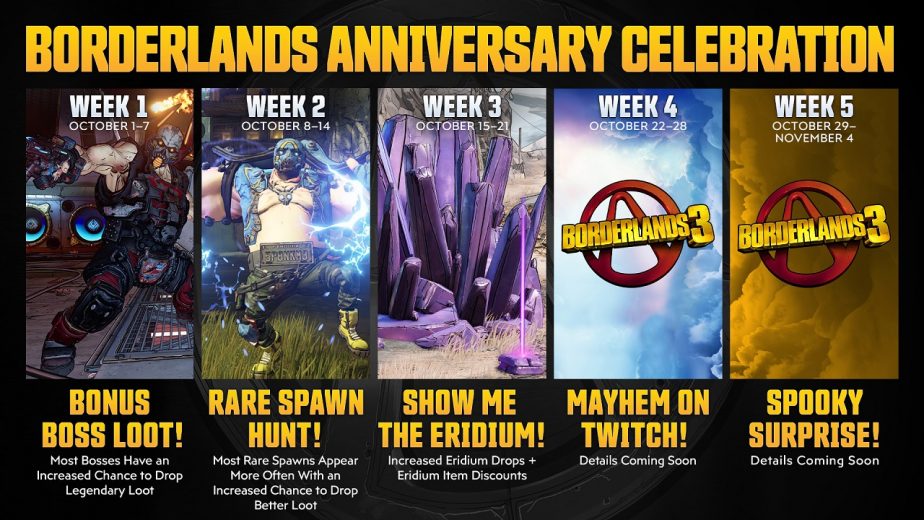 "For the duration of the event," explains Gearbox; "there will be Eridium drops added to standard enemies, increased Eridium drops in Mayhem Mode, discounted Eridium costs to use Moxxi's Vault Line slot machine, and a discount on all the coveted items at Crazy Earl's hideout in the Cargo Bay of Sanctuary III."
Show Me the Eridium will be live from today through to the 22nd of October, when the fourth weekly event will start. It's currently unknown exactly what the fourth and fifth events will be. However, the next event is entitled "Mayhem on Twitch," while the fifth and final event is "Spooky Surprise". The latter is likely to coincide with the start of the upcoming Bloody Harvest event. For now, the former is more mysterious. However, the name does seem to imply that it will involve the game's ECHOcast Twitch extension in some manner.