Tomorrow, on the 26th of March, Gearbox will be launching Guns, Love, and Tentacles: The Marriage of Wainwright and Sir Hammerlock; the second major story DLC for Borderlands 3. As normal, the release will also be accompanied by a major free game patch. However, this won't just include bug-fixes and stability improvements; tomorrow's patch actually features some significant changes for the game's endgame experience, including an increase to the Borderlands 3 max level.
Borderlands 3 Max Level and Endgame Changes
At launch, the Borderlands 3 max level was set at 50. While this provided an ample amount of skills and options initially, many players hit 50 months ago, and have been calling for an increase ever since. As such, Gearbox did roll out a small increase in a patch earlier this year. However, they only increased the max level to 53. Understandably, the developers have been wary of providing a larger increase all at once, given that doing so has the potential to cause all manner of balancing problems. However, it seems that the studio is finally ready to give players a bit more power. When tomorrow's patch goes live, the max level will rise all the way up to 57.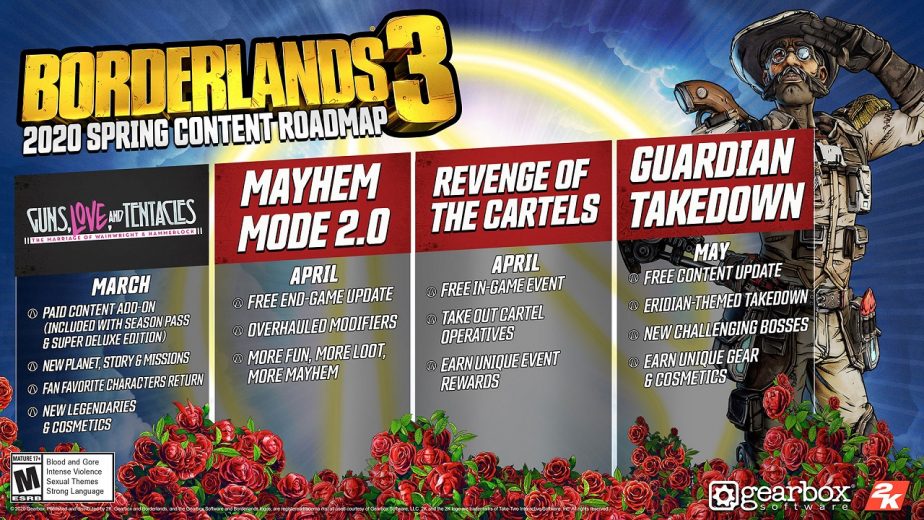 Of course, this will give endgame players four more skill points to invest in their builds. However, there is a very important factor to be aware of; this increase means that, for the first time, players will be able to unlock two capstone skills rather than one. Because of this, players may see a much more dramatic increase in power than they did after the first raise.
Borderlands 3 endgame players have plenty to be excited about in the next couple of months. Following tomorrow's max level increase, Gearbox plans to launch the upcoming "Mayhem Mode 2.0" endgame overhaul in April. (See the full Spring 2020 roadmap above.) Among other changes, 2.0 will put Mayhem Mode into its own tab on your ECHO device, rather than having its settings solely aboard Sanctuary III. There will also be 10 Mayhem levels, with more than 25 different Mayhem Modifiers. Your Mayhem level will also impact the loot you get, so that each level provides you with gear strong enough to challenge the next level.