Alongside the impending release of Guns, Love, and Tentacles, the all-new Borderlands 3 story DLC, Gearbox has announced that they will also be adding something new to the game's ECHOcast Twitch extension. Called Moxxtail Events, this new feature will be available from tomorrow. Essentially, they will allow a streamer's audience to mix buff-providing drinks for a streamer using Twitch Bits.
How the New Borderlands 3 Moxxtail Events Work
"It's a nice gesture to buy someone a drink from across the bar," writes Gearbox; "but have you ever sent a complimentary drink from across the internet? With the new Moxxtail Events added to the Borderlands 3 ECHOcast Twitch Extension on Twitch, you can mix a drink for your favourite Vault-hunting streamer using Twitch Bits and power them up with some helpful buffs."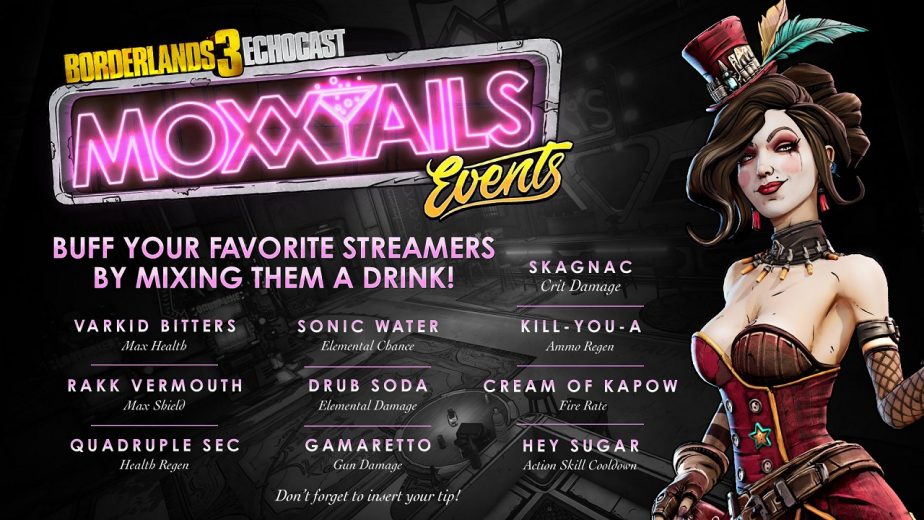 Launching tomorrow as a free update alongside the Guns, Love, and Tentacles DLC, the Borderlands 3 Moxxtail Events will be available for any streamer who enables them. To trigger an event, viewers will need "Bits of Sugar," which are of equal value to Twitch Bits. When someone in the audience donates a Bits of Sugar amount equal to or over a threshold set by the streamer, it triggers a Moxxtail Event. Moxxi will then present a tip jar to the audience, prompting them to tip; the more tipped here, the more effective the buff will be. (Every buff has up to five tiers of effectiveness.) The event will track the first person to donate, the person who donates the most, and who donated most recently.
Once the tips are collected, Moxxi presents the audience with a random set of ingredients from a possible ten. The audience will then get to vote in a poll; the most popular option will provide its associated in-game buff to the streamer. Additionally, the second-most popular option will also provide a small buff alongside the first. These buffs don't simply apply automatically though. Rather, the event causes a special chest to spawn in front of the streamer, out of which they can acquire the chosen buff.