On the 25th of December, Call of Duty: Mobile finally debuted in China, long after its release in Western markets. Now, data from the game's first week has shown that the mobile title has already made millions of dollars. However, Call of Duty: Mobile didn't manage to break into the top three mobile titles during that week; highlighting just how huge the Chinese mobile market is.
Call of Duty: Mobile's First Week in China
From the 25th of December to the 31st, Call of Duty: Mobile ranked at #4 in the Chinese mobile market, generating around $14 million. The data was gathered by Sensor Tower, along with the profit figures of the other titles in the top five. PUBG Mobile continues to be enormously successful in China, for example. The older battle royale mobile title was the second-most successful mobile game in the same week, with profits of around $24 million.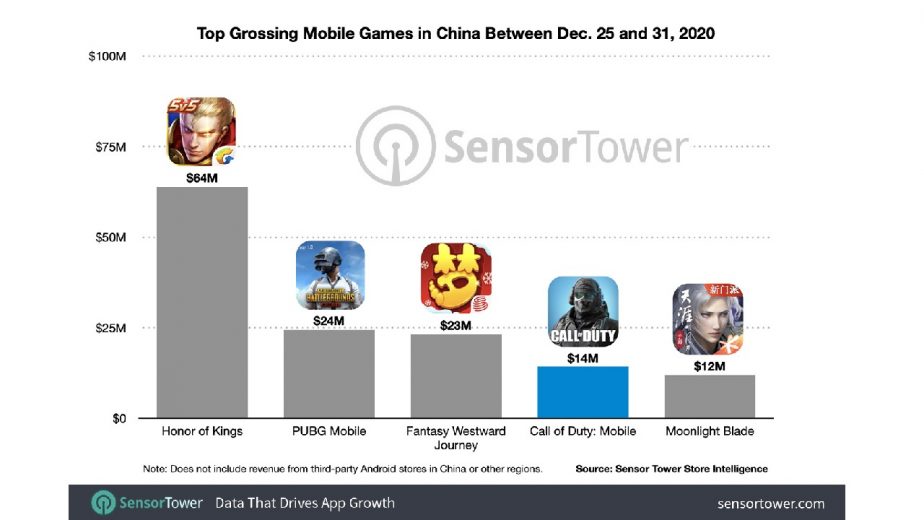 Meanwhile, Chinese titles Moonlight Blade and Fantasy Westward Journey took the #5 and #3 spots respectively. The former made around $12 million, while the latter fell just short of PUBG at $23 million. However, all four titles paled in comparison to Tencent's mobile title Honor of Kings. This game alone, as China's biggest mobile game at present – generated around $64 million.
Including this launch week in China, Call of Duty: Mobile has now generated revenue of almost $644 million since release, making it one of the most successful mobile games of all time. $287 million of its total revenue has come from the United States, which accounts for around 18% of its total playerbase. The game has been downloaded more than 300 million times, with 54 million downloads in the US alone. Last year, the game was awarded Best Game of 2019 by Google Play, along with Best Competitive Game. Plus, it was voted by gamers to win the User's Choice Award at the same Google Play awards.