CD Projekt Red's Cyberpunk 2077 Twitter account caused controversy among fans yesterday due to a controversial Tweet. Although the Tweet appeared to be in jest, it struck many who saw it as being transphobic and prompted swift backlash. CD Projekt Red has now issued a formal apology.
The Controversial Tweet and CD Projekt Red's Apology
The official Cyberpunk 2077 account responded to a fan's Tweet yesterday, pictured below. The fan appears to be expressing a desire to hear more about the game. However, many saw the response as transphobic.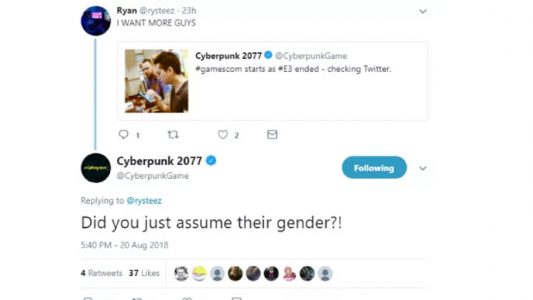 The tweet was not explicitly transphobic in its content. However, the meme which it references has notably transphobic associations; the line has often seen use as a demeaning exaggeration of transgender people and those who support them. The tweet has since been deleted. It's unclear if the joke was intended to be transphobic. During E3, Patrick Mills was asked whether CD Projekt Red would consider adding gender choices beyond just male and female to the game, and he responded that; "It's too early to say, but it's definitely something we've looked at."
Clearly, CD Projekt Red is aware that this is an issue which people are paying attention to. As such, it seems unlikely that the studio would permit their employees to tweet something intentionally offensive. It seems more likely that this was a misguided attempt at humor by an individual who didn't realise the connotations of their statement. CD Projekt Red has since issued a formal apology.
Sorry to all those offended by one of the responses sent out from our account earlier. Harming anyone was never our intention.

— Cyberpunk 2077 (@CyberpunkGame) August 21, 2018
Hopefully fans can look past this minor controversy. The studio was swift in their apology, and the Tweet itself doesn't appear to have had malicious intent. The mere fact that the development team have considered adding options for non-binary genders is notable in this debate; such a feature isn't even remotely standard for RPGs. If Cyberpunk 2077 did implement such a feature, it would likely be one of the most high-profile games to ever do so.