A new leak appears to suggest that fans of The Witcher series could soon see one of the games coming to the Nintendo Switch. The leak comes from a French online retailer and lists an upcoming Witcher 3 Switch port. Retail product listing leaks are rather common, and have certainly proven true in the past. However, there's more than a few reasons to be sceptical in this case.
French Store Listing Leak Seems to Suggest Upcoming Witcher 3 Switch Port
The apparent leak can currently be seen on the website of French retailer WT&T; a gaming and technologies distributor. While the page is still up and be seen here, it may soon be taken down by the website. The page, which is a product listing, has the title; "Witcher 3 – Switch". It also lists a release date of the 31st of December, 2019. However, this date is almost certainly a placeholder; it's common for retail sites to list the final day of a year as the release date until they receive the actual release date from the publisher.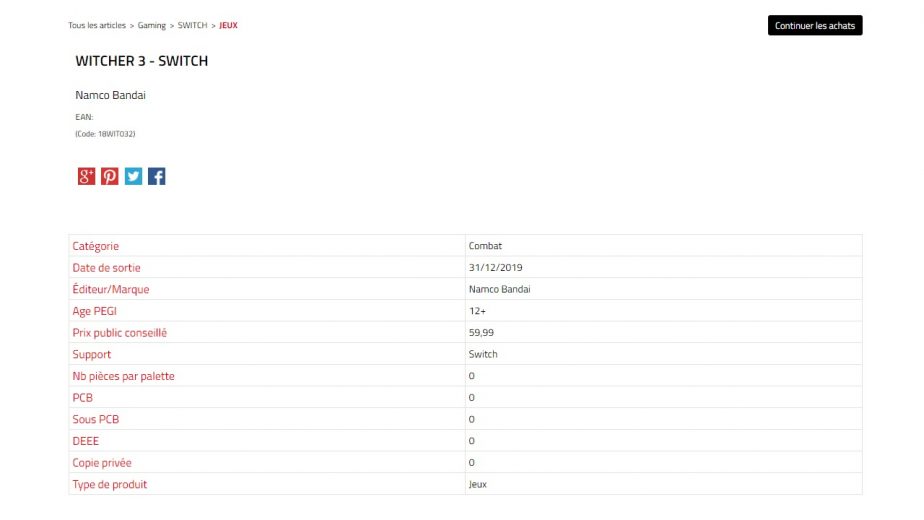 This appears to be a leak revealing that there will be a Witcher 3 Switch port in 2019. However, fans should definitely take this with a grain of salt. Retail leaks are hardly rare, and oftentimes they do turn out to be accurate. However, there's a few issues to be considered in this case. The most significant is that the Nintendo Switch just doesn't have the internal storage to handle very large games. ZeniMax Online Studios stated relatively recently that they had looked into bringing The Elder Scrolls: Online to the Switch, but found that the game was simply too large. That game is around 85 GB in total. The Witcher 3, meanwhile, is closer to 50 GB. That's certainly smaller, but still extremely large for a Switch title; not to mention that the game would need some serious downgrades in other areas to run on the Switch without problems.
What is a More Likely Possibility?
While it's not impossible that there could be a Witcher 3 Switch port coming, it seems more likely that this is a mistake. For one, the page could simply have been set up by accident with inaccurate information. What might be the case, in fact, is that the game's name is incorrect. It could be that this is still a leak, but that WT&T have accidentally leaked an upcoming Switch port for Thronebreaker: The Witcher Tales; the more recent card-based RPG set in The Witcher universe. That game would seem to be a much better fit for the Switch, and CD Projekt Red have already made it available on every other platform, including Steam and GOG.com on PC.