Cook and Becker, the "Next-Gen" art dealers who specialize in gaming artwork, have unveiled a new series of Cyberpunk 2077 art. The new Cyberpunk 2077 Fine Art Print Collection consists of three high-quality prints of the game's concept art. Prices range from $105.00 and up.
The Cyberpunk 2077 Art Print Collection
Cook and Becker is best known for selling fine art prints of gaming art. For instance, two months ago; the company unveiled a series of six fine art prints of God of War concept art. They have also published many other collections in the past; including for titles like Persona 5, Fallout 4, and The Witcher 3: Wild Hunt. This new collection is part of a collaboration with CD Projekt Red, who provide the original concept artwork for the prints. The three new prints are; "Doing Business," "Trauma Team in Action," and "Street Life". Each will be hand-numbered. In addition, every print will have a Certificate of Authenticity, which will be hand-signed by Bernard Kowalczuk; the artist who created the artwork for CD Projekt Red.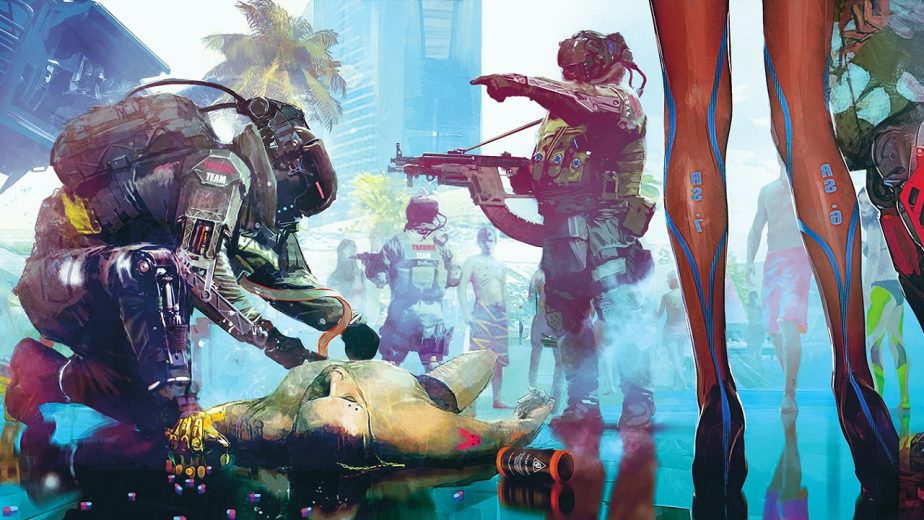 "Visually, Cyberpunk 2077 add something interesting to the mix in the same way that the movie The Fifth Element did." states Cook and Becker's collection description; "The game juxtapozes the genre staple of a dark and neon-lit nighttime cityscape with a lurid neo- futuristic day-time California. The game is set in Night City. It's a dystopian society in the fictional free state of Northern California, where mega-corporations have essentially replaced all government services and eliminated the middle class in the process. Poverty and crime are pervasive during the night or day."
It's unknown if Cook and Becker plans to expand this new collection in the future. They certainly could, as Cyberpunk 2077 has no shortage of high-quality concept art. CD Projekt Red recently showed off four new pieces of artwork during Gamescom. Indeed, one of the pieces even turned out to be the starting point for a mysterious Cyberpunk ARG.