The Dallas Cowboys managed to pull off an impressive comeback in Week 2 of the NFL season. Thanks to a key performance from quarterback Dak Prescott, he'll be among the new Madden 21 Team of the Week 2 cards. Joining him in the mix will be Baltimore Ravens tight end Mark Andrews. Here's a look at some of the upcoming TOTW 2 players for Ultimate Team.
Madden 21 Team of the Week 2 cards revealed
On the Tuesday edition of Good Morning Madden, Agent K went over the game's new title update as well as the new Madden 21 Team of the Week 2 players. Two of those players were revealed on Monday night via MUT_News Twitter. They are former Indianapolis Colts Marvin Harrison and former Browns/Colts LB D'Qwell Jackson. These players are TOTW 2 Offense and Defense Heroes, both of whom have retired from the league.
In terms of current players, the Dallas Cowboys' Dak Prescott and Baltimore Ravens' Mark Andrews made the cut this week. Prescott was 34-of-47 with 450 yards and a touchdown in his team's 40-39 comeback victory. That helped Dallas get to 1-1 for the season and gives Dak the 89 OVR shown below. It includes 90 Short Accuracy, 89 Run, 87 Throw Under Pressure, and 87 Deep Accuracy.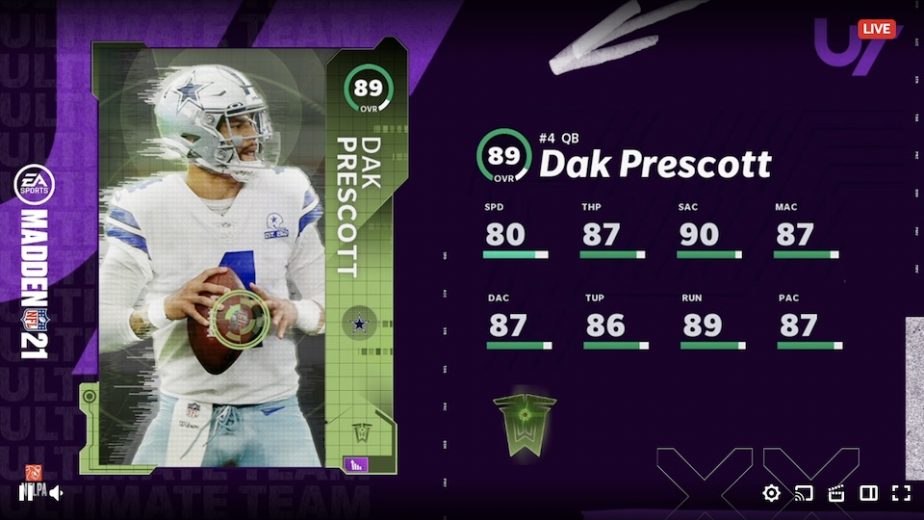 Meanwhile, Mark Andrews was part of a 33-16 victory by the Ravens over Houston. However, this is a limited card (LTD) based on a previous Week 2 performance which was much better on his part. He gets the 90 overall card including 85 Speed, 89 Catching, 87 Catch in Traffic, and 77 Strength.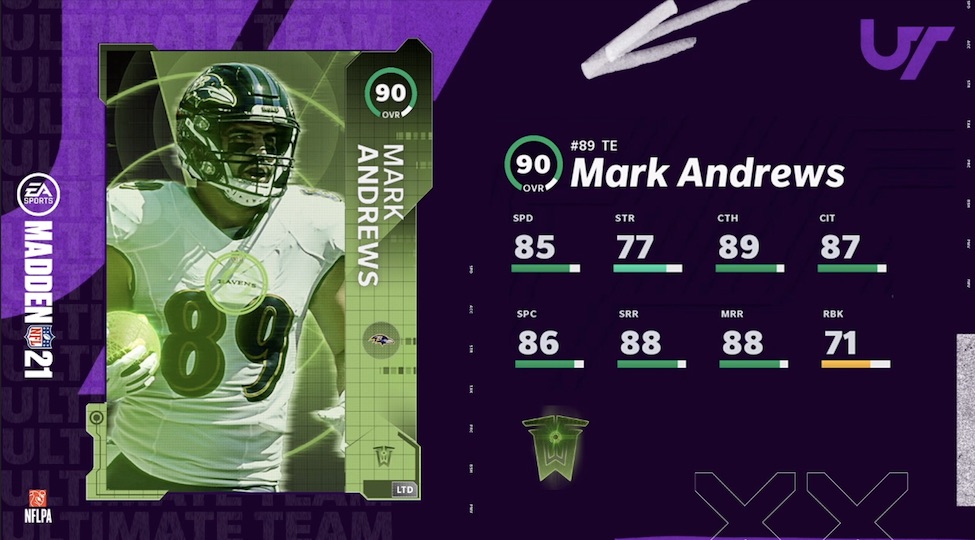 The Madden 21 Team of the Week 2 Player Collectibles are:
Stefon Diggs WR (Bills) 78 OVR
Harold Landry III ROLB (Titans) 78 OVR
Marlon Humphrey CB (Ravens) 82 OVR
Aaron Jones HB (Packers) 82 OVR
Khalil Mack LOLB (Bears) 86 OVR
Christian McCaffrey HB (Panthers) 86 OVR
These players can be put into sets to exchange for the Offense and Defense Hero players. In addition, remember there are new Team of the Week 2 Challenges to play in order to earn various items including TOTY Token and Hot Streak Fantasy pack.
Team of the Week generally launches in Madden Ultimate Team around 2 p.m. Eastern Time, so stay tuned for the new players and challenges.
Visit our Madden news page to stay updated on the latest about the game.