In a little less than a week, Bungie will deploy Destiny 2's Black Armory expansion. The Black Armory expansion is the first of three smaller expansions included in Destiny 2's Annual Pass. If you're not sure whether Black Armory is worth the investment, this information roundup should help. Below, we've compiled all the relevant facts about the expansion and its associated Season of the Forge content rollout.
Destiny 2 Black Armory Information Roundup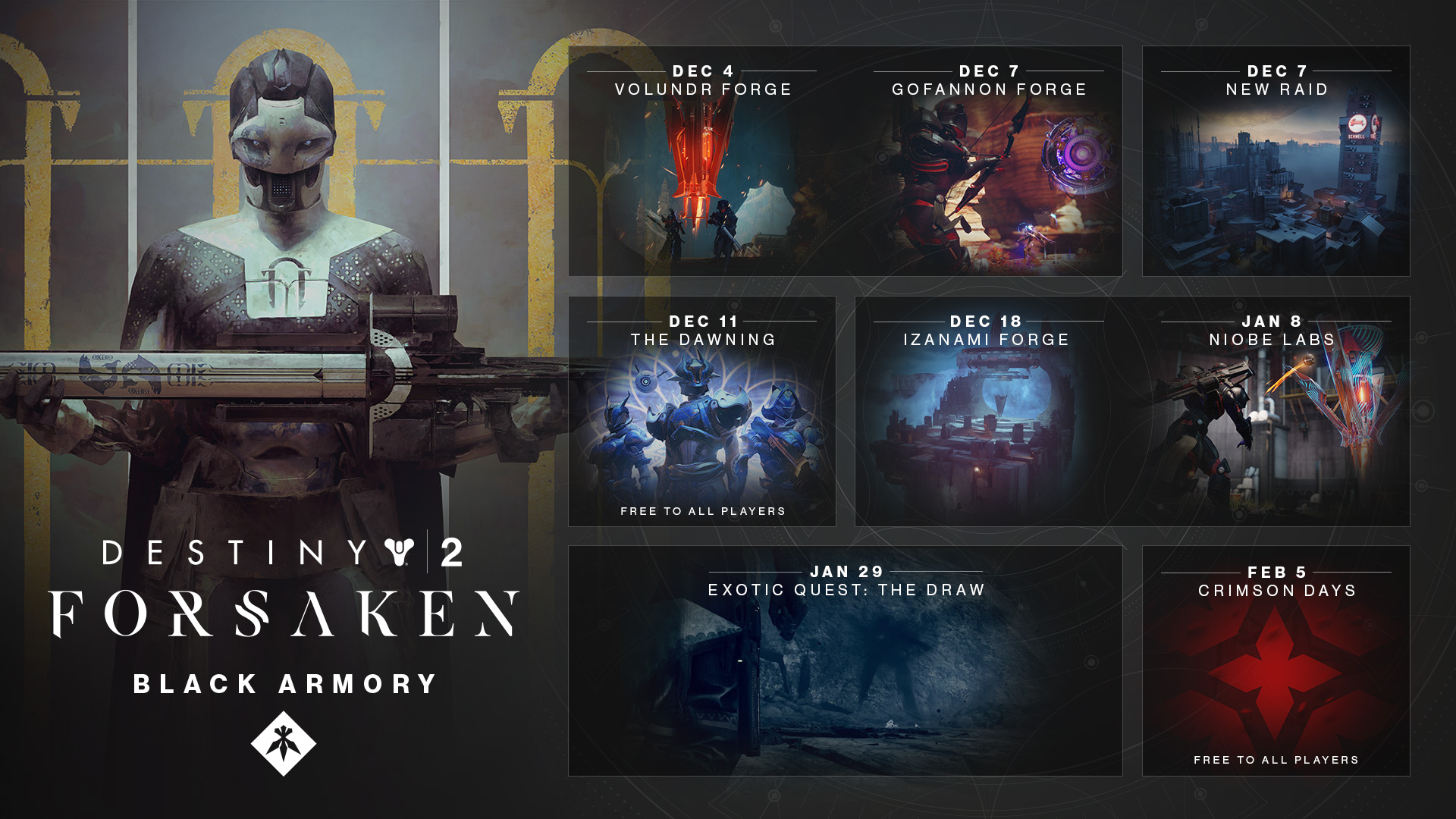 The Black Armory expansion launches in full next Tuesday, December 4. Unlike previous Destiny 2 expansions, Black Armory and its sister expansions, Joker's Wild and Penumbra, cannot be purchased individually. The only way to access Black Armory is to purchase Destiny 2's $35 Annual Pass. Of course, as Bungie explained in a recent ViDoc, you certainly get a lot of bang for your buck.
Black Armory Content Additions
Destiny 2's Season of the Forge comes with a mixture of free and paid features. Some features, like an increased power level cap and seasonal events, are free for all players. Other features, however, are only accessible if you own the expansion. We've outlined the expansion-exclusive gameplay features below.
A new storyline involving the titular Black Armory and a mysterious female Exo named Ada-1 who's very distrustful of Guardians.
A matchmaking-friendly co-op activity in which players fight waves of AI enemies to reignite ancient forges.
A new raid lair called 'Scourge of the Past' which is set in the Last City of the EDZ.
An Exotic weapon quest which allows players to unlock the Last Word hand cannon from the original Destiny.
A series of new expansion-specific Triumphs, lore entries, weapons, and armor sets.
As you can see in the above graphic, there are four forges in total, but they're not all immediately available. Instead, Bungie will slowly unlock new forges throughout December and January. Reigniting different forges allows players to unlock unique weapons associated with three distinct weapon crafting families.
We'll find out just how expansive Black Armory is when it arrives next week. In the meantime, Destiny 2 players can enjoy the initial launch of Season of the Forge.