Back in the old days when Destiny 1 was reigning supreme, there was a leaked image that showed a roadmap of what it seems to be a Vex DLC circulating around Venus and Mars. It was supposed to be released after the comet DLC The Taken King in 2015. But due to some difficulties, we never got it.
Now, that Bungie is free from Activision, we are finally able to see things that Bungie originally wanted for Destiny. A full-in MMORPG game – with both strong foundations of PvE as well as PvP. This year, in Shadowkeep ViDoc, they actually used the term MMORPG for the very first time in 5 years – which is the sign of a bright future.
Vex DLC – What We Know So Far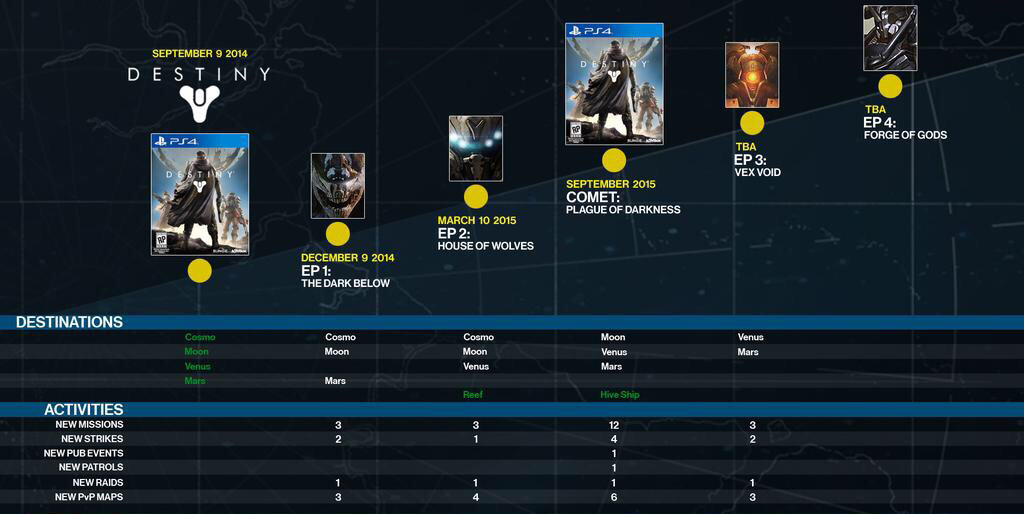 In 2015, this roadmap was leaked showcasing expansions what we now know as The Taken King. But strangely, after that, we've got Rise of Iron instead of Vex Void and Forge of Gods – which to be honest, is a really bad-ass name.
Yesterday, at GuardianCon, Bungie released the Roadmap of the Year 3 of Destiny 2 with the start of Shadowkeep. Take a look at the clip below:
As we can see, the upcoming Season is called Season of the Undying. It has the same Vex Image as the one leaked in 2015. Not to mention, the leaked version of this DLC had 3 story missions, 2 brand-new strikes, 3 PvP Maps, and a New Raid.
What we know so far is that we'll obviously be getting a new Raid in Black Garden and new PvP Maps as well. But, as Bungie has said, they are planning on making strikes a more in-depth form of grindable activities. There's also a leaked cut-scene showcasing Vex. Take a look:
Bungie also said that as you join Eris Morn to confront the new Nightmares on the Moon, there will be Vex invasion all across the Solar System. What do you think about it? Could it be the same expansion we were supposed to get? Let us know in comments!