It's Thursday, and that means a new This Week at Bungie blog-post with new exciting Shadowkeep stuff. This week, Bungie revealed the content calendar for Shadowkeep showcasing the release date for every major (and minor) activity post-October. This is not the first time Bungie has released the content calendar for Destiny 2. We've received a calendar for Forsaken, for Annual Pass and now for Shadowkeep. Bungie is also releasing a new Dungeon in Shadowkeep.
Shadowkeep: A Brand-New Dungeon Incoming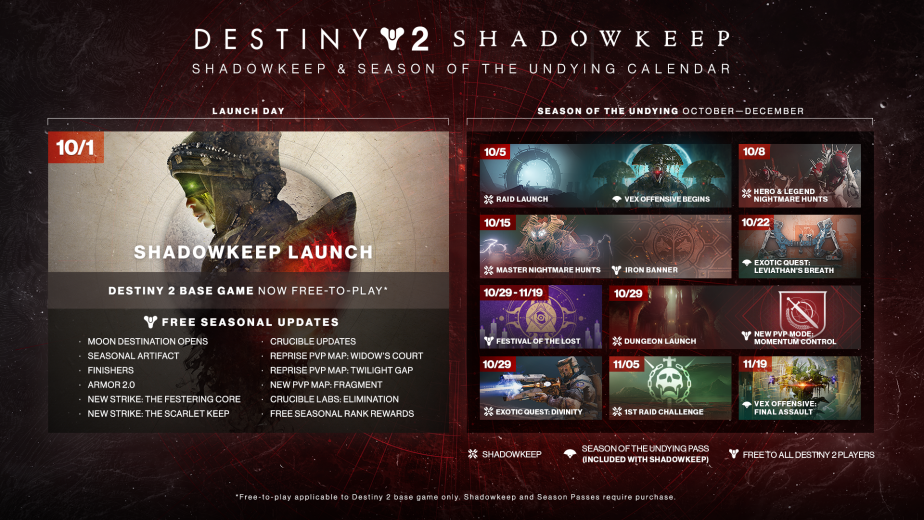 Last time we received a Dungeon was with Forsaken that was – The Shattered Throne. It was when the curse of The Dreaming City started. We do know something similar will take place on the Moon. Let's hope it's interesting as the ending of The Shattered Throne. Below, you can find every activity and its release date from the content calendar:
Destiny 2 Base Game
Moon Destination Opens
Seasonal Artifact
Finishers
Armor 2.0
New Strike: The Festering Core
New Strike: The Scarlett Keep
Crucible Updates
Reprise PvP Map: Widow's Court
Reprise PvP Map: Twilight Gap
New PvP Map: Fragment
Crucible Labs: Elimination
Free Seasonal Rank Rewards
These are all free features in Destiny 2: New Light launching next month on October 1, 2019.
Season of the Undying
Garden of Salvation Raid and Vex Offensive Launch (October 5, 2019)
Hero & Legend Nightmare Hunts (October 8, 2019)
Master Nightmare Hunts and Iron Banner (October 15, 2019)
Exotic Bow Quest: Leviathan's Breath (October 22, 2019)
Festival of the Lost (October 29, 2019, to November 2019)
Dungeon and New PvP Mode: Momentum Control Launch (October 29, 2019)
Exotic Trace Rifle Quest: Divinity (October 29, 2019)
First Raid Challenge (November 5, 2019)
Vex Offensive: Final Assault (November 19, 2019)
These activities are for the Season of the Undying Owners and will not ship with Destiny 2: New Light. There is a ton of content releasing with Shadowkeep. I hope players won't ever complain about the content drought in Destiny 2.
Destiny 2: Shadowkeep will be hitting PlayStation 4, Xbox One and PC, on October 1, 2019, and later in November on Google Stadia.