Quite possibly the mode which has long-time fans most excited, Battlefield Portal is one of the three core modes of Battlefield 2042, and features a huge range of weaponry and vehicles from across the Battlefield series. Historical incongruity doesn't matter here, as the mode is designed to be a sandbox for the franchise as a whole. Now, DICE has revealed some new details about what players can expect from Battlefield Portal.
New Information About Battlefield Portal
DICE describes Battlefield Portal as a "love letter" to Battlefield fans, and it's clear to see why; the mode aims to showcase the best of classic titles from the franchise, all together in one place. Players can use weapons and vehicles from Battlefield 3 alongside ones from Bad Company 2, 1942, and others. At launch, Portal will feature 6 classic mapsf from across the franchise; Battle of the Bulge, El Alamein, Arica Harbour, Valparaiso, Noshahr Canals, and the Caspian Border. However, a vast roster of dozens of maps & map variants from Battlefield 2042 will also be fully available for certain modes.
However, what really distinguishes Portal from standard Multiplayer is the level of customisability. Portal gives players total control of the game modes, even down to tweaking core mechanics like bullet velocity, health regeneration speed, etc. Accessible from any device via your EA Account, Portal is freely available online, even to people who don't own Battlefield 1942. You won't be able to play games, of course, but you can still access all the tools for designing and altering modes. Once you've set one up, you can provide a share code to friends so that they can access your server.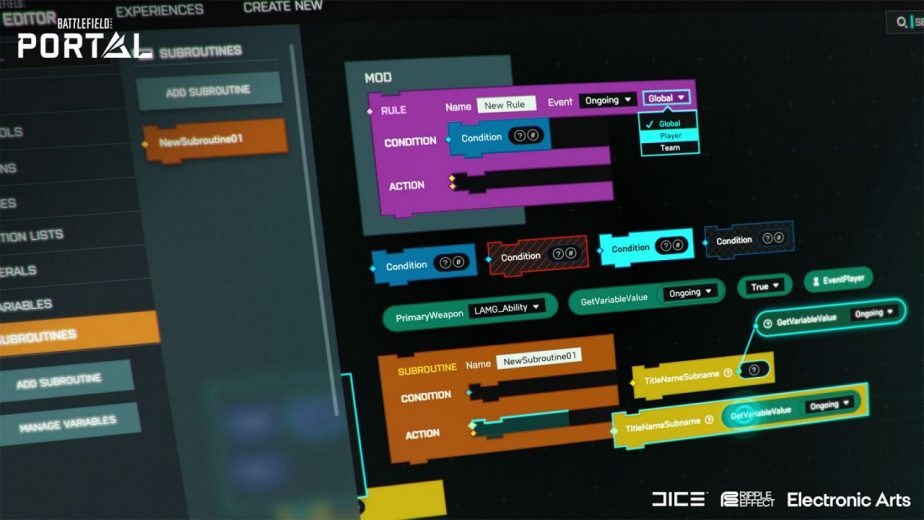 At launch, Portal will have five game modes available to play; Conquest, Conquest Large, Free-for-All, Rush, and Team Deathmatch. The parameters of all of these can be altered considerably via the Rules Editor. The level of control Portal offers to players is unprecedented in the history of Battlefield. (And quite likely, has few equals in the FPS genre in general!) More details about what's available to players in Portal can be found here.