The v17.20 patch for Fortnite Battle Royale was released on Tuesday, July 20. The patch has brought some big things, including the new inventory feature. Furthermore, Epic Games has added a lot of new cosmetic items and some of them are free for everyone.
Besides the free items, several new skins that have been added to the game data and will be released soon. Additionally, Fortnite World Cup winner Bugha had his cosmetic items added to the game. This professional player also has an exclusive tournament that will last for a few days.
How to get free Fortnite cosmetic items
Shortly after the servers went back up, Epic Games started the Rainbow Royale event in Fortnite. This event was released to celebrate Fortnite's LGBTQIA+ community and will last for at least one week, according to Epic Games.
During the event, Fortnite players can get six free cosmetic items from the Item Shop. To get these items, all players need to do is to open the Item Shop and buy the items. The price for each item is 0 V-Bucks, which means that everyone can get them.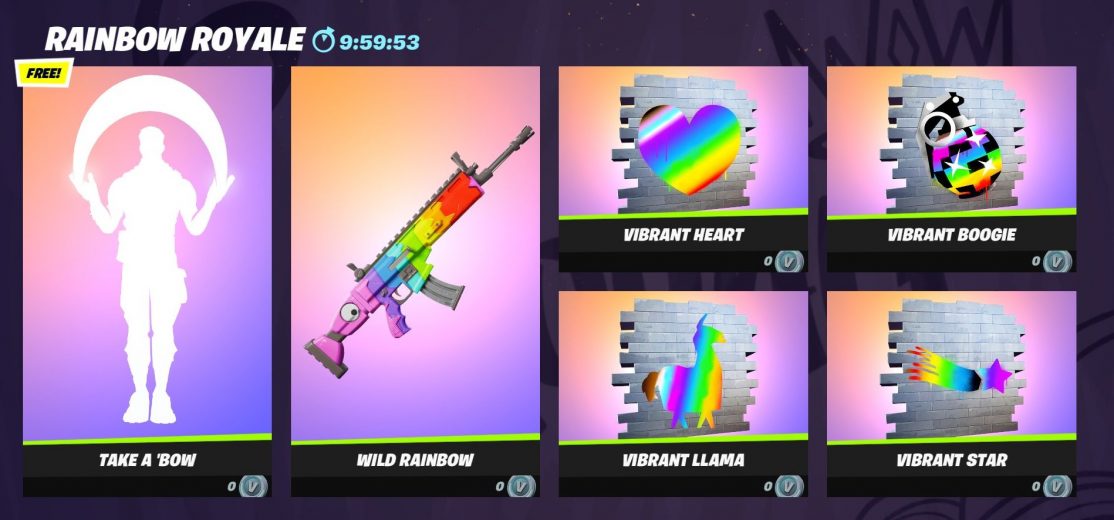 The following cosmetic items have been released for free:
Take a 'Bow (emote)
Vibrant heart (spray)
Vibrant star (spray)
Wind Rainbow (wrap)
Vibrant llama (spray)
Vibrant boogie (spray)
Keep in mind, Epic will remove these items from the Item Shop when the event ends. At the moment, it's unclear if they will return to the game at some point or if they will simply be very exclusive. If you like them, make sure you grab them before the event is over!
Creative mode, radio, and event controversy
Epic Games has also added a rainbow flag prop into the Creative mode of Fortnite. This prop will most likely stay in the game even after the event ends and players will be able to use it for their maps.
Furthermore, several LGBTQIA+ artists have found their way into Fortnite as well. Players can listen to their songs on three different radio stations in the game.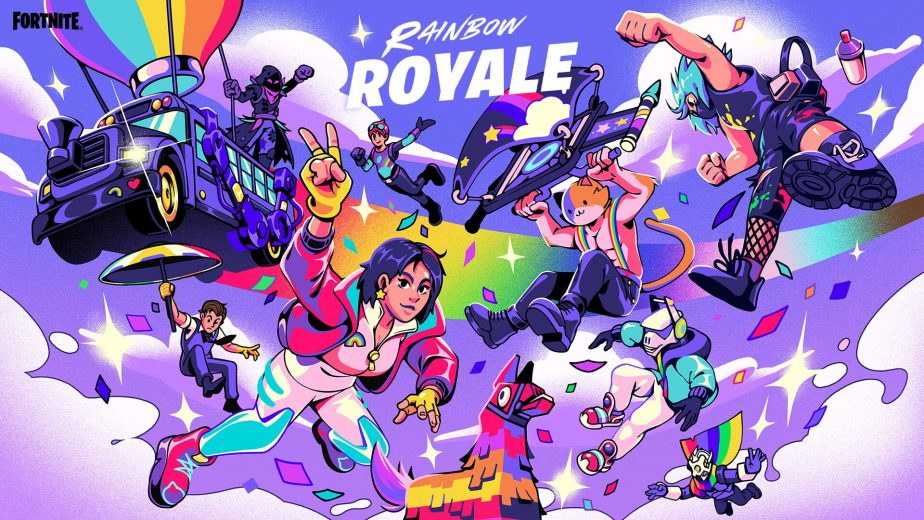 Even though the event just kicked off, it's already become very controversial. Many players have complained about it, but it doesn't seem that it will negatively impact Epic Games or Fortnite. Millions of players are trying to get on to obtain the free cosmetic items, which is why servers went down for a brief period.
The Rainbow Royale Fortnite event will end on Tuesday, July 27, at 8 PM Eastern Time.