Ahead of the game's release next week, Gearbox has revealed the exact Borderlands 3 release times. These include release times for both console and PC across all the major global regions. As a result, you can now find out exactly when you'll be able to start playing the game on launch day!
The Borderlands 3 Release Times for Consoles and PC
Borderlands 3 is due to launch on consoles and on PC via the Epic Games Store on the 13th of September. If you've pre-ordered the game, however, you'll actually be able to download the game up to 48 hours prior to release. This means that you'll be able to start playing almost immediately once the game officially releases. Gearbox recently released a couple of global time zone maps, documenting the specific times that Borderlands 3 will become available on console and PC.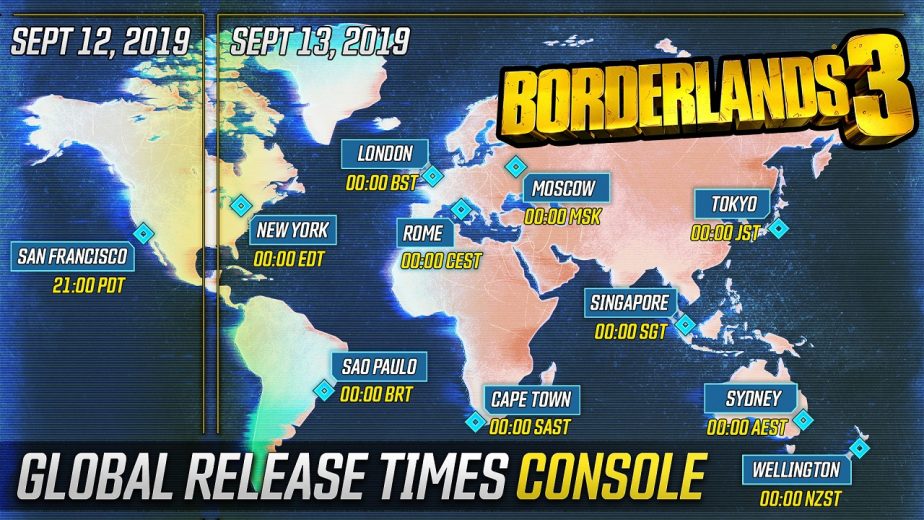 If you're planning on playing Borderlands 3 on Xbox One or PS4, then the game will be available at 00:00 in practically every global time zone. The only exception is PDT, where the game will actually be available at 21:00 PDT on the 12th, slightly ahead of schedule. The game will be available at midnight everywhere else. Things are a little different for PC, where the game will be launching on the Epic Games Store at a variety of different global times.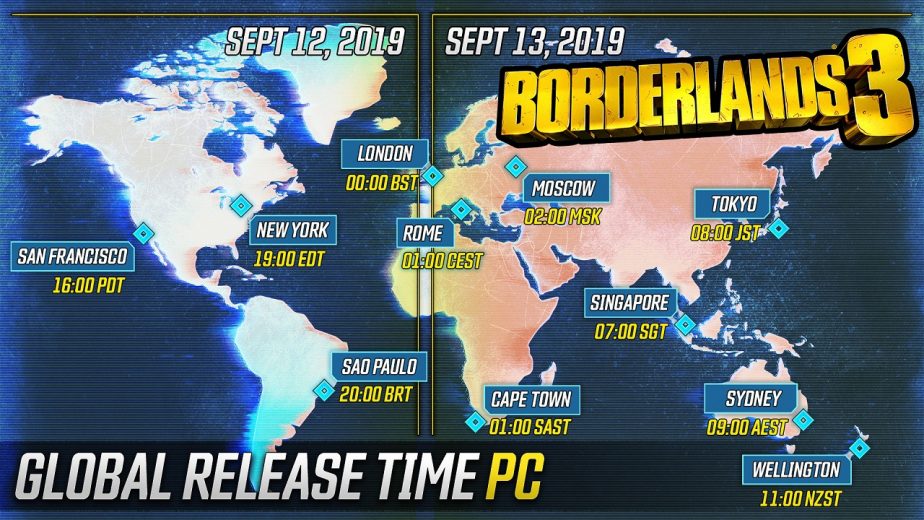 The Borderlands 3 release times on PC start on the 12th for three time zones; 16:00 PDT, 19:00 EDT, and 20:00 BRT. In the UK, it will be available at 00:00 BST, just like the console release, while the European launch will be at 01:00 CEST. It will also launch at 01:00 SAST and 02:00 MSK. Further east, the game will be available at 07:00 SGT, 08:00 JST, 09:00 AEST, and finally 11:00 NZST. Of course, PC players should check to ensure that they have everything in the game's PC specs. Fortunately, the game's minimum specs are relatively forgiving, so the game shouldn't require an extremely powerful PC to be able to play.