The release of Fallout 76 may still be months away, but that hasn't stopped droves of fans from getting out to West Virginia to celebrate the upcoming release. A fan event on Sunday saw fans travel to an unofficial meetup at Camden Park; the iconic West Virginia amusement park (and the only amusement park in the state).
The Fallout 76 Event at Camden Park
Camden Park is expected to be one of many iconic West Virginian locations to feature in Fallout 76. Certainly, fans have already seemed to have singled it out as a key location featured in one of the trailers. The announcement of Fallout 76 has prompted a surge of interest in West Virginia, and a park supervisor was quoted last month; "This is kind of a first, that we have been in a video game, and that will impact us like this. We've never had this kind of national publicity, so we are waiting to see what happens." Now, it seems like they didn't have to wait long.
Awesome to see so many smiling faces that showed up at Camden Park over the weekend. We're excited to see more as we explore more West Virginia together 😊. #Fallout76

Source: https://t.co/jYJR7VVzKr pic.twitter.com/6hpLaS3wuV

— Bethesda Game Studios (@BethesdaStudios) July 9, 2018
The group of fans which convened at Camden Park sold t-shirts featuring West Virginia with the number of Vault 76. The park also appeared to be aware of the event, and offered a discount to anybody wearing Fallout-related items. Chris Barker, the event's organizer, was quoted by local news; "I've been a Fallout fan since [Fallout 3]. That's when I started playing. I've played all of them since then, but this one I think I'm most excited for. I actually live in Catlettsburg, just over the river, but I'm quickly converting over to West Virginia because of this game."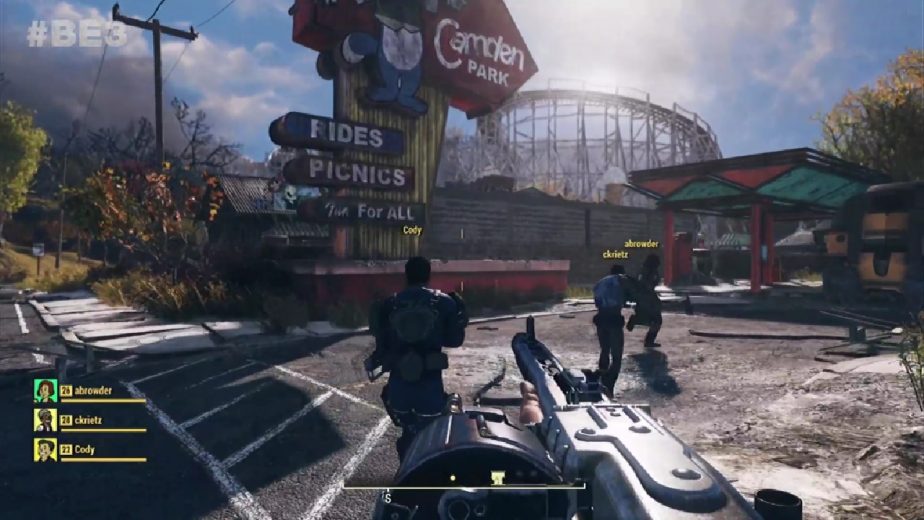 Perhaps more so than previous releases, Fallout fans appear to be very excited about the choice of setting. West Virginia certainly looks to be a change from the blasted wastelands of the Commonwealth and Washington D.C. It remains to be seen exactly how Camden Park will be portrayed in the game; it does seem likely to be a site of some significance.