Ubisoft has now released a new update for Far Cry 5. Updating the game to version 1.06, the so-called Title Update 6 is set to implement a whole array of new improvements and fixes. More interestingly, however, are the new outfit options that it adds, which include special outfits for a number of Far Cry 5's cast of characters. However, most notable of them all is a familiar face from Far Cry 4.
Far Cry 5's Special Outfits
Until now, new "Special Outfits" in Far Cry 5 had only been available through the game's weekly live events. The outfits worn by John Seed, Grace Armstrong, and Mary May Fairgrave are already available for players. In addition, Ubisoft has set a new challenge for players each week. In addition to their live event rewards, they have also offered a "community reward" Special Outfit if the Far Cry 5 player community can complete the objective a certain number of times. Those event rewards have included outfits based on Kim & Nick Rye, the Marshal, the Sheriff's Deputies, and Jacob Seed's Hunters.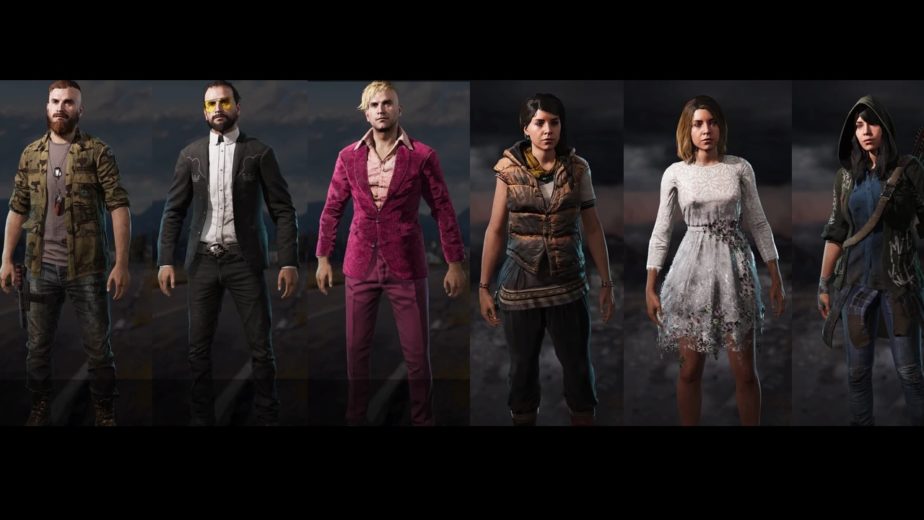 Title Update 6, however, will now add a whole wardrobe of new outfits to this category. Male characters can now dress as Sheriff Whitehorse, Jacob Seed, and Joseph Seed. Female characters, on the other hand, can dress as Jess Black and Faith Seed. Most notable, however, are two new outfits based on characters from Far Cry 4; Amita, for female characters, and the King of Kyrat himself, Pagan Min, for male characters. The update also adds in a number of new masks.
Players seeking to channel Pagan Min's trademark unhinged mania in Hope County can now do so in style. The deranged dictator's archetypal pink suit certainly takes top prize for being Far Cry 5's most flamboyant outfit, and even comes complete with his bleached blonde hair. Of course, while the monarch would likely enjoy you emulating him while raining wanton destruction down on Eden's Gate, do try not to get any blood on his shoes.