On April 17 fans of FIFA 19 got what they were waiting for since last Wednesday. The newest Team of the Week arrived and brings in a pair of 92-rated stars. Koulibaly and Kevin De Bruyne make their FUT returns for FIFA 19 Team of the Week 31, with other stars also joining the latest lineup. Here are the details on the latest reveal for the exciting new FIFA 19 Ultimate Team player cards.
FIFA 19 TOTW 31 Starting XI
Last week's FIFA 19 TOTW 30 brought us Robert Lewandowski and Heung Min Son amongst the latest stars. This week we see two players with low 90s ratings and both have been in star-studded Ultimate Team lineups before. Kevin de Bruyne and Koulibaly each had noteworthy performances on the pitch, resulting in their inclusion for Week 31's starting Xi.
For his new FUT card, de Bruyne brings 93 Passing, 88 Dribbling, and 87 Shooting for teams in need of a solid playmaker. Koulibaly brings more of a defensive presence, as he should. His card includes a nice 93 Defense and 92 Physicality along with 77 Pace. Gamers saw De Bruyne amongst TOTY lineup. Koulibaly was in other FIFA promotions including the recent Ultimate Team birthday.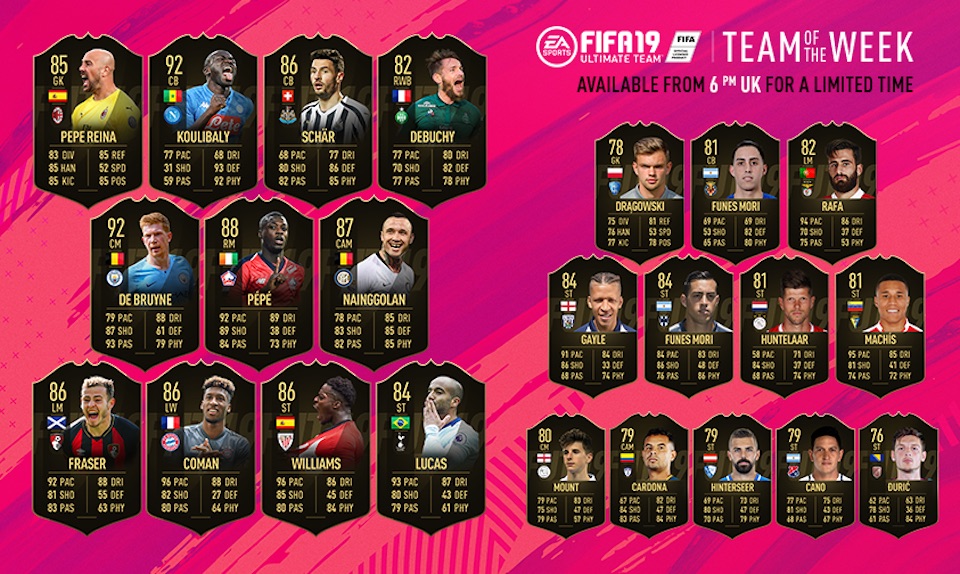 Right up there near the 90 rating level is Nicolas Pepe who achieves an 88 rating for his TOTW card. There are also five stars with an 86 or better, making this another intriguing lineup. Many gamers are quite happy to see Lucas break into the lineup this week too.
FIFA 19 TOTW 31 Substitutes, Reserves
We can never forget about the other unsung heroes from the pitch. These are the substitutes and reserves who also earned their way onto Team of the Week 31. No player here is rated lower than a 76 with several netting 84 ratings on their new FUT cards.
Of course the most intriguing thing out of these players is the fact there are two Funes Mori cards listed for the lineup One brings an 84, with the other an 81. Both are part of the substitutes as well. However, one player is Ramon Funes Mori (Villareal/Argentina) and the other is Rogelio Funes Mori (Monterrey/Argentina).
FIFA 19 TOTW 31 Substitutes
GK: Bartłomiej Drągowski – Empoli/Poland (78)
CB: Ramiro Funes Mori – Villarreal CF/Argentina (81)
LM: Rafa – SL Benfica/Portugal (82)
ST1: Dwight Gayle – West Bromwich Albion/England (84)
ST2: Rogelio Funes Mori – Monterrey/Argentina (84)
ST3: Klaas-Jan Huntelaar – Ajax/Holland (81)
ST4: Darwin Machís – Cádiz CF/Venezuela (81)
FIF19 TOTW 31 Reserves
CM: Mason Mount – Derby County/England (80)
CAM: Edwin Cardona – Pachuca/Colombia (79)
ST1: Lukas Hinterseer – VfL Bochum/Austria (79)
ST2: Germán Cano – Independiente Medellín/Argentina (79)
ST3: Milan Đurić – Salernitana/Bosnia and Herzegovina (76)
The latest Team of the Week 31 players' cards are available as part of the FIFA 19 Ultimate Team feature. These cards are found inside FIFA Ultimate Team (FUT) packs as of Wednesdays at 6 p.m. UK time. Gamers can also purchase player cards at the transfer market, or compete against the latest FIFA TOTW 31 with their own FUT squads.
Which players do you think undeservingly made the lineup? Are there any players they missed? Get more of our FIFA 19 news here.