On Friday, the latest of EA's Team of the Season So Far reveals arrived as the best of the best from Bundesliga got the spotlight. With the FIFA 20 Bundesliga TOTSSF there are 20 players with overall ratings from 88 up to a stellar 99. That top card goes to fan favorite Robert Lewandowski, with Timo Werner coming in nearby at 97 overall. Here's all of the latest information about this new Team of the Season So Far lineup.
Lewandowski, Werner lead FIFA 20 Bundesliga TOTSSF
Anyone who's been playing FIFA 20 for quite a while now knows the story of Robert Lewandowski. Many fans lobbied hard to get him onto the Team of the Year, but it didn't happen. Instead, Cristiano Ronaldo got the fan vote. However, Lewandowski receives his best card yet here on FIFA 20 Bundesliga TOTSSF.
99 Shooting, 97 Dribbling, 95 Passing, 94 Pace, and 94 Physical attributes. The card is currently seeing prices near 3M FUT coins on the PS4, showing just how valuable this one is.
Lewandowski is joined on the new TOTSSF by Timo Werner with a 97 overall card. Werner gets 99 Acceleration and Sprint Speed for his Pace along with 98 Shooting, 96 Dribbling, and 90 Passing scores. His 99 Stamina, Finishing, Ball Control, and Short Passing are all quite nice as well as the 95 Shot Power.
Check out the complete Bundesliga squad below with starting XI, substitutes, and reserves.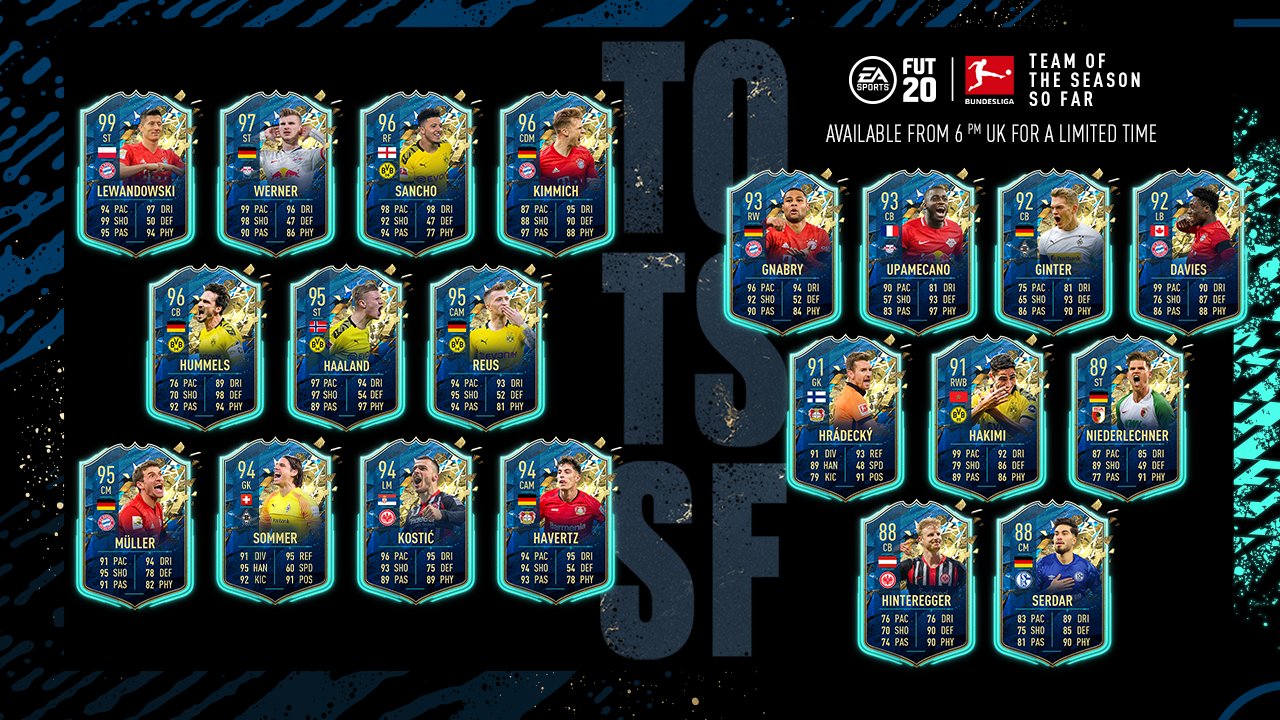 Substitutes, reserves, and more
Along with the starting XI, we also got nine other players for substitutes and reserves. They're rated from 88 to 93 and provide more options for Ultimate Team rosters. Here's who made the cut for the FIFA 20 Bundesliga TOTSSF.
CAM Kai Havertz (Bayer 04 Leverkusen) 94 OVR
RW Serge Gnabry (Bayern Munchen) 93 OVR
LB Alphonso Davies (Bayern Munchen) 92 OVR
CB Matthias Ginter (Borussia M'gladbach) 92 OVR
RWB Achraf Hakimi (Borussia Dortmund) 91 OVR
GK Lukas Hradecky (Bayer 04 Leverkusen) 91 OVR
CM Suat Serdar (FC Schalke 04) 88 OVR
CB Martin Hinteregger (Eintracht Frankfurt) 88 OVR
All of the above players including the starting XI are now available randomly in select FUT packs in Ultimate Team. In addition, gamers can bid on or "buy now" to get the specific players they want. As mentioned, Lewandowsk has a steep price, and other players may be near the one million FUT coins mark.
In addition to all of the above players revealed, there are several other available FIFA 20 Bundesliga TOTSSF players. EA also revealed Flashback SBC Axel Witsel as well as TOTTSF Objectives players Marcel Sabitzer and Javairo Dilrosun.
Bundesliga is one of several Team of the Season lineups revealed in the past week or so. Other recent squads included the Community vote team, English Football League TOTSSF, Saudi Pro League TOTSSF, and Super Lig TOTSSF.
Visit our FIFA news page for more of the latest updates.