As of Monday, the new FIFA 20 La Liga NOS TOTSSF has officially been unveiled. It features a fierce starting XI that includes upgraded player attributes based on their play for the season, so far. Amongst the top-rated players are Alex Telles, Pizzi, and Rafa. Here's a look at who all made the squad so far, with more players on the way.
Alex Telles, Pizzi headline FIFA 20 La Liga NOS TOTSSF
Just this past Friday, the new Bundesliga TOTSSF arrived featuring the best from the German league. Now we've got FIFA 20 La Liga NOS TOTSSF celebrating the best from Portugal's Primeira Liga. That includes two 94-rated players with FC Porto left-back Alex Telles and SL Benefica RM Pizzi. Many of their teammates are also represented.
Telles' card features 96 Pace, 95 Passing, 94 Defense, 93 Dribbling, and 82 Shooting. Pizzi brings 94 Passing and Dribbling along with 90 Pace and Shooting. There's also a new 93 OVR item for his SL Benfica teammate Rafa with a stellar 99 Pace and 97 Dribbling plus 91 Shooting.
Here's a look at all 11 players revealed for the Starting XI from La Liga NOS: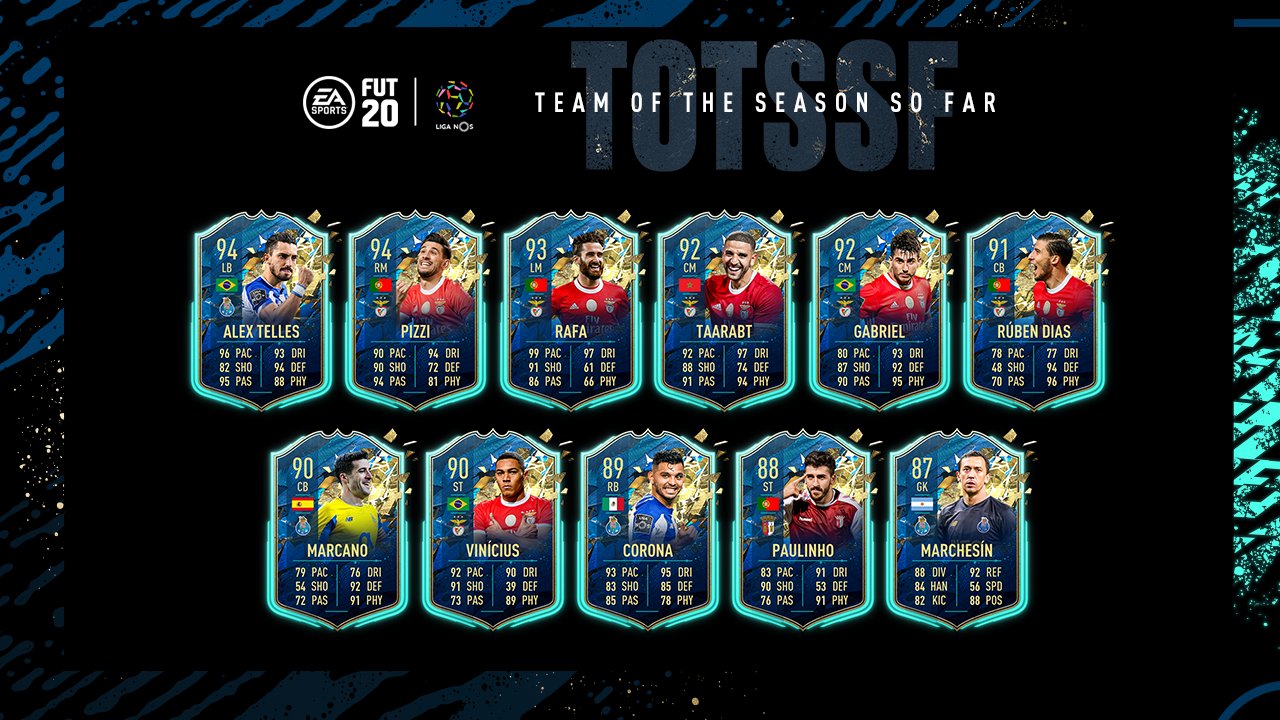 As seen below, SL Benfica dominates the TOTSSF with six of the 11 players. FC Porto provides another four, while striker Paulinho represents Braga.
Complete La Liga NOS TOTSSF starting XI:
LB Alex Telles (FC Porto) 94 OVR
RM Pizzi (SL Benfica) 94 OVR
LM Rafa (SL Benfica) 93 OVR
CM Adel Taarabt (SL Benfica) 92 OVR
CM Gabriel (SL Benfica) 92 OVR
CB Ruben Dias (SL Benfica) 91 OVR
CB Marcano (FC Porto) 90 OVR
ST Vinicius (SL Benfica) 90 OVR
RB Jesus Corona (FC Porto) 89 OVR
ST Paulinho (Braga) 88 OVR
GK Agustin Marchesin (FC Porto) 87 OVR
Where to find TOTSSF players
Previous TOTSSF reveals also brought Objectives or at least one Squad Building Challenge to acquire other players. That is the case with FIFA 20 La Liga NOS TOTSSF, as they revealed Luis Diaz after the starting XI reveal.
The starting XI players above are now available randomly in select packs. These start with Gold packs that sell for 5,000 FUT Coins or 100 EA Points. There are also Premium Gold Packs for 7,500 FUT or 150 EA Points. Both options bring a less than one percent chance of getting a TOTSSF player.
Promo Packs carry better chances of landing a TOTSSF player. These start at 25,000 FUT or 350 EA Points and bring a 2.1 percent chance at TOTSSF. The Rare Players Pack brings the highest chances of getting a TOTSSF player at 5.5 percent. These cost 50,000 FUT Coins or 1,000 EA Points.
For those with plenty of coins to spend, there's the Transfer Market. Player cards of these sorts tend to command high prices via bidding or "Buy Now" options, though.
These aren't anywhere near some of the endgame cards that have arrived in FIFA for other players. Still, Rafa's 93 OVR is getting about 210,000 FUT Coins on PS4 or 179,000 FUT Coins on Xbox One, per FUTBIN. Right now, Pizzi is reasonably priced at 105,000 Coins on Xbox One and 116,000 on PS4. We've yet to see FUTBIN estimates for Alex Telles, though.
Visit our FIFA news page for more of the latest game updates.