It's Friday, and that means time for another FIFA 20 Team of the Season So Far release. On May 22, EA brought out the new FIFA 20 Serie A TOTSSF which includes many fan favorites. They include star footballers such as Cristiano Ronaldo, Luis Alberto, and Paulo Dybala. Let's take a look at who all made it, who didn't, and where to find these new player cards.
Ronaldo, Alberto headline FIFA 20 Series A TOTSSF
Over the past weeks we've seen all sorts of Team of the Season So Far lineups such as Bundesliga TOTSSF and La Liga NOS TOTSSF. Now we've got Serie A, bringing a 99 overall item for Mr. Cristiano Ronaldo. His newest card has 99 Dribbling, 99 Shooting, 98 Pace, 94 Physical, and 92 Passing. He's joined by Piemonte Calcio teammates Paulo Dybala (94 OVR) and RB Juan Cuadrado (92 OVR). 
The next-best card after Ronaldo is a 97 OVR for Luis Alberto. The Lazio central midfielder has 98 Dribbling, 97 Passing, 96 Shooting, and 91 Pace. Other stars in the FIFA 20 Serie A TOTSSF include Lazio striker Circo Immobile, Atalanta striker Josip Ilicic, and Milan LB Theo Hernandez.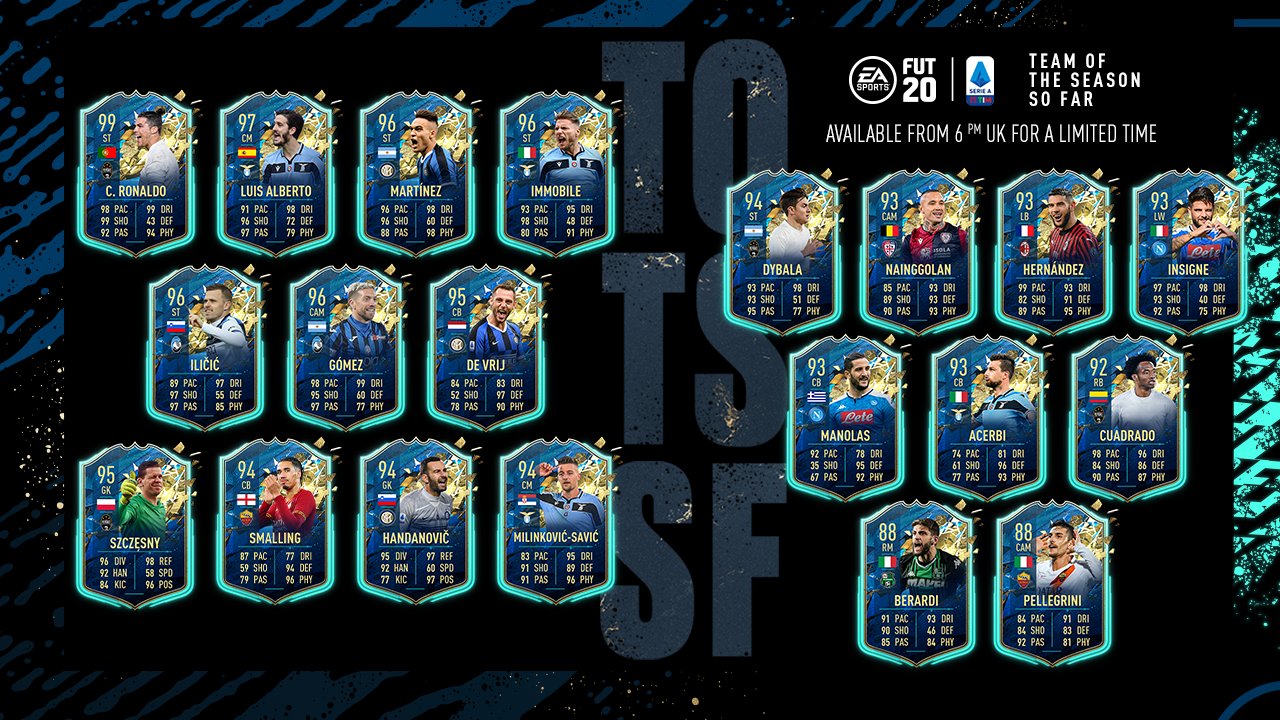 Series A Substitutes and Reserves
Along with this new Team of the Season So Far there are nine players for the substitutes and reserves. We've mentioned Dybala and Cuadrado as Ronaldo's teammates. In addition, there's a 93 OVR LW Lorenzo Insigne, 93 OVR CB Francesco Acerbi, and 94 OVR GK Samir Handanovic.
ST Paulo Dybala (Piemonte Calcio) 94 OVR
GK Samir Handanovic (Inter) 94 OVR
CB Kostas Manolas (Napoli) 93 OVR
LW Lorenzo Insigne (Napoli) 93 OVR
CB2 Francesco Acerbi (Lazio) 93 OVR
CAM Radja Nainggolan (Cagliari) 93 OVR
RB Juan Cuadrado (Piemonte Calcio) 92 OVR
RM Domenico Berardi (Sassuolo) 88 OVR
CAM Lorenzo Pellegrini (Roma) 88 OVR
All of the new FIFA 20 Serie A TOTSSF players are available in FUT packs randomly. As mentioned, the better or more expensive the pack, the better the chances are for landing a TOTSSF player.
In addition, you'll find the specific players selling on the Transfer Market. These are available for bids or buying, but command high prices based on how good the card is. For example, Ronaldo's 99 OVR TOTSSF is already over seven or eight million on PS4 and Xbox One, respectively, per FUTBIN.
With this team, several members of the community believe there were some odd omissions. Some of the Serie A players mentioned a lot include Romelu Lukaku, Joao Pedro, and Marash Kumbulla, among others. Will we see them pop up as Serie A Objectives or for a Squad Building Challenge?
Visit our FIFA page to stay updated with the latest news on the game.