The FIFA 20 Team of the Week 22 players are now available with a number of great upgraded cards arriving on Wednesday. Leading the way for the latest TOTW lineup Kylian Mbappe, Sergio Ramos, and Luis Alberto, amongst the starting XI. Here are more details about the new lineup below for the latest group of star footballers for FIFA's Ultimate Team.
Mbappe, Ramos headline FIFA 20 Team of the Week 22 players
In terms of FIFA 20 Team of the Week 22, Paris Saint-Germain star Kylian Mbappe leads the way with his 93 overall card. The Team France striker's new item features 99 Pace, 94 Dribbling, 91 Shooting, and 86 Passing skills. The new card outdoes Mbappe's previous item found in the TOTW 19 lineup. However, his 98 OVR Team of the Year card still reigns supreme.
Joining the PSG star in the starting XI this week is center-back Sergio Ramos. His new card comes in with a 91 overall rating and top attributes such as 90 Defense, 88 Physical, 78 Dribbling, 77 Passing, and 75 Pace. Luis Alberto gets the next-highest rated card this week with his 88 OVR. Check out the full starting XI, substitutes, and reserves below.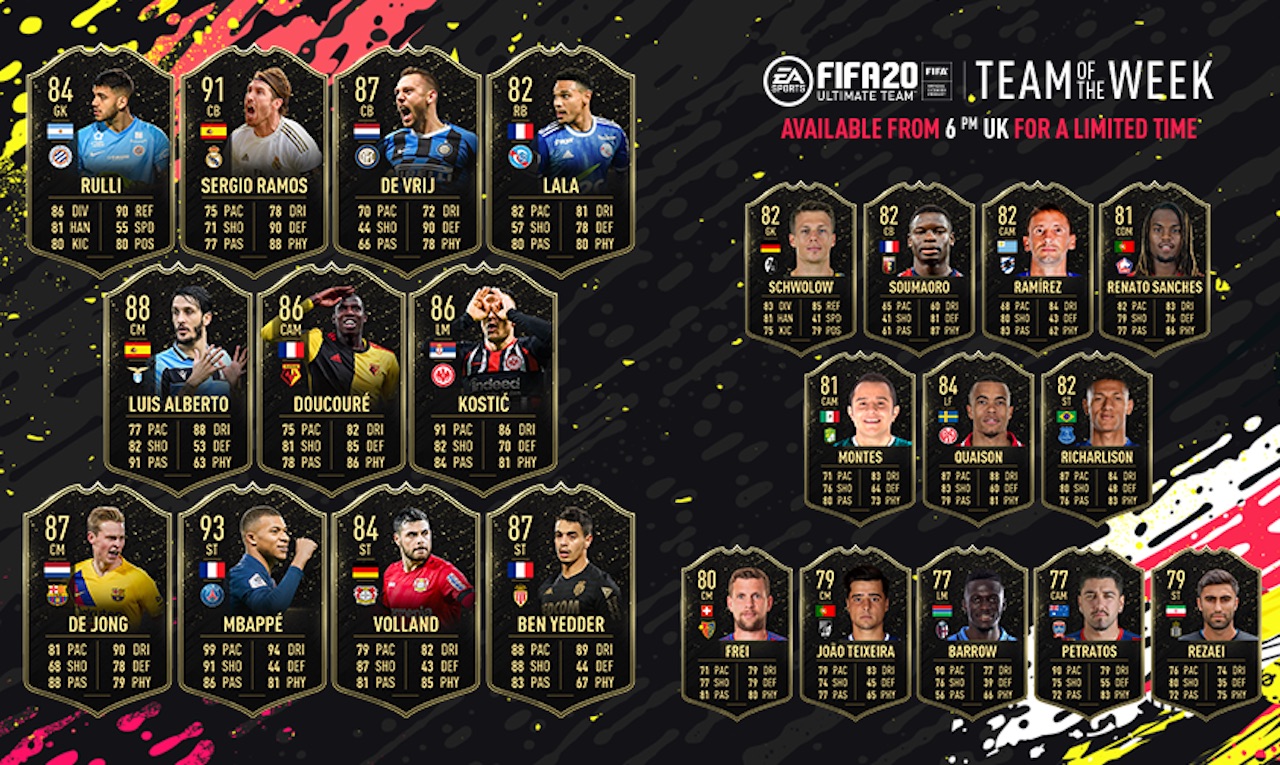 While most TOTW lineups draw some negative reactions, for the most part, the No. 22 lineup of FIFA 20 is receiving positive feedback. Many gamers are noting it's a surprisingly good overall group of cards for TOTW 22.
Which players are TOTW 22 Substitutes and Reserves?
Each week, Team of the Week also includes 12 more players that had worthy performances on the pitch. They make up the substitutes and reserves of the TOTW lineup. For this week, those players have between 77 and 84 overall ratings. Here's a look at who else is part of FIFA 20 Team of the Week 22.
FIFA TOTW 22 Substitutes:
GK Alexander Schwolow (SC Freiburg) 82 OVR
CB Adama Soumaoro (Genoa) 82 OVR
CAM Gaston Ramirez (Sampdoria) 82 OVR
CDM Renato Sanches (LOSC Lille) 81 OVR
CAM Luis Montes (Leon) 81 OVR
LF Robin Quaison (1. FSV Mainz 05) 84 OVR
ST Richarlison (Everton) 82 OVR
FIFA TOTW 22 Reserves:
CM1 Fabian Frei (FC Basel) 80 OVR
CM2 Joao Teixeira (Vitoria Guimarães) 79 OVR
LM Musa Barrow (Bologna) 77 OVR
CAM Dimitri Petratos (Newcastle Jets) 77 OVR
ST Kaveh Rezaei (Charleroi) 79 OVR
Gamers can acquire FIFA Team of the Week players in packs, or through the Transfer Market as of 6 p.m. UK time on Wednesday. In addition, test out your own Ultimate Team by going against FIFA's Team of the Week. Depending on the difficulty and outcome of the game, FIFA Coins are possible as rewards.
Visit VGR's FIFA news page for more of the latest game updates.