With football leagues around the globe suspending their seasons due to the current health and safety concerns, it has many people staying home and continuing to play video games. That includes EA's FIFA 20, which typically brings out a Team of the Week. With leagues suspended, there are no games to choose TOTW players. In place of that, a new FIFA 20 Team of the Week Moments promotion is available.
What is FIFA 20 Team of the Week Moments?
For the foreseeable future, FIFA's Team of the Week 26 was the last TOTW, per se. With no players playing games now due to suspended seasons in leagues around the world, it means EA's FIFA is drawing from the past with the new promotion. The new FIFA 20 Team of the Week Moments players are based on previous FUT titles from March onward of other calendar years.
Since the players come from a previous edition, it means they're updated here to reflect FIFA 20. In Pitch Notes for the new TOTW Moments, EA gives an example of Kyle Walker. He was an 86 OVR back in FUT 18 but is now an 87 OVR in line with his FUT upgrade path for FIFA 20.
TOTW usually has a starting XI and then 12 players for the substitutes and reserves. However, Moments has just 20 players, three less than normally. Among the players introduced for the new promotion are Matthijs De Light with an 88 OVR card as well as James Rodriguez, Gareth Bale, and Paulinho with 86 OVR items.
See the entire Moments 1 group below with player ratings from 76-88 OVR.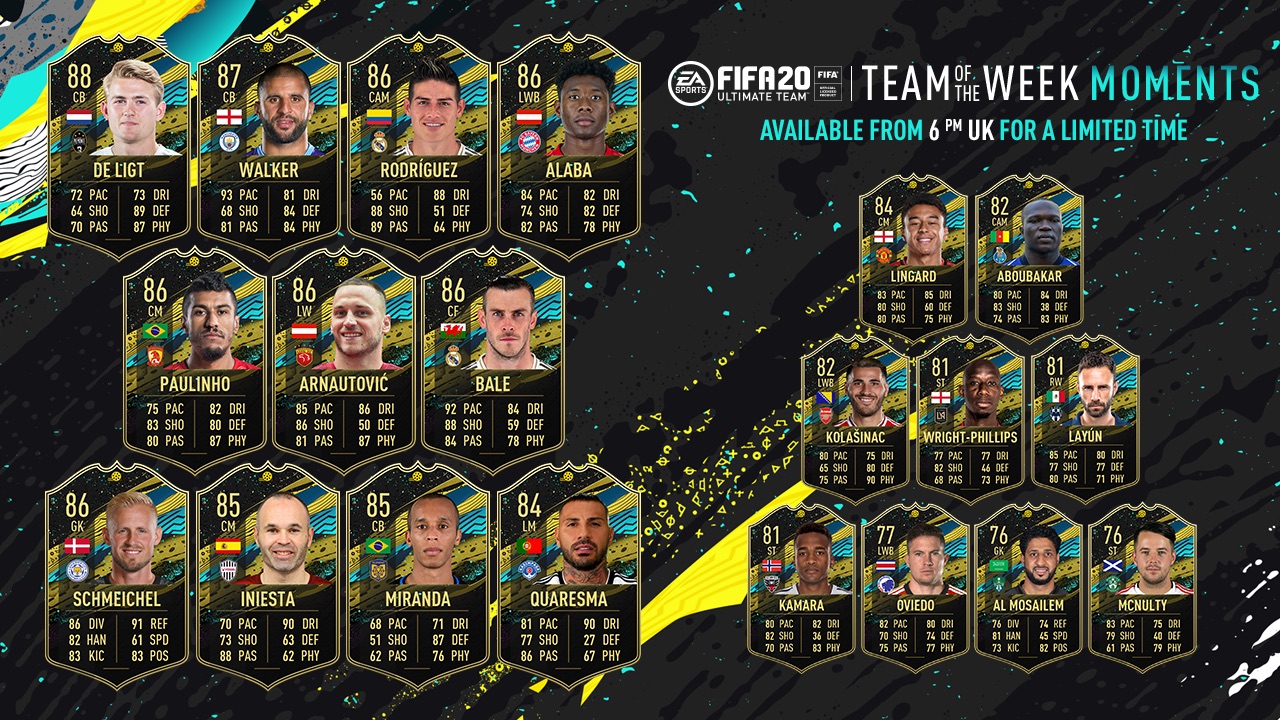 It's worth noting that FIFA 20 Team of the Week Moments replaces TOTW in several areas in Ultimate Team. As EA stated, these include packs, FUT Champions Rewards, SBC Requirements, Future FUT Objectives, Draft Mode, and Weekly Featured Squad Battles.
EA provided frequently asked questions along with more details of the promotion in the pitch notes here.
The new promotion goes into effect as of today, Wednesday, March 18 within FIFA Ultimate Team. The Team of the Week program will resume if and when the football season resumes for the ongoing year.
Visit our FIFA news page for more of the latest updates.