With the excitement of the 2020 UEFA Euro tournament sweeping the globe over the weekend, EA also brought for their first official FIFA 22 trailer. In addition, the latest cover athlete was recently revealed, and fans may not be too surprised. A returning favorite will grace the FIFA 22 cover, making it back-to-back cover appearances for a certain Paris Saint-Germain star. Here are the latest details on EA's upcoming international football title including release date and pre-order details.
Kylian Mbappe to appear on his second-straight cover
The arrival of EA's FIFA 22 video game brings back a familiar face for the cover. Fans saw PSG star Kylian Mbappe claim his first cover last year for the EA football sim with FIFA 21.
Now, Mbappe returns as the FIFA 22 cover star, becoming a back-to-back cover star like several other major footballers. Mbappe joins Cristiano Ronaldo (FIFA 18, 19) and Lionel Messi (FIFA 13-16). That puts him in elite company and many people feel the Team France and PSG star is quite deserving.
A tweet below from July 9th shows off Kylian Mbappe on the FIFA 22 Ultimate Edition, which has just recently been unveiled for pre-order.
There is also the Standard Edition cover (below), with the game available to pre-order for current and next-gen. More on that after the FIFA 22 trailer reveal below.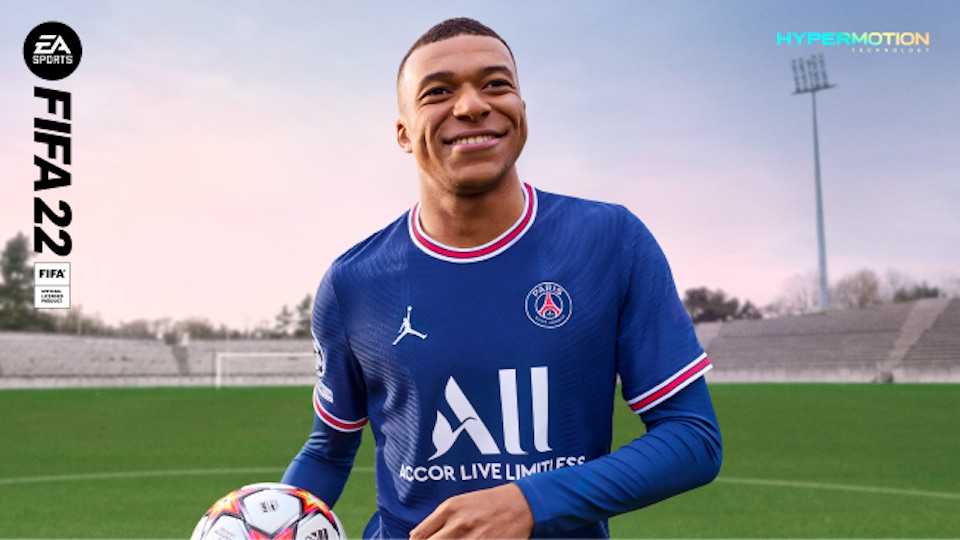 FIFA 22 trailer arrives with first gameplay footage
In addition to the cover reveals, we also got the official reveal of the FIFA 22 trailer. The video checks in at over a minute featuring cover star Kylian Mbappe and other stars including Trent Alexander-Arnold, Son Heung-min, and others.
In the trailer (below) real-life visuals from the pitch are mixed in with the first look at gameplay footage. It's also mentioned from the start that the new edition of FIFA is powered by Hypermotion technology. This technology may bring gameplay to new levels on the next-gen PlayStation 5 and Xbox Series X/S.
Release date revealed: Pre-orders now available for upcoming game
In addition to the above FIFA 22 trailer and cover reveal, EA has launched a portion of their website dedicated to the new game. On the recently unveiled page, they give more in-depth details about the new features and changes coming to FIFA 22.
They also have provided the first pre-order details for the game. FIFA 22 will be available for Sony's PlayStation 4 and next-gen PS5, as well as Microsoft's Xbox One and next-gen Series X/S consoles. In addition, the new game will be available for the Windows PCs and Google Stadia network.
There appear to be only two editions right now with a Standard Edition that will launch on October 1, 2021, and Ultimate Edition launching on September 27, 2021. Standard Edition is available for $59.99 on PlayStation 4 or Xbox One consoles (or $53.99 with EA Play membership). For next-gen PS5 or Xbox Series X/S, the Standard Edition will cost $69.99 (or $62.99 with EA Play).
Ultimate Edition and Google Stadia details
The Ultimate Edition gives gamers that four days of early access (starting Aug. 17), along with other bonus content. In addition, those who order Ultimate Edition for PlayStation or Xbox get the Dual Entitlement. With that, gamers can get a free upgrade from PS4 to the PS5 version of the game, or Xbox One to the Series X/S version.
The FIFA 22 Ultimate Edition is $99.99 on PlayStation or Xbox, but EA Play members get a 10 percent discount making it just $89.99 on pre-order. The Ultimate Edition is $79.99 on PC via Origin or Steam downloads.
Google Stadia involves a monthly subscription fee to access games, along with using specific hardware or devices to play the games. Check out more details about the service here.
See all pre-order details for the various systems here at EA's website.
Visit VGR's FIFA 22 page for more of the latest game updates.