Fortnite Chapter 3 map could be released very soon! As a matter of fact, it might come in early December 2021. With all the hints Epic Games has released, it won't be surprising if the next chapter is just around the corner. We have entered the final two weeks of Season 8 and another leak has come out!
The current season is scheduled to end on Sunday, December 5. Considering that seasons mostly end on Mondays and start on Tuesdays, we expect something big to happen. According to leaks, we will get another live event that ends with the Black Hole. After the Black Hole, we will see the Fortnite Chapter 3 map!
The Fortnite Chapter 3 map name has been revealed
Popular Fortnite leaker FNBRUnreleased has recently leaked the name of the upcoming Fortnite map. According to the leak, the name will be called "Artemis," which makes a lot of sense. This name follows the suit as the Chapter 1 map was called "Athena" while the current map is called "Apollo."
As you can see, all of these names come from Greek Mythology. Athena was the goddess of wisdom and war while Apollo was a god of archery, music, and dance. Artemis, the leaked name of the Fortnite Chapter 3 map, is a goddess of wild animals and hunt, among other things.
The name of the map could be a hint as well, although Epic Games has already had a primal-themed season. Season 6 of Chapter 2 was centered around animals and hunting, and even though it brought many new amazing things, many players disliked it.
The map details
A few weeks ago, one Reddit user claimed that he saw a blueprint of the Fortnite Chapter 3 map. He created a concept of the map based on his memory and he named it "Artemis." It turns out that this is indeed going to be the name of the map, so the other things about the leak might be true as well.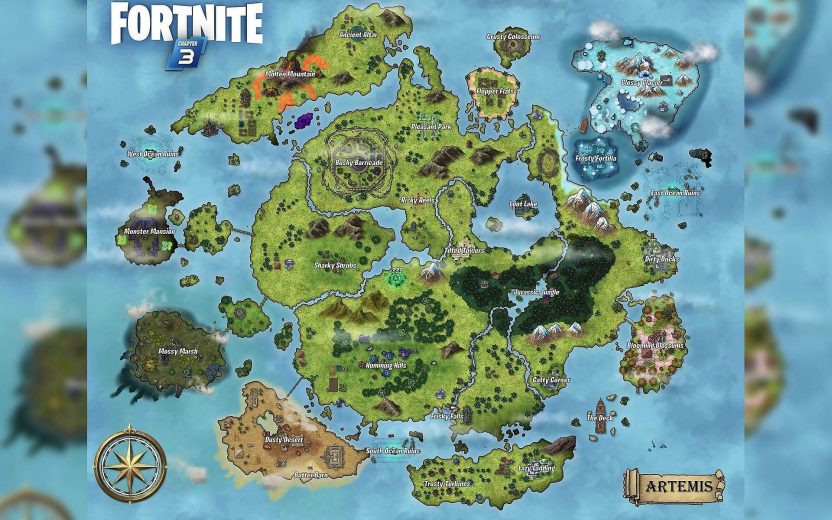 The Artemis map had different biomes and several islands. We will have to wait just a bit longer to see if this will be similar to the actual map that we get in Chapter 3. It wouldn't be the first time that a random leak turns out to be true. After all, this is what happened with the Chapter 2 map as well.