Fortnite Season 3 is just around the corner! Epic Games is preparing big things for it, including a live event that will start on Saturday, June 4. This event will introduce players to the new season and players can't wait for it. With less than a week to go until the new season, there have been a lot of leaks about it.
One of the Fortnite Season 3 leaks was about the new Battle Pass. However, many players did not know whether it was fake or not. The leak revealed the new skins coming in the Battle Pass, including the new Fortnite Crew skin as well. It appears that the leak was legitimate as Epic nearly confirmed it themselves.
Fortnite Season 3 leak reveals the new Battle Pass
The Battle Pass leak revealed the new content that is coming in Fortnite Season 3. Besides the Battle Pass skins, the leak revealed the new version of Mecha, which is supposed to be a new Fortnite Crew skin, as well as the new feature that will come in the new season, Assemble Snap.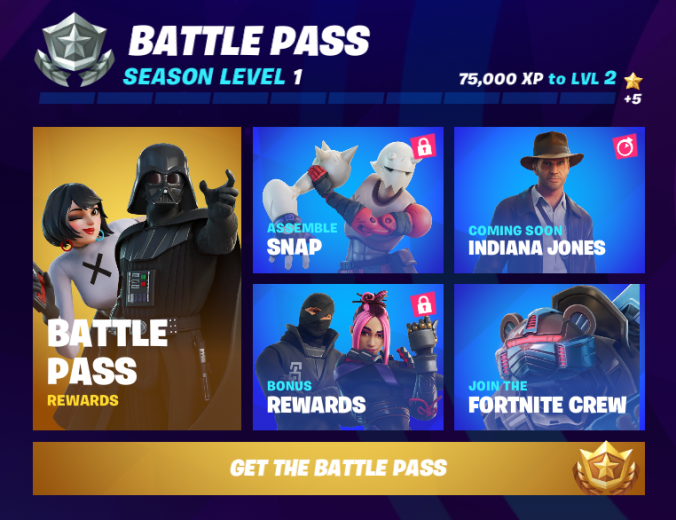 As you can see in the image above, Darth Vader and Indiana Jones will come to Fortnite, if the leak ends up being true. While this does look like something Epic Games made, it's important to keep in mind that there are some amazing designers out there. However, the Fortnite developer may have confirmed the leak with the latest in-game change.
On May 28, Epic Games changed the lobby background. The lobby background shows the Mecha robot that looks almost identical to the robot in the leak.
It's important to note that the robot is not completed yet. After all, its left arm is missing and will most likely be assembled in the new few days.
New Fortnite Crew skin will be revealed soon
Since we are in the last few days of May, we can expect Epic Games to reveal the new Fortnite Crew skin soon. The new skin will most likely be revealed on Monday, May 30. If it ends up being the Mecha robot from the leak, this will be a final confirmation of the leak.
Darth Vader and Indiana Jones skins were leaked a few weeks ago and it appears that Epic has worked on them for a long time. We can expect them to finally come out in Fortnite Season 3.