Fortnite's patch v7.30 is live and it brought tons of new items and skins to the game with it. The latest update added a new item called "Chiller Grenade" which makes allies, enemies, and vehicles slip for seven seconds. Bolt-action Sniper Rifle, Burst Rifle, Heavy Shotgun, and SMG (common, uncommon, and rare) have been vaulted in this patch. Fan-favorite weapon, Suppressed SMG, returns from the vault with the latest patch.
After the downtime ended, data miners were quick to search for new skins added to the game. This time, Fortnite leakers were finally able to get their hands on the mysterious Snowfall skin. It turned out that the outfit was hiding in the plain sight all along.
Fortnite's new Fire King Skin
A few days ago, the melting ice boulder at Polar Peak revealed a chained prisoner. But now, it seems like the prisoner was able to escape from the Ice Castle after the ice completely melted off. At first, players thought that the prisoner was a new skin model, but after the latest update, data miners figured out that it is actually season 7's Snowfall skin.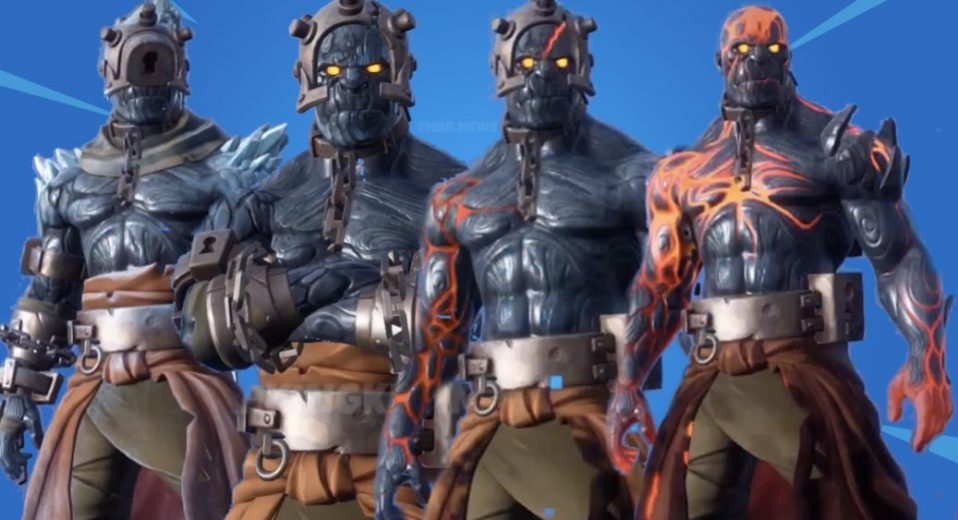 A popular Fortnite theory about season seven is that the Ice King trapped the Fire King under the Ice Castle so that he wouldn't destroy his kingdom. Before the Ice Storm event, the "Ice Prison" started to melt, probably due to Fire King's warmth. To keep the Fire King imprisoned, the Ice King covered the whole map with snow in the Ice Storm event.
But that didn't stop the Fire King and week 9 loading screen of this season revealed that he was finally able to escape the prison by melting all the ice.
Week 9 loading screen

via @ShiinaBR pic.twitter.com/wLTsnLfbsP

— Lucas7yoshi_ // Fortnite Leaks (@lucas7yoshi_) January 29, 2019
The Fire King can be seen resting near a campfire in Paradise Palms in Week 10 loading screen.
Week 10 Season 7 loading screen #Fortnite #FortniteBattleRoyale #FortniteBR #FortniteSeason7 pic.twitter.com/hJa1bngzgc

— NightFury13698 (@NightFury13698) January 29, 2019
It should be noted that this skin can be unlocked by completing 60 weekly challenges. We're not sure how things will turn out between the Kings, but the Fire King definitely has some connection to Fortnite season 8's story.