The Auction House returns for Madden 21 Ultimate Team, allowing gamers to have a sort of eBay system in the game. With the Madden Auction House, gamers can bid on, buy, or sell their player cards and items. Many use this as a way to fill out their Ultimate Team rosters or collect profits in Madden Coins to build up a bankroll. That said, this tutorial will give you an overview of how to use the Auction House in Madden 21 to sort, view, bid, and buy cards.
How to use Madden 21 Auction House
To access the Auction House in Madden 21, you'll need to be in Ultimate Team mode. It's there for gamers to bid on or buy via auction listings. It's also possible to set up your own listings, which you do through your card collection. You can also use the Auction House to keep an eye on prices as they do tend to fluctuate.
Here's how to access and use the Madden 21 Auction House :
Using the top menu, scroll over to "Store."
Use your controller to select the "Auctions & Trades" option on-screen.
The "Auction House" is the first on-screen option. Select this to pull up all of the latest auctions.
Using options on the left side of the screen you can filter the auctions to narrow down what sort of player card or item you're trying to bid on or buy. See below for more details.
How to sort/filter listings
You'll notice on the upper right hand portion of the screen (above item listings) are two drop-down menus. The first offers the ability to sort by various options including Buy Now Price, Time Remaining, A-Z alphabetical listing, and Price. The other drop-down menu allows to sort in Ascending or Descending order based on your search (alphabetical, price, etc).
The easiest way to find a player card is typically searching by the player's name. So you would select the Name search box on the left side and then enter in the first and last name. If the player has a unique first or last name, it may be quicker to enter that.
Here are the other filters you can set up to search the listings:
Type – Filters by position or type of card. For example, you can look up a QB, HB, CB, K, P, or Coach. You can also check for Playbooks, Uniforms, Stadiums, and other Collectibles.
Quality – You can filter the overall rating of a card here. They're in groups such as 80-81, 82-83, 84-85 and continue in pairs of two up to 98-99 OVR. You can also select the quality tier of card such as Gold, Elite, Silver, and Bronze.
Team – This one's self explanatory, and useful for those building a theme team. You can filter by the team you want player cards for. Free Agents is an option here in addition to all of the current NFL teams.
Cap Value – Used for searching by player card cap values for gamers who need to stay within a certain cap level for their Ultimate Team.
Program – There will be different programs or promotions throughout Madden 21 Ultimate Team season. Those will appear here. At the start of MUT season, it's limited to Team Builders, Team Diamonds, Power Up, and a few others.
Chemistry – Yet another great way to sort available player items based on what sorts of Team Chemistry options the player has. The options here include things like Pass Rusher, Shaker, or Brawler and various team chemistries as well.
View, bid, and buy auction items
Once you've sorted your auction listings and see a card you like, simply use the controller to move to that card. Press the X button on the PS4 controller or A on the Xbox One controller to view the card.
In the top left corner are menu options to scroll through including Auction, Attributes, and Equippables (if available) for the player.
For most cards, you'll also see the Auction Details on the left side. These include Time Remaining, Current bid, a Buy it Now price, and the option to Compare the player item to other players on your Ultimate Team. Keep in mind, prices are in Madden Coins.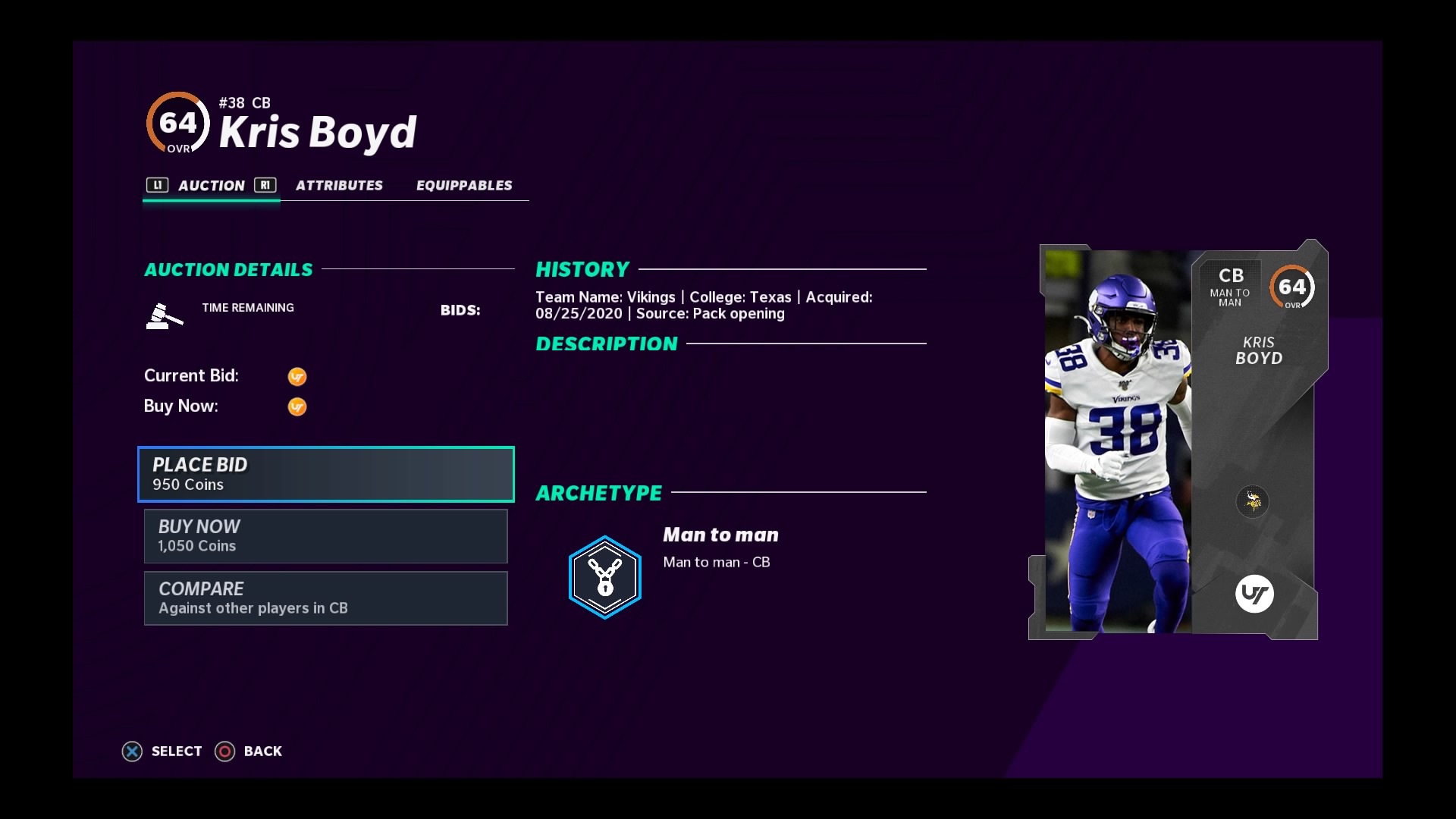 To bid or buy, simply use the options on the screen. Upon clicking either, you may get a confirmation pop-up. Make sure you have enough Madden Coins and elect Yes to confirm.
That's all there is to using the Madden 21 Auction House to get the players and items you need for Ultimate Team!
By the way, you'll also want to check out how to get your free Team Captain for Ultimate Team. See our Madden page for more of the latest guides.