2019 is set to be an important year for The Elder Scrolls: Online; one which the director said would be 'huge' back in December. The game is celebrating its five-year anniversary, and to do so, it has one of its biggest-ever stories; one which is at last introducing dragons to the game. The Elder Scrolls: Online Elsweyr will be the next major chapter expansion; the third of its kind, following Morrowind and Summerset. Moreover, it will also be the centrepiece of a year-long story event called the 'Season of the Dragon'. Of course, any good story needs a good villain, and the Season of the Dragon certainly has one; a monstrous dragon named Kaalgrontiid.
Who is Kaalgrontiid, the Dragon Villain of Elder Scrolls: Online Elsweyr?
The first glimpse that fans got of Kaalgrontiid was in the newly released trailer for The Elder Scrolls: Online Elsweyr. As Khamira and Abnur Tharn run for their lives after inadvertently releasing the dragons, the massive green-scaled form of Kaalgrontiid comes crawling from the cavern. Fortunately for the two explorers, he evidently considers them beneath his attention; he leaves them alive and goes flying ominously off into the skies of Elsweyr.
ZeniMax Online Studios revealed the name of this winged terror in a news post announcing the expansion; "The Dragons have returned to Tamriel," reads the post; "Unleashed upon the world by the unwitting Abnur Tharn and the Imperial usurper queen Euraxia, the great Kaalgrontiid and his followers hunt from the skies and threaten to burn down the ancestral home of the Khajiit."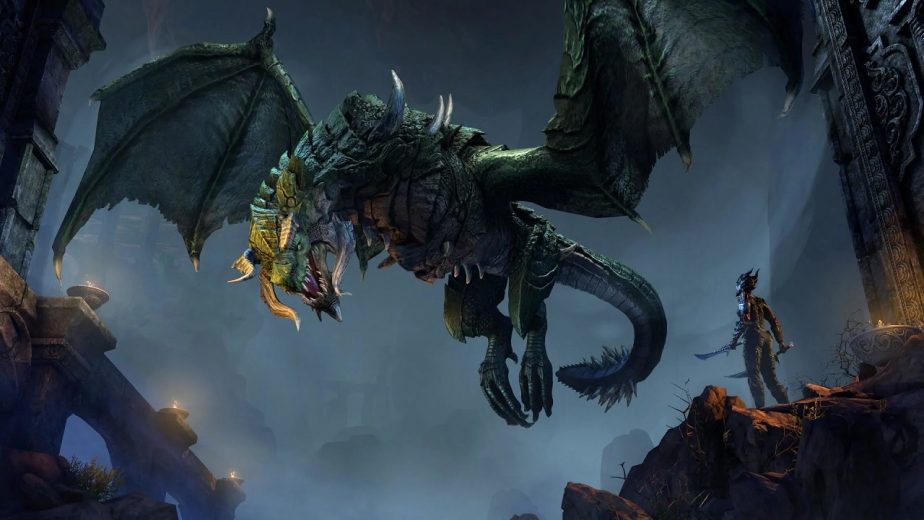 Exactly what Kaalgrontiid's plans are, or what role he'll be playing in the story of the Season of the Dragon, is currently unknown. However, it seems likely that the huge dragon will be a major boss-fight in the upcoming Elsweyr expansion. Indeed, 'Dragon Attacks' are reportedly one of the big new features coming in the expansion as a form of world event; similar to the role which dragons played in Skyrim. Evidently, Kaalgrontiid's followers will present a serious challenge throughout the Season.