The Madden 19 Ultimate Team is picking up as the 2019 NFL Playoffs are getting underway this weekend! A brand new batch of Playoff Heroes, Bosses, Masters, Sets is now available. These are based exclusively on the NFL playoff teams as they look towards a potential Super Bowl run in the coming weeks. That means some high-rated stars from the various teams are possible additions to your current Ultimate Team roster. It all kicks off this weekend too!
Madden 19 NFL Playoffs arrive for Ultimate Team
On Friday (Jan. 4), the Madden Daily Drops live streamed at their Twitch channel. During the show, they presented the brand new Madden 19 NFL playoffs event. This latest promotion follows in the football footsteps of Zero Chill which will be coming to a close this weekend. There is a Zero Chill Snow final offer to look at ahead of that date, as well as news on conversion of any Snow you might still have. Meanwhile, here are some of the players and early details on what's starting Saturday with Madden playoffs.
👀 Ready for the NFL Playoffs?

Special #MDD Stream at 10:30 AM: https://t.co/uq8zZjyuhM pic.twitter.com/cY8P9Ts9Bk

— Madden Ultimate Team (@EASPORTS_MUT) January 4, 2019
Each playoff team has a group of six Heroes players. By collecting a set of all the Heroes, a gamer can get an exclusive Boss player for that particular team. All of the Bosses carry a 95 overall rating with high ratings on various skills making them quite an addition to the MUT roster.
For example, the Houston Texans' Heroes are comprised of Nick Martin, Demaryius Thomas, Kendall Lamm, Justin Reid, Johnathan Joseph, and Bernardick McKinney. Collecting a set of all these players results in a special Bosses card for wide receiver DeAndre Hopkins, rated at a 95 overall. Not a bad addition to that lineup!
In another example, the Seattle Seahawks Heroes set includes Germain Ifedi, Bradley McDougald, Justin Coleman, Frank Clark, Dion Jordan, and Tyler Lockett. They range in value from 84 up to a 93 so they can provide some nice upgrades as well. Collecting all of these players brings a Bosses card for left tackle Duane Brown.
Madden 19 NFL Playoffs Bosses cards
As mentioned, each of this postseason's NFL playoff teams has a Madden 19 Bosses card available. These are attainable by putting together a set of the six Heroes player cards for that team. Below is the list of which Heroes are going to be available based on the Madden 19 Twitch stream earlier today. Remember, each of these players has a 95 overall.
Joey Bosa (LE) Chargers
Tom Brady (QB) Patriots
Duane Brown (LT) Seahawks
Brandin Cooks (WR) Rams
Fletcher Cox (DT) Eagles
DeAndre Hopkins (WR) Texans
Eddie Jackson (FS) Bears
Marshon Lattimore (CB) Saints
Zack Martin (RG) Cowboys
C.J. Mosley (LB) Ravens
Mitchell Schwartz (LT) Chiefs
Jabaal Sheard (RE) Colts
In addition, there are Bosses player cards for the Carolina Panthers' Steve Smith and New England Patriots' Willie McGinest. These are special NFL Playoffs edition stars. Each of these guys brings a nice 97 rating and high-rated skills. Check out Smith's card below with 90s skills across the board.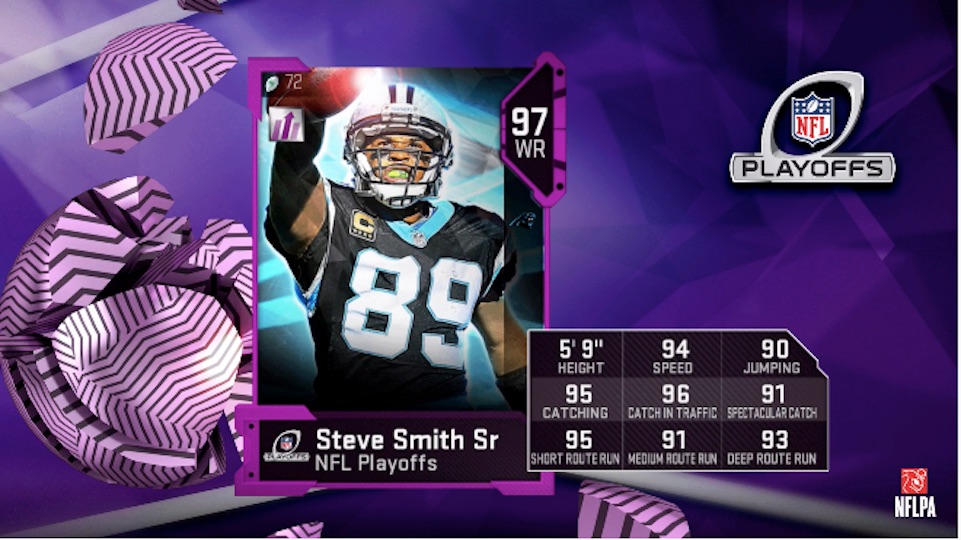 As seen above, these particular Bosses position players can really give your Ultimate Team that needed boost with 95 overalls and many 90s on their specific skill ratings. All of these players for the NFL Playoffs Madden event are available as of Saturday, January 5, 2019 (approximately 10:30 a.m. ET). That just so happens to be the first round of the NFL Playoffs Wild Cards games making for a fun-filled weekend of football.
Stay tuned, as EA's team said there will also be a Captain team token and Objective lists on the way as well as Solo Challenges. Check out the Twitch video here for more details.
Get more of the latest information about the popular football game at our Madden news page here.