This past weekend, football fans watched some exciting NFL Playoffs action. It was the 2019 AFC and NFC Wild Card games which yielded four teams that are moving on. Due to that, and due to specific player performances in the games, new Madden 19 Playoffs Wild Card players are available. In addition, there's a new Exchange set deal to trade player cards in. Here are the latest details.
Four Madden 19 Playoffs Wild Card Players revealed
During this past weekend's NFL Playoffs results, the Indianapolis Colts dominated the Houston Texans, and the Dallas Cowboys edge the Seattle Seahawks. The Los Angeles Chargers survived a late-game comeback attempt to defeat the Baltimore Ravens. In Chicago, Bears fans watched as their dreams of a first playoff win in eight years bounced off the field goal posts. The Philadelphia Eagles survived with a very close 16-15 win to close out the Wild Card results.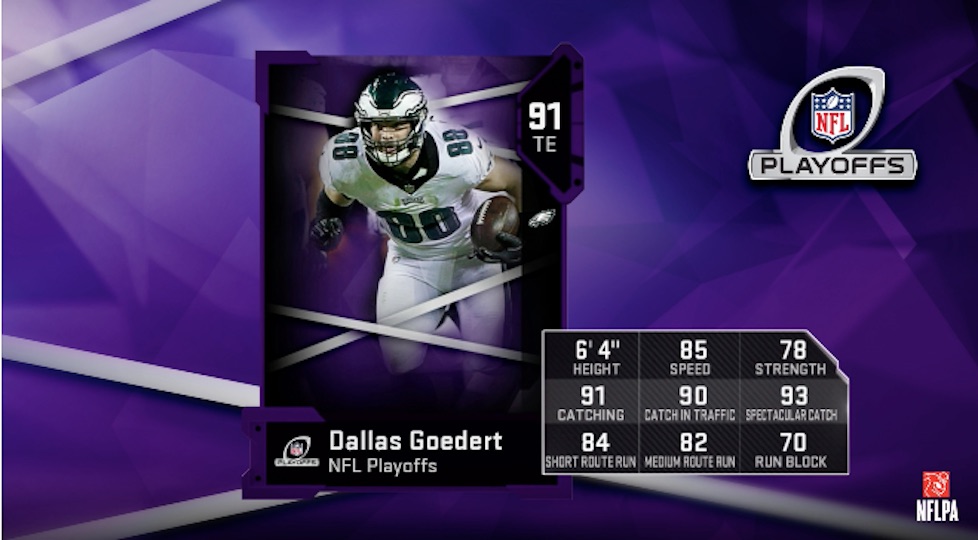 As a result, four new Madden 19 Playoffs Wild Card players were revealed on the EA Madden Twitch channel Tuesday.  Each of these players had impressive in-game performances to help their teams advance to the NFL Divisional Round of play. Due to that, the new cards carry a 91 rating for MUT.
DT Maliek Collins, Dallas Cowboys
TE Dallas Goedert, Philadelphia Eagles
CB Kenny Moore II, Indianapolis Colts
FS Adrian Phillips, LA Chargers
Madden 19 Playoffs Wild Card Players' Skills, Exchange set
These player cards bring enhanced skill ratings, some of which are in the low to mid-90s for these football stars. For example, the Dallas Goedert shown above features a 90 Catch in Traffic, 91 Catching, and 93 for Spectacular Catch on his card.
The Chargers' Adrian Phillips brings 92 on Acceleration and 91 on Zone Coverage. As mentioned in the Twitch video, he was "all over the field" in his team's win against Baltimore. Now he'll be part of a defense that's trying to stop Tom Brady and the Patriots.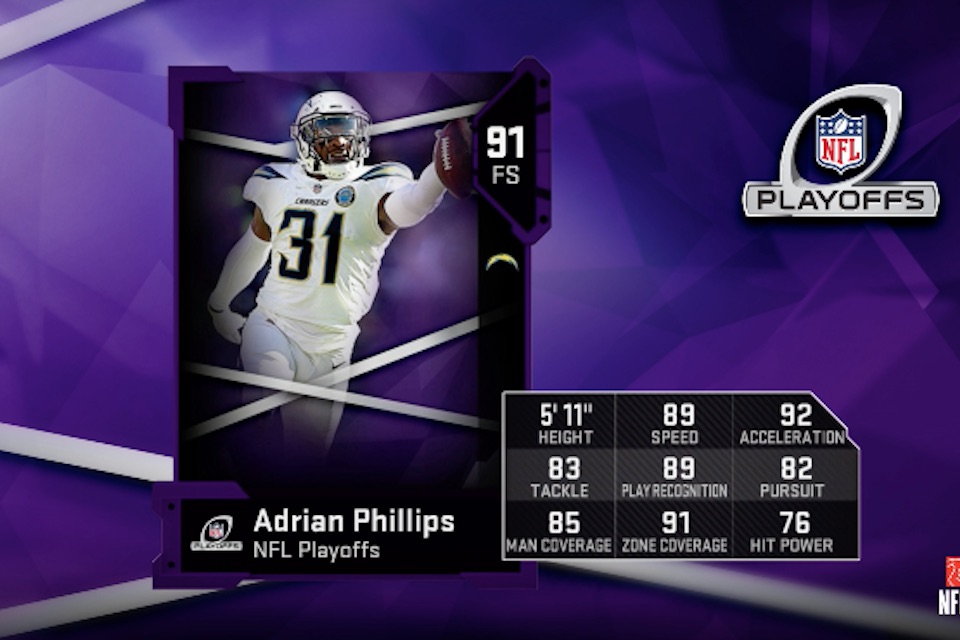 How about the Colts' Kenny Moore? Another defensive star who is part of the group, he has a 90 Speed, 91 Zone Coverage, 93 Acceleration, and 95 Jumping. Moore was a major part of helping Indianapolis' defense halt the Texans' hopes of moving forward to possibly reach the Super Bowl.
Then there's the Cowboys' Maliek Collins. Yet another defender who came up big. The Cowboys topped Russell Wilson and the Seahawks in Dallas. Collins brings a 94 for Finesse Moves, and then an 88 for Play Recognition. Add in the 87s for Strength and Power Moves and gamers get another nice player card here.
Adding to the fun of the ongoing Madden 19 Playoffs event is a new Exchange set deal. As mentioned by EA's team on their Twitch stream Tuesday, gamers can collect any eight 84 to 93 rated NFL Playoffs players. Add them to the set in order to get a choice of three of these 91 Wild Card players. Not a bad way to boost your Madden Ultimate Team where it might need help!
For more of the latest news, see our Madden page here!