The new Madden Ultimate Team Legends are here! As of Saturday, MUT gamers are learning off three great new player cards within the popular Madden mode. They include all-time NFL stars, Deion Sanders and Bruce Matthews. Here are the latest details on the newest Madden 19 Ultimate Legends cards in the game.
Madden 19 Ultimate Legends Cards: Deion Sanders, Bruce Matthews
The new MUT Legends are fierce competitors who become gridiron heroes for several franchises. First up, we have none other than Deion "Primetime" Sanders. During his 14 total years in the league, Deion racked up 53 interceptions with 1,331 yards and nine touchdowns. He also forced 10 fumbles, recovered 13 of them, and had a touchdown. Add in 513 combined tackles for his stellar career.
The cornerback brings a 98 Legends Falcons card to Madden Ultimate Team. It includes 98s in multiple categories such as Speed, Acceleration, Agility, and Zone Coverage. While he's great to have for coverage on those dangerous receivers, Deion also makes a great kick return man based on that speed.
Bruce Matthews spent his career with Houston from 1983 through 1996 which became Tennessee in 1997. He'd retire in 2001 with 296 games played and 10 fumble recoveries. Matthews was a 14-time Pro Bowl representative and nine-time First-team All-Pro. His No. 74 is also retired by the Titans.
He also gets a 98 OVR Legends Titans card which includes 98s for Pass and Run Blocking. Matthews also boasts 97 ratings on his Awareness, Run Block Power, and Pass Block Power. That's one heck of a card to add to a MUT roster at the center spot!
Madden 19 Ultimate Legends Cards: Limited Willie Roaf
Last, but certainly not least, is a Madden 19 Ultimate Legends card for Willie Roaf. He played form 1993 in the NFL with nine years on the New Orleans Saints and his final four years with the Kansas City Chiefs. Road racked up 11 Pro Bowl appearances and six First-team All-Pro selections. The left tackle's career stats included four total fumble recoveries.
Roaf is also rated at 98 with the other two Ultimate Legends. There's 98 Pass Block, along with 97 Awareness, and 96 Run Blocking among the key attributes on Roaf's Saints MUT card. This is the Limited Time Legends card of the week. All three of these cards are power-up compatible, though.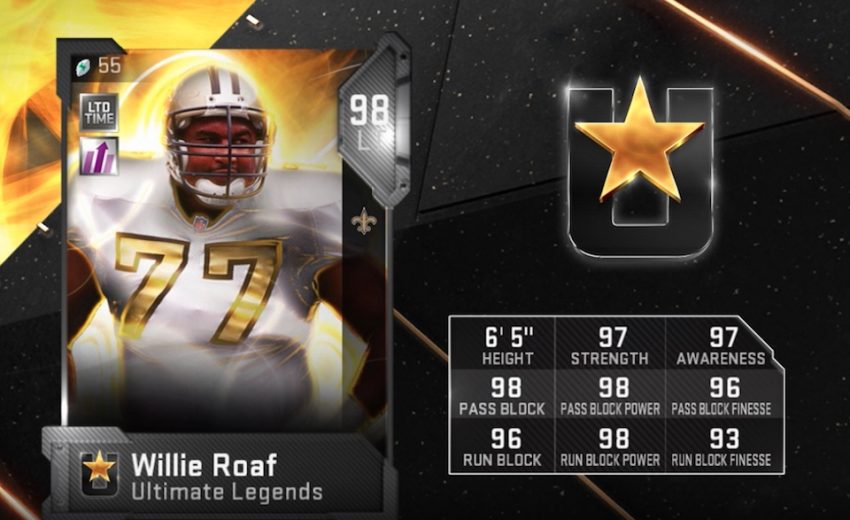 The newest Ultimate Legends cards come into play not long after a Rob Gronkowski LTD card arrived. They also arrive just a day after the news of the new Madden 19 Path to the Draft promotion.
Which draft cards have you achieved so far? Will you be trying to add any of the new Madden 19 legends cards?