The excitement of the Madden 20 NFL game continues to pulse throughout the video game community. The newest edition of the popular football title was announced this past Thursday ahead of the NFL Draft. Kansas City Chiefs quarterback Patrick Mahomes is on the cover with the new game expected to drop on August 2. It'll arrive three days early for those who order editions such as the Ultimate Superstar Edition. Ahead of all that, the EA Madden Twitch folks will give more Madden 20 features analysis for gamers to digest.
Madden 20 features Twitch schedule
Over at EA's Madden Twitch channel, the Daily Drops crew brings gamers the latest Madden content news. They'll be continuing to deliver that for the current Madden 19 game. They'll also reveal more in-depth looks at some of the new game's features. That will include things like the college quarterback feature "Face of the Franchise," and the intriguing new "Superstar X-Factor" abilities.
The Daily Drops crew provided a schedule for their upcoming live "Community Streams" in the month of May. Each will be for a specific topic related to the upcoming Madden 20 features.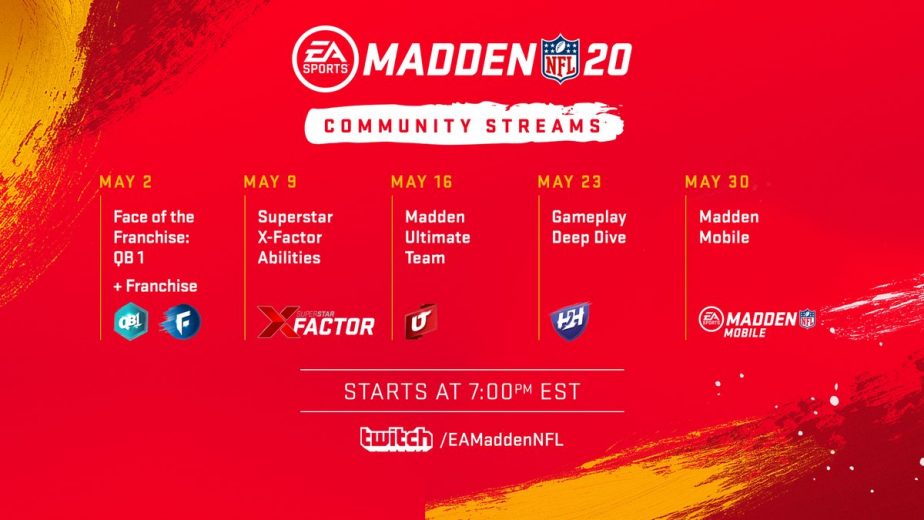 It all starts on May 2 with the discussion of the new "Face of the Franchise: QB1" feature which has plenty of people amped up. In that feature, gamers create their own quarterback and guide them through two important college games into the NFL. With no dedicated college football game available from EA, this particular feature is one to watch out for.
On May 9, gamers will get to learn all about the interesting new "Superstar X-Factor Abilities" which are special abilities certain players will possess in the game. They'll require completing a certain set of objectives to activate them so that player gets "in the zone." So this should also be interesting to see. One of the abilities mentioned in a recent Twitch video is "Bazooka Mahomes" where the Madden 20 cover star is able to hurl the ball 80 yards downfield to a receiver.
May 16 will bring Ultimate Team into focus, one of the most popular features of the Madden franchise. On May 23, gamers get to look at a "deep dive" into the Madden 20 gameplay, while May 30 will be all about the Madden Mobile experience.
Each of these exclusive streams will begin at 7 p.m. Eastern Standard Time. So for those gamers who want to learn all about the upcoming title, make sure to head over to the EA Madden Twitch. We'll also continue to bring coverage at VGR, so keep an eye on our Madden news page!