With NFL free agents either signing with their current teams or joining new squads, the Madden 20 Free Agency promo is on its way. Part 1 of the promotion is slated to begin on Wednesday, March 18, in conjunction with the start of the NFL's calendar year. On Tuesday morning's Good Morning Madden Twitch stream, they revealed which players are on the way, among other key details.
Madden 20 Free Agency Part 1 Master & Hero Players
Leading the way with the best cards for the Madden 20 Free Agency promotion are Master Player items. In Part 1 of the promo, Jadeveon Clowney and Joe Thuney get 98 overall items, achievable through special exchange sets. To get the Master player items requires an exchange of three other high-rated Free Agency items.
There are also two Free Agency Hero players. One of those is Philip Rivers who made a big move on Tuesday. Rivers chose to leave the Chargers to join the Indianapolis Colts. In addition to Rivers, Houston Texans halfback Lamar Miller is the other Hero player. Both get a new 96 OVR card as shown below.
Each Hero requires a set of seven other cards. Those are three 90-94 OVR and four 87-89 OVR Free Agency players to earn 96 OVR Hero player.
Other Free Agency player cards revealed
There are also a number of player items including 96 overall cards for CB Chris Harris Jr, FS Anthony Harris, TE Hunter Henry, and RE Ndamukong Suh. These are available through packs and store offers, as well as the auction listings.
There are 10 other lower-rated players with OVRs that range from 87 to 92 OVR. Amongst them are quarterback Teddy Bridgewater, cornerback James Bradberry, and strong safety Karl Joseph.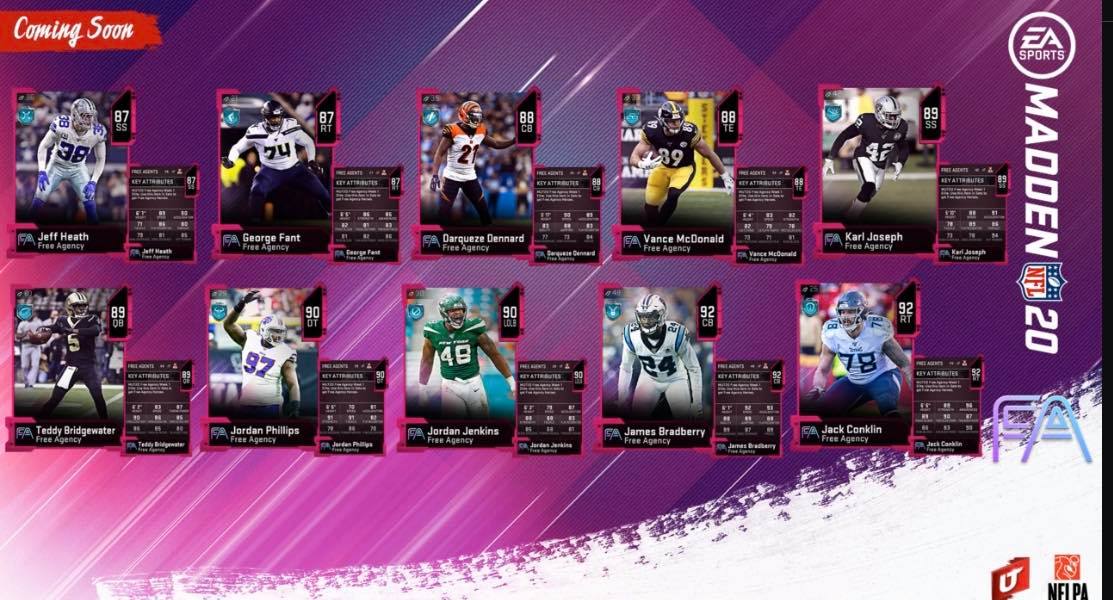 All of the above players are available through the Madden 20 Store packs and offers. In addition, they'll become available through the auction listings.
New Ultimate Team Missions
The first group of Madden 20 Free Agency Week 1 Missions will also be available in Ultimate Team. By completing the missions individually, gamers earn Madden Coins. By racking up 120 Stars, gamers earn one 96 OVR NAT Free Agency player.
At 200 Stars, Madden revealed that gamers will earn a free 87 OVR NAT player. Here's a look at some of the first missions which will focus on different stars who were major free agents during their careers. Among them are legends like Jerry Rice, Reggie White, and Peyton Manning.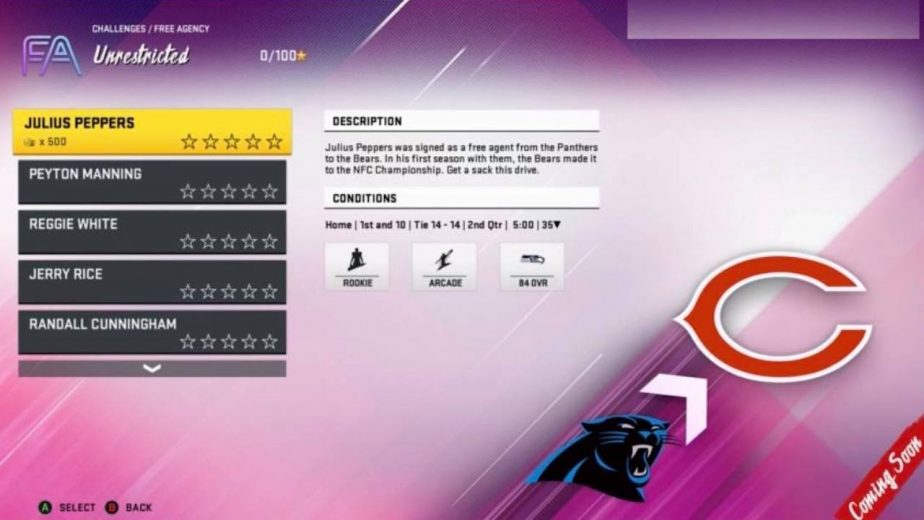 More details are available at the MUTHEAD website for the new promotion which begins on Wednesday, March 18.
Visit our Madden news page for more of the latest updates.