As of Monday (July 15), EA Sports has revealed their full Madden 20 player ratings. They arrive after the exclusive 99 Club was revealed across last week, with DeAndre Hopkins as the only player from offense. Three others joined him in the group with the best rating in the game, as defensive stars Aaron Donald, Bobby Wagner, and Khalil Mack all carry 99 ratings. How about the rest of the star players in the game, though? Gamers can now dissect who barely missed the 99 Club, who may be underrated, and who may be overrated.
Madden 20 Player ratings: Three NFL stars barely missed 99 Club
As Amazon's Prime Day sale for pre-order copies is underway, gamers are now seeing how Madden 20 player ratings look. One of the big takeaways so far, is the three players who are just below that 99 Club. They are last year's cover athlete Antonio Brown (now with Oakland), Carolina Panthers defensive star Luke Kuechly, and Falcons wide receiver Julio Jones. Each of these players scored a 98 overall rating, putting them right near the cusp of greatness.
For Brown, it's a drop by a point from where he was in last year's game. The cover star was part of the seven member 99 Club for Madden 20. That said, he's got a full season ahead as do other former members, and players who are near that top level.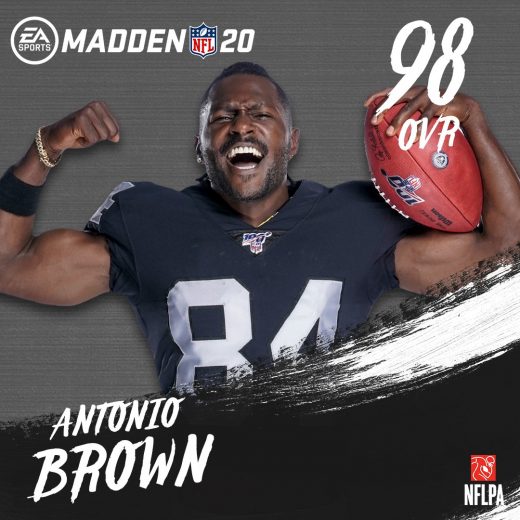 Some fans believed that the Madden 20 player ratings for the game's cover athlete would mean he scored a 99 overall. Instead, the Kansas City Chiefs quarterback is a 97 heading into the new game and season. Patrick Mahomes will have to show he's capable of continuing to exceed expectations in the 2019-20 campaign.
Mahomes is joined by Rams running back Todd Gurley, Broncos linebacker Von Miller, Texans left end JJ Watt, and Packers left tackle David Bakhtiari. Just below them is a group of six players rated at a 96 overall including the Super Bowl MVP Tom Brady. He was also included in last year's 99 Club, but time has caught up with his abilities, maybe.
Brady is joined by Chiefs tight end Travis Kelce and the new Browns receiver Odell Beckham Jr as offensive players with a 96. For the defense, the Jaguars' Jalen Ramsey, Cowboys' Zack Martin, and Eagles' Fletcher Cox all scored the same rating.
Who are the top 20 NFL players?
Check the full list of top 20 players in the upcoming Madden 20 game below. They include many of the game's biggest stars heading into the 2019-20 NFL season. Listing is in order of Madden 20's list of players for the new NFL game.
RE Aaron Donald (Rams) 99
WR DeAndre Hopkins (Falcons) 99
LOLB Khalil Mack (Bears) 99
MLB Bobby Wagner (Seahawks) 99
WR Antonio Brown (Raiders) 98
WR Julio Jones (Falcons) 98
MLB Luke Kuechly (Panthers) 98
LT David Bakhtiari (Packers) 97
HB Todd Gurley (Rams) 97
QB Patrick Mahomes (Chiefs) 97
LOLB Von Miller (Broncos) 97
LE J.J. Watt (Texans) 97
WR Odell Beckham Jr. (Browns) 96
QB Tom Brady (Patriots) 96
DT Fletcher Cox (Eagles) 96
TE Travis Kelce (Chiefs) 96
RG Zack Martin (Cowboys) 96
CB Jalen Ramsey (Jaguars) 96
DT Damon Harrison Sr. (Lions) 95
FS Earl Thomas III (Ravens) 95
WR Michael Thomas (Saints) 95
LT Trent Williams (Redskins) 95
Fans may see a few star running backs missing from the list above. For those wondering, the Dallas Cowboys' Ezekiel Elliott has a 94, while last year's top rookie on offense, Saquon Barkley of the Giants, is a 91 overall. Both players will be looking to show they're the best in the league in the coming season, as will others who didn't make that top 20 list above!
NFL stars react to numbers in video clip
It wouldn't be a Madden ratings reveal without some discussion from the players themselves. They're part of a new video clip that EA's Madden Twitter unveiled earlier on Monday. Take a look at some of the game's stars discuss what they noticed in terms of the Madden 20 player ratings.
For those wondering who came up with these numbers, ESPN has provided an article all about that. Let the griping begin with the ratings people behind the numbers revealed for the NFL players on Monday!
See the full list of Madden 20 player ratings here at EA's website. There is an upcoming ESPN E:60 show which will give viewers more insight into what the Madden ratings adjustors go through to come up with these numbers. Some fans, and players, may want answers!
We'll have more about the ratings, so make sure to keep an eye on our Madden news page!