With NFL's Week 1 officially in the books, that means the first real Madden 20 Team of the Week is here. While gamers previously received a preseason TOTW, this latest team features star performers from the gridiron in the first games that count. Among those receiving high-rated cards for the TOTW Week 1 are quarterback Lamar Jackson and receiver Sammy Watkins.
Jackson, Watkins headline new Madden 20 Team of the Week
When it comes to a top-notch Week 1 performance from the NFL's 2019-20 season, look no further than the Baltimore Ravens this past Sunday. Quarterback Lamar Jackson racked up five touchdowns and 324 yards with no interceptions on 17-for-20 passing. That output helped his team rout the Miami Dolphins 59-10 for a strong Week 1 start.
In honor of that performance, it's no surprise that Jackson is amongst the highest-rated Madden 20 Team of the Week cards for this week. He and middle linebacker CJ Mosley receive this week's Offensive and Defensive Hero cards, respectively.
TEAM OF THE WEEK (week 1) Offensive Hero Lamar Jackson (QB) and Defensive Hero C. J. Mosley (MLB).@Lj_era8 @TreyDeuce32RTR #TOTW1 pic.twitter.com/zCJI0p1wCp

— MUT news (@mut_news1) September 10, 2019
Each of the cards is rated at 90 overall. That Jackson card is a particularly attractive Ultimate Team option for QB for gamers not relying on Michael Vick as their scrambling star. The 6-foot-2 QB has a 90 Speed, 90 Throw Under Pressure, and 88 Throw on the Run for key attributes.
The new Madden 20 Team of the Week Limited item goes to Kansas City Chiefs' wide receiver Sammy Watkins, who also had quite a Sunday. He was on the receiving end of plenty of passes from Patrick Mahomes in the Chiefs' season-opening win over Jacksonville.
By the end of the game, Watkins had 198 yards and three touchdowns to help in the Chiefs' 40-26 victory. His LTD card boasts a 91 0VR rating including 90 Spectacular Catch, 89 Speed, and 89 Catching.
Who else made the TOTW Week 1 lineup?
The Dallas Cowboys and Los Angeles Rams both opened with successful starts to their new seasons. Dallas took down the New York Giants, 35-17 thanks to Dak Prescott's incredible performance of 405 yards and four touchdowns with no INTs or sacks.
The Los Angeles Rams defeated the Carolina Panthers in a close one, 30-27 on the road. Cory Littleton headed up the strong defensive effort with 14 total tackles and eight on his own, both of which led the team. Add in a fumble recovery and a 26-yard interception for a solid day of work.
TEAM OF THE WEEK (week 1) Logan Ryan (CB), Dak Prescott (CB), Austin Ekeler (HB) Cory Littleton (MLB)…#TOTW1 pic.twitter.com/G9OSOkN0R1

— MUT news (@mut_news1) September 10, 2019
There are plenty of other players deserving of spots in the newest Madden 20 Team of the Week. That includes Colts' halfback Marlon Mack who has an 83 OVR card for the lineup. Lions rookie T.J. Hockenson (81) and Ravens' receiver Marquise "Hollywood" Brown (79) also scored upgraded items for TOTW.
Here's a look at the rest of the players who made the cut.
TEAM OF THE WEEK (week 1) Marlon Mack (HB), James Bradberry (CB), T. J. Hockenson (TE), Anthony Harris (FS), Marquise Brown (WR), Devon Kennard (LOLB), John Ross (WR) and Vernon Hargreaves III (CB).#TOTW1. pic.twitter.com/NUejbrxj7K

— MUT news (@mut_news1) September 10, 2019
How to get TOTW cards in Ultimate Team
The majority of the Madden 20 Team of the Week players are available for purchase at the Packs Store in Ultimate Team. There are packs and bundles available right now. Gamers can purchase up to 10 Week 1 TOTW packs at 30,000 Coins or 500 Points each. The 12X TOTW Bundles will cost 5,850 Points, which are only available by purchasing them for real money.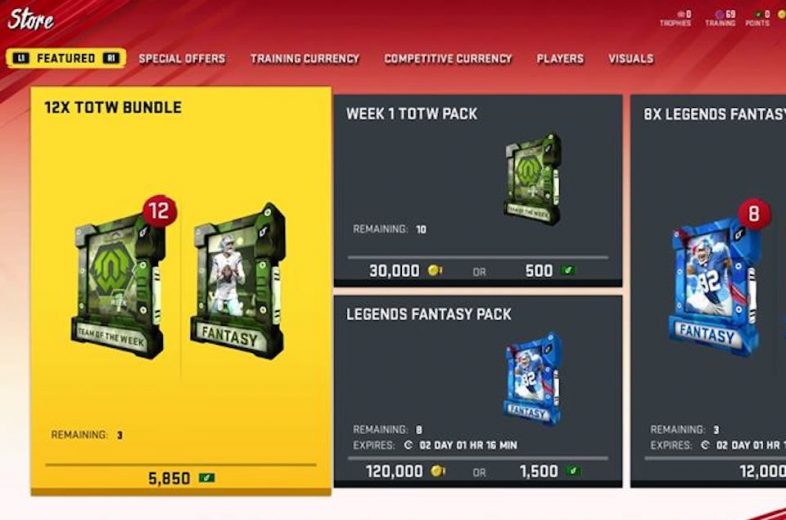 Alternately, gamers can use Auction Browser in Ultimate Team and find player items they want to buy. However, Lamar Jackson was going for over 500,000 Coins while Sammy Watkins was over one million. Check out our guide for how to get Coins in Madden 20 so you can afford them!
See more of our news about the Madden 20 game here.