On September 12, EA released a new Madden 20 title update. The latest update brought gameplay changes, game tweaks, and added a new Superstar X-Factor player since another is out of the league. All of that arrived as Madden's new Ultimate Kickoff and Signature Series also arrived. Here's the latest on what's new in the game as of Thursday's updates including new items at the Madden Store.
Madden 20 Title Update makes TY Hilton Superstar X Factor
The big news that Andrew Luck retired swept the league just ahead of the start of the season. While EA tried to appease fans with that special M20 Tribute Card they released in honor of Andrew Luck, his retirement still took away one of the 50 Superstar X-Factor players from the game. To make up for that, Thursday's title update made T.Y. Hilton of the Indianapolis Colts into a Superstar X-Factor player.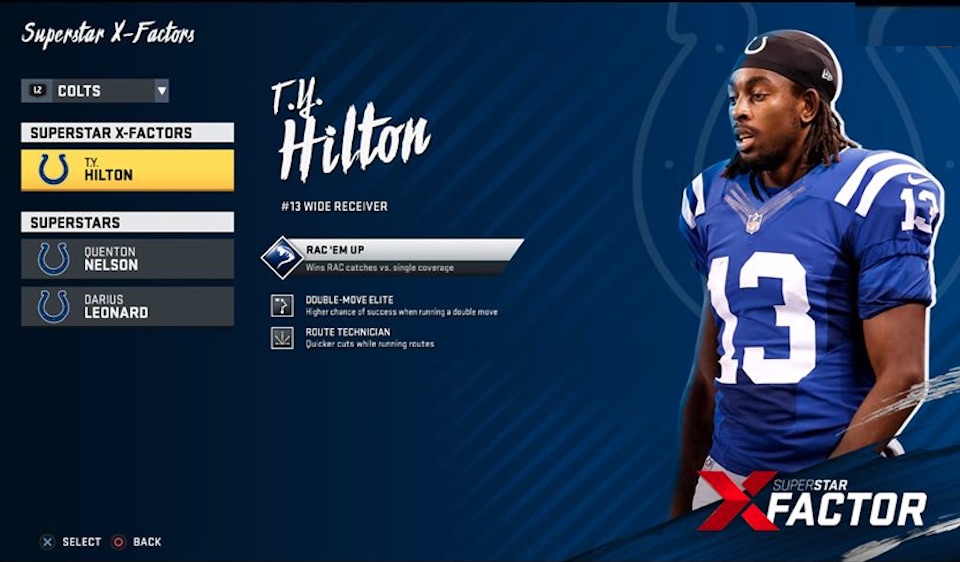 Hilton's Superstar/X-Factor abilities include:
RAC 'em Up – When in the zone, wins RAC catches vs. single coverage
Double Move Elite – Higher chance of success when running double-move routes
Route Technician – Quicker cuts while running routes
EA also noted that the changes only impact Franchises created after today's update using the "Custom Roster" option. So existing Franchises won't be impacted by these changes.
Here are the rest of EA's latest Madden 20 title update notes:
Global Updates:
General stability and connectivity improvements
Gameplay Updates:
Fixed issues with the 'Backfield Master,' 'Backfield Mismatch,' and 'Matchup Nightmare" abilities
Fixed a QB Scramble bug when hot routing on PA Zone Fake Jet
(DEV NOTE: In our previous title update, we mentioned that we fixed a similar issue. There were two cases that caused the QB to enter a bad state, and the previous update only fixed one of those cases. This will fix the other known case, which is specific to the PA Zone Fake Jet set-up.)
Madden Ultimate Team Updates:
Fixed an issue causing unreadable text to appear in the 'Seasons Progress' bar after losing a MUT Seasons game
Fixed an issue causing the Mission List to be cut off when having too many items present in the MUT Hub
Superstar KO:
General stability improvements
New Kickoff packs & Bundles in Store
With the launch of Ultimate Kickoff for Madden 20 Ultimate Team, they've added new packs and bundles to the store. The Kickoff Pack is 28,000 Coins or 500 Points. It contains 3 Ultimate Kickoff Collectibles as well as one 70-plus OVR Gold or better player item and then four Silver or Better player items. In addition, there's a 5X Kickoff Bundle for 2,200 Points or an 18X Kickoff Bundle for 8,900 Points. See how to get Coins in Madden 20 for our guide to increase your currency in the game.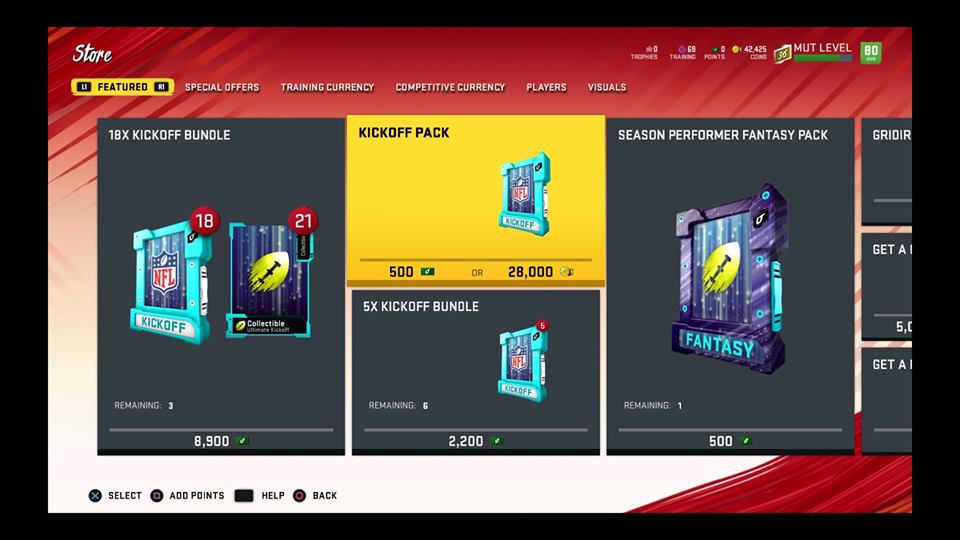 There's also the Season Performer Fantasy Pack for 500 Points. These allow gamers to choose one of 32 83-plus OVR Season Performer Players from the group. Only one choice is allowed. That player upgrades throughout the coming season based on team performance. A full list of the players for the new program is available at our Madden 20 Seasonal Performers article.
Get more of the latest details on Ultimate Team and updates at our Madden news page.