On May 16, the EA Madden NFL Twitch channel brought another Community Live Stream for Madden 20. This time, the topic was all about Ultimate Team, one of the most popular aspects of the Madden title. The new Madden 20 will promise more excitement than ever with new Missions, Ultimate Challenges, and Archetypes. Here are some of the highlights of what's coming Madden 20 Ultimate Team mode.
Madden 20 Ultimate Team: X-Factors, Superstar Abilities, & Archetypes
EA Madden's Associate Producer Jake Stein was on deck for the Madden 20 Ultimate Team "deep dive" discussion on Thursday night. To help gamers understand the new Ultimate Team, he mentioned that X-Factors and Superstar X abilities will play a part in MUT. However, gamers won't be able to load up their offense and defense with these players. Instead, he said you'll choose three players for offense and three for defense. These specific players will be the active Superstar or X-Factors in your lineup before the game.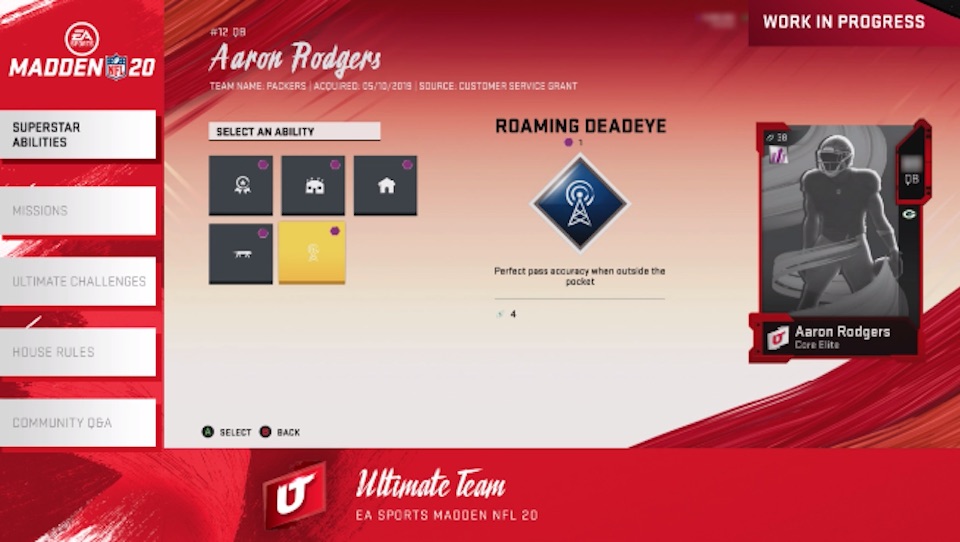 Stein also brought up how players will each have specific "Archetypes." He gave the example of the New England Patriots' Tom Brady as a "Field General." Each Archetype has specific abilities or attributes they possess. So Brady won't have something like "Escape Artist" ability, but he may have "Perfect Passing in the Red Zone," or "Perfect Deep Passes" at his disposal. A "Scrambler" QB won't necessarily have those abilities, but will have something like Escape Artist.
Ultimate Team Missions, Challenges
The "Missions" screen on Madden Ultimate Team will be a hub for gamers. The concept is to present everything in an easy-to-find place to help gamers achieve their goals in the game. So it'll be like a roadmap towards earning those rewards with the steps presented in an easy-to-find manner.
With the Ultimate Challenges, an interesting point that Stein made is that "Solo challenges are dead." He said the goal with Madden 20 Ultimate Team was to make it so gamers could go to Challenges and compete with a friend. So if a gamer was at the Challenges and sees a friend with Madden is also online they can take on the Challenge with their friend. The concept here is to make it less lonely to participate in the Challenges.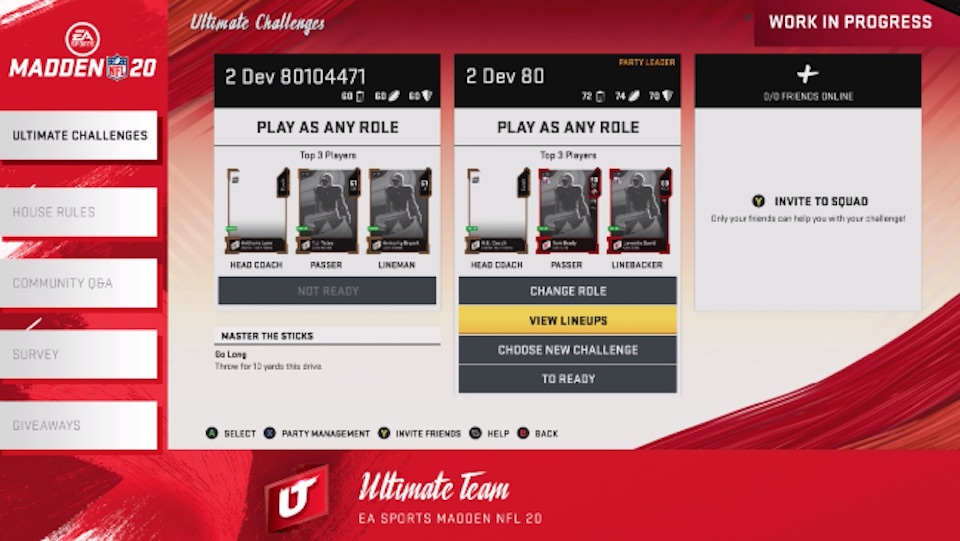 Another exciting change is a "star-based reward system" on Ultimate Challenges. Before gamers start a challenge, they get to choose if they want to try for a one, two, or three-star level. Difficulty increases at each star level. The rewards a gamer earns for these are higher with the difficulty level too. The screen below gives an example of a Challenge called "Master the Sticks" with specific Milestones and a Tier system giving different rewards.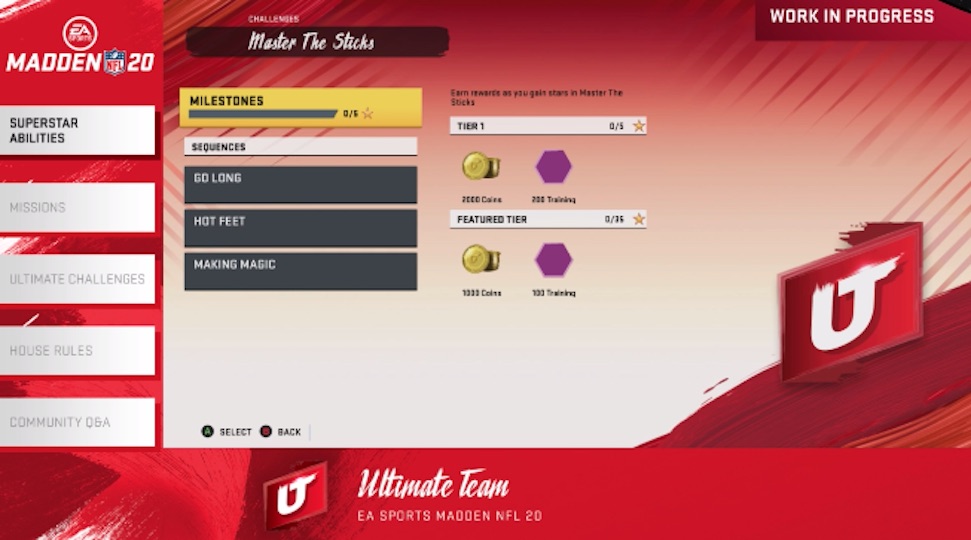 These Challenges will also include "Bonus goals." Where applicable, gamers will have an option to try to complete special bonus goals to earn additional stars. So a one-star Challenge will bring three stars by completing bonus goals. Gamers will also get the opportunity to re-try bonus goals no matter the number of attempts they've made at the Challenge.
Ultimate Team Loading screen tweak, House Rules
One of the most welcomed improvements will come in terms of the loading in and out screen for Ultimate Team Challenges. Gamers will no longer have to "back out" to the main menu to go to their next challenge. Now, as soon as one challenge is completed, a screen (shown below) will give a button option to advance to the next challenge. Based on reactions from people in the Twitch stream chatroom, this is certainly a welcome addition!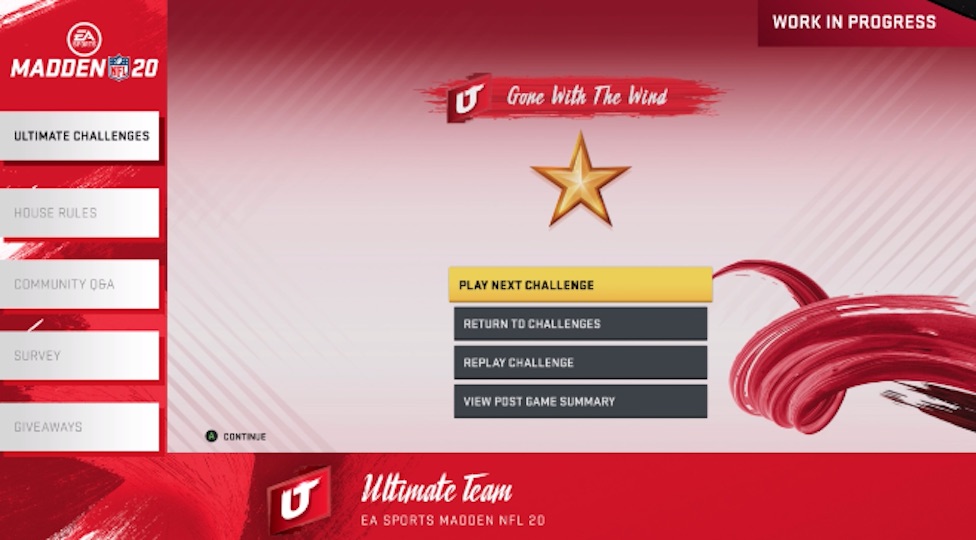 In other good news, Madden House Rules will be back again for the new title. They'll also have some unique new conditions. As Stein mentioned during the Community stream, they can now set "Start and End" conditions for House Rules. So for example, a House Rules game can start in an overtime session. Or they can set it so the first player to score a passing touchdown wins the House Rules. So there will be some fun and unique new situations in this aspect of the game.
For those who missed out on the latest Community Stream, you can head over to Madden's Twitch channel to watch the episode. There's also a brand new Gridiron Notes here with a summary of important information.
Next Thursday brings a deep dive into Madden 20 Gameplay, so stay tuned for the latest developments on that! Get more of our Madden news here.