The Madden 21 All-Rookie program is set to arrive Friday, allowing Ultimate Team fans to add upgraded players to their rosters. Amongst them will be young stars, including Cowboys wide receiver Ceedee Lamb, Ravens linebacker Patrick McQueen, and Jaguars halfback James Robinson. Here's a quick look at what to expect in MUT on February 26.
Madden 21 All-Rookie program includes G.R.O.A.T. and Master player items
On Thursday night, EA's Madden Twitch channel had a special live stream to present the Madden 21 All-Rookie program. That included a look at all of the player cards for the promotion, ranging from 90 OVR to 98 OVR ratings. They were presented as a collection of players from different teams, and not necessarily the best rookie at each position.
The first player teased was Dallas Cowboys' wide receiver Ceedee Lamb who gets a Deep Threat Archetype and a 95 OVR item.
However, Lamb's card isn't nearly the highest-rated of the group, as that goes to the "Greatest Rookie of All-Time" aka the G.R.O.A.T., Jevon Kearse. He gets a 98 OVR card in the game as the Master Player Item. It includes 98 Finesse Moves, 96 Acceleration, 95 Play Recognition, and 94 Tackling.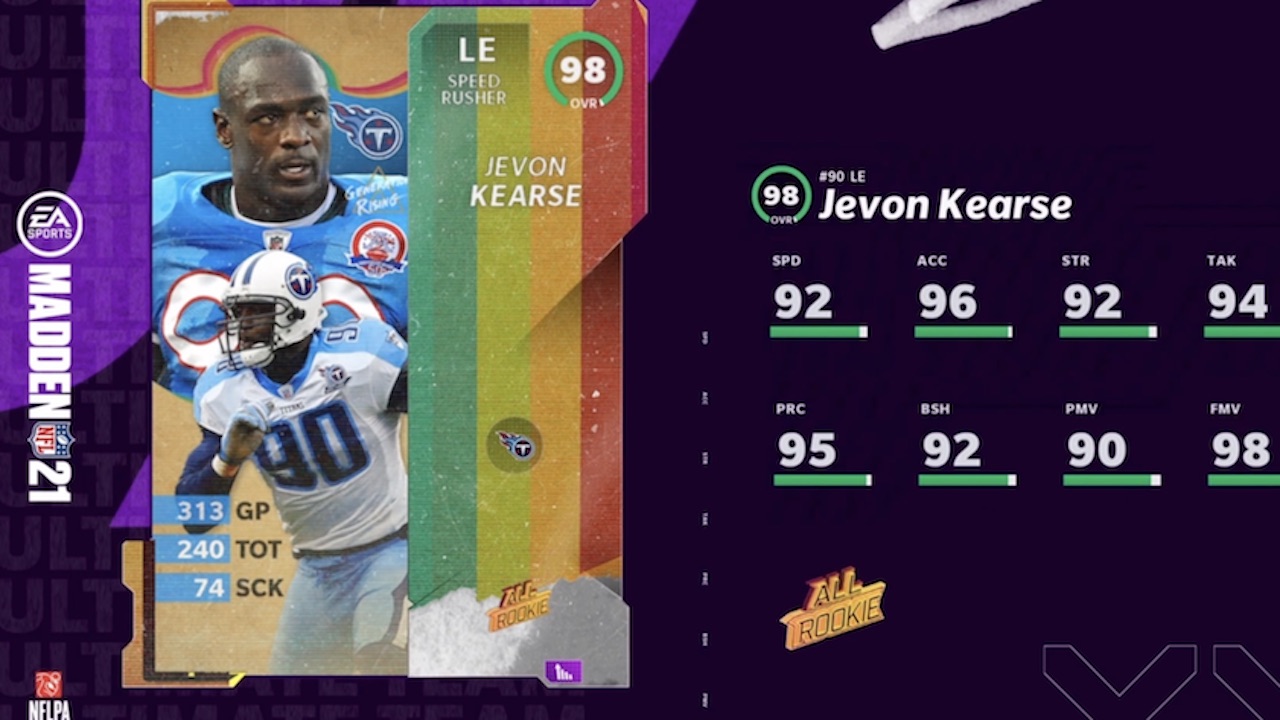 Joining Kearse with high-rated items are Pittsburgh Steelers receiver Chase Claypool and the Carolina Panthers' Jeremy Chinn. They are the Offensive and Defensive Master players, respectively, with new 97 OVR items available for each of them.
Other players who appear in the Madden 21 All-Rookie promotion include:
Mekhi Becton, LT (Jets) 96 OVR
James Robinson, HB (Jaguars) 96 OVR
Raekwon Davis, RE (Dolphins) 96 OVR
Patrick Queen, MLB (Ravens) 96 OVR
Ceedee Lamb, WR (Cowboys) 95 OVR
Cameron Dantzler, CB (Vikings) 95 OVR
D'Andre Swift, HB (Lions) 95 OVR
Mykal Walker, LOLB (Falcons) 95 OVR
Tua Tagovailoa, QB (Dolphins) 93 OVR
Kamren Curl, SS (Washington) 93 OVR
Damien Lewis, RG (Seahawks) 92 OVR
Javon Kinlaw, DT (49ers) 92 OVR
Cole Kmet, TE (Bears) 92 OVR
Xavier McKinney, FS (Giants) 91 OVR
Troy Pride Jr., CB (Panthers) 90 OVR
Michael Onwenu, RT (Patriots) 90 OVR
Lloyd Cushenberry III, C (Broncos) 90 OVR
Julian Blackmon, FS (Colts) 90 OVR
Program Missions, Tokens, Sets, and Store items
As with previous programs, the Madden 21 All-Rookie program will feature a group of new challenges in MUT's missions. By completing these, gamers can earn Madden Coins, All-Rookie Hero Tokens, and player cards at various Milestone tiers.
Exchange sets will also be available so that gamers can trade in various All-Rookie player items to get better ones. That will be one of the ways to go about acquiring the G.R.O.A.T. item for Jevon Kearse, as well as the various 95 OVR and higher-rated items.
For example, to get Defensive Master Jeremy Chinn, gamers need to trade in all four of the 95 or 96 OVR Defensive Heroes.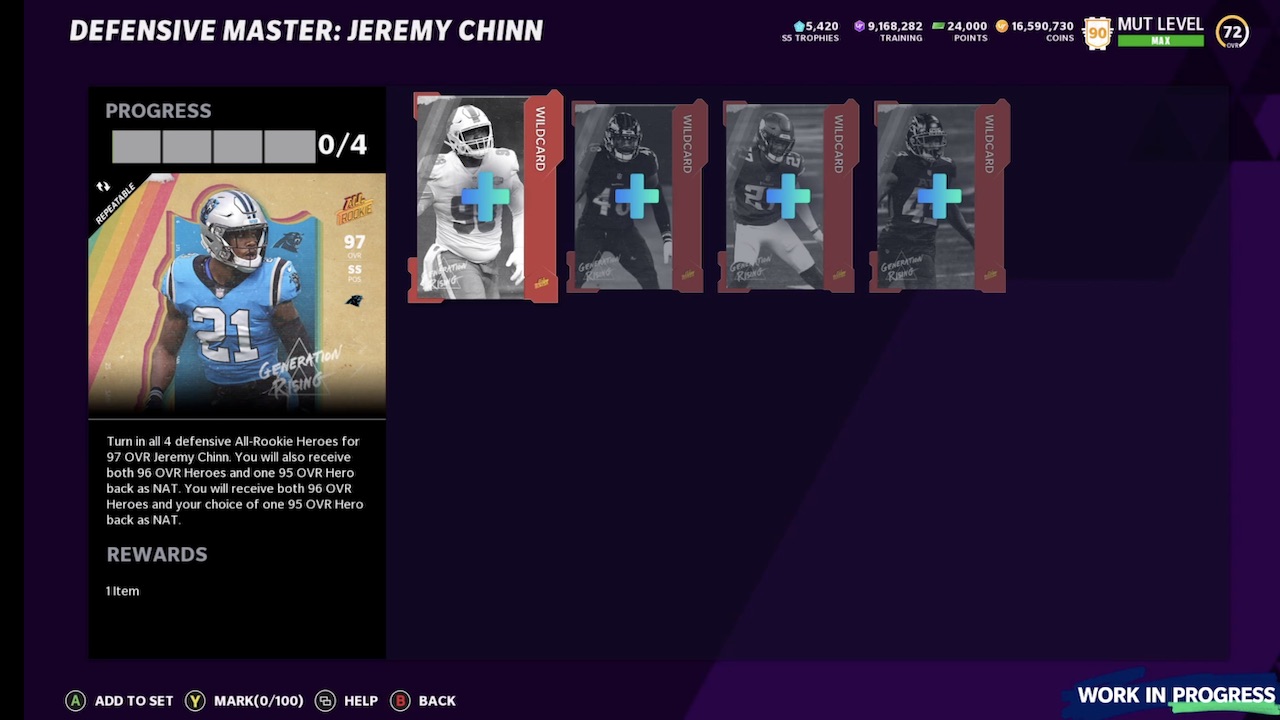 Several new Store items will also become available on Friday, February 26 when the program launches. These include items available to purchase for Training or Trophies in the Madden Store. These include a Random All-Rookie Hero Token for 1,750 Training and a 90+ OVR All-Rookie Player item for 9,250 Training.
One other note is that Rookie Premiere players will get their final upgrade of the season as part of the All-Rookie promotion. So gamers who still have those items as part of their MUT rosters should see the cards get upgraded as of Friday.
Some of the rookies have already gone to their highest level due to other promotions. However, rookies like Kmet and Mckinney will reflect the All-Rookie card attributes.
The Madden 21 All-Rookie program starts Friday, February 26, and ends on March 5, with one of two LTD items set to arrive on Friday. More details will arrive via the MUTHEAD website as the promotion goes live.
Visit our Madden news page for more of the latest current and next-gen game updates.