One of the exciting new modes built into Madden 21 is The Yard. It's a fast-paced 6-v-6 ironman style of football played on different outdoor landscapes. Right now that includes four unique venues to take your creative talents in order to try to increase your avatar's skills and swag. With this guide, we'll go over how to unlock Port of Miami in Madden 21 The Yard.
What is the Port of Miami venue?
As mentioned, Madden 21 The Yard brings four locations at the game's launch, with more probably on the way in the future. For now, one spot many gamers are looking to unlock is the Port of Miami. As one might guess, it's in Miami, Florida, near a shipping dock area for the port.
Port of Miami is the home of hip-hop star DJ Khaled, an available celebrity player in Madden 20 Superstar KO mode. Also with Port of Miami venue for The Yard, it's 1st and goal on every possession, giving it a unique rule to play with.
How to unlock Port of Miami in Madden 21 The Yard
So how do you actually unlock Port of Miami in Madden 21 The Yard? An early theory is you must go to the various stadiums and complete all the events for each. Each event has a minimum score to achieve to defeat it. That is what many people are speculating unlocks the venue for more use.
You'll start out with just Lambeau Tailgate and F.O.B. Nico as available venues, so you'll need to play through the events at them to unlock Berlin and Port of Miami. Here's a look at the events are for Port of Miami.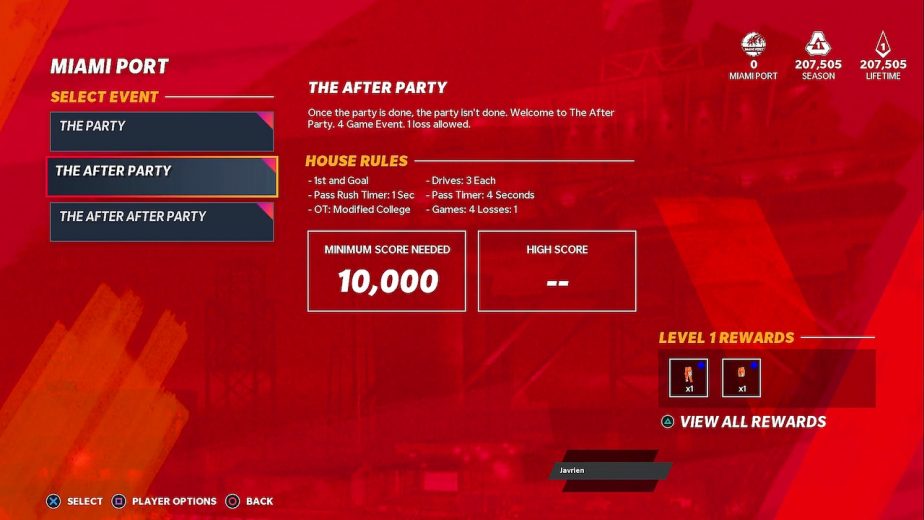 House Rules: 
1st and Goal
Pass Rush Timer is 1 Sec
OT: Modified College
3 Drives each side
Pass Timer is 4 seconds
Games and Losses vary (see below)
The Party – 1,000 minimum score needed (One Game)
The After Party – 10,000 min. score needed (Games 4, Losses 1)
The After After Party – 7,500 min. score needed (Games 3, Losses 0)
As mentioned, the theory was to go through all of the above events and achieve those minimum scores or better. Once you've done so, it was believed you could unlock the Port of Miami in Madden 21 The Yard.
The Yard venues will rotate weekly, more to come
However, Madden 21 The Yard producer JP Kellams tweeted about the use of venues in the mode. Basically, all venues are only available to play 1v1 matchups right now. Lambeau has the 2v2 and 3v3. The plan for the mode is to rotate which location will allow the 2v2 and 3v2 each week.
In addition to that, Kellam tweeted some other exciting news. He said based on the love The Yard is getting so far, they are looking into bringing more venues in the future.
The Yard features all sorts of fancy plays including laterals. Those passes are something you can use in other parts of Madden. See our guide here for how to lateral pass in Madden 21 games for Exhibition or Ultimate Team.
Visit our Madden page here for more guides and the latest news about the game.