With a new trailer video, EA has officially revealed the newest mode for their upcoming Madden 21 game. It's called The Yard and it packs a unique backyard football experience into the latest sim title. With this one, gamers won't be playing the traditional style of football, but instead on a smaller field, with less players, and different trick plays.
EA debuts Madden 21 The Yard trailer
We previously got a look at what Madden 21 The Yard is all about when the new mobile app revealed the mode. With that, we learned that gamers can progress on The Yard on the app and continue on with the mode on the video game (for console or PC).
Thursday, brought us the official trailer for the mode, so now we see some in-game footage of what The Yard looks like in action on consoles or PC. It's just 45 seconds but gives examples of how the games won't play out like the regular Madden sims or even Superstar KO mode. We also see the unique locations, how there's more trick plays, fewer players, and smaller fields.
It looks like gamers will certainly get a fun new experience, bringing more creativity and social interaction into the popular football game. Once The Yard is up and running, Madden 21 guides will start arriving online to give the best tips and tricks for playing the newest mode.
New mode involves custom avatar for ironman football
Madden 21 The Yard mode involves customizing your own avatar and then choosing how you'll line up on the field. You'll have to pick which "Prototype" you want for your avatar. These are based on current and past stars of the gridiron, giving each Prototype a unique style of play.
The Yard games are backyard-style ironman football, so you're playing both sides of the ball. For example, you can choose to be the quarterback on offense, and then you'll play strong safety on defense. Or you can choose to be a wide receiver on offense and a cornerback on defense. Other combos include MLB/center, a slot WR/slot CB, and HB/outside linebacker.
That is your avatar's Prototype (below). Each of these Prototypes also brings a special X-Factor with different ways to unlock them in The Yard compared to standard Madden games. So that could mean your QB has the Truzz X-Factor like Lamar Jackson. You might also have one of the defensive X-Factors we've seen revealed for safeties in Madden 21.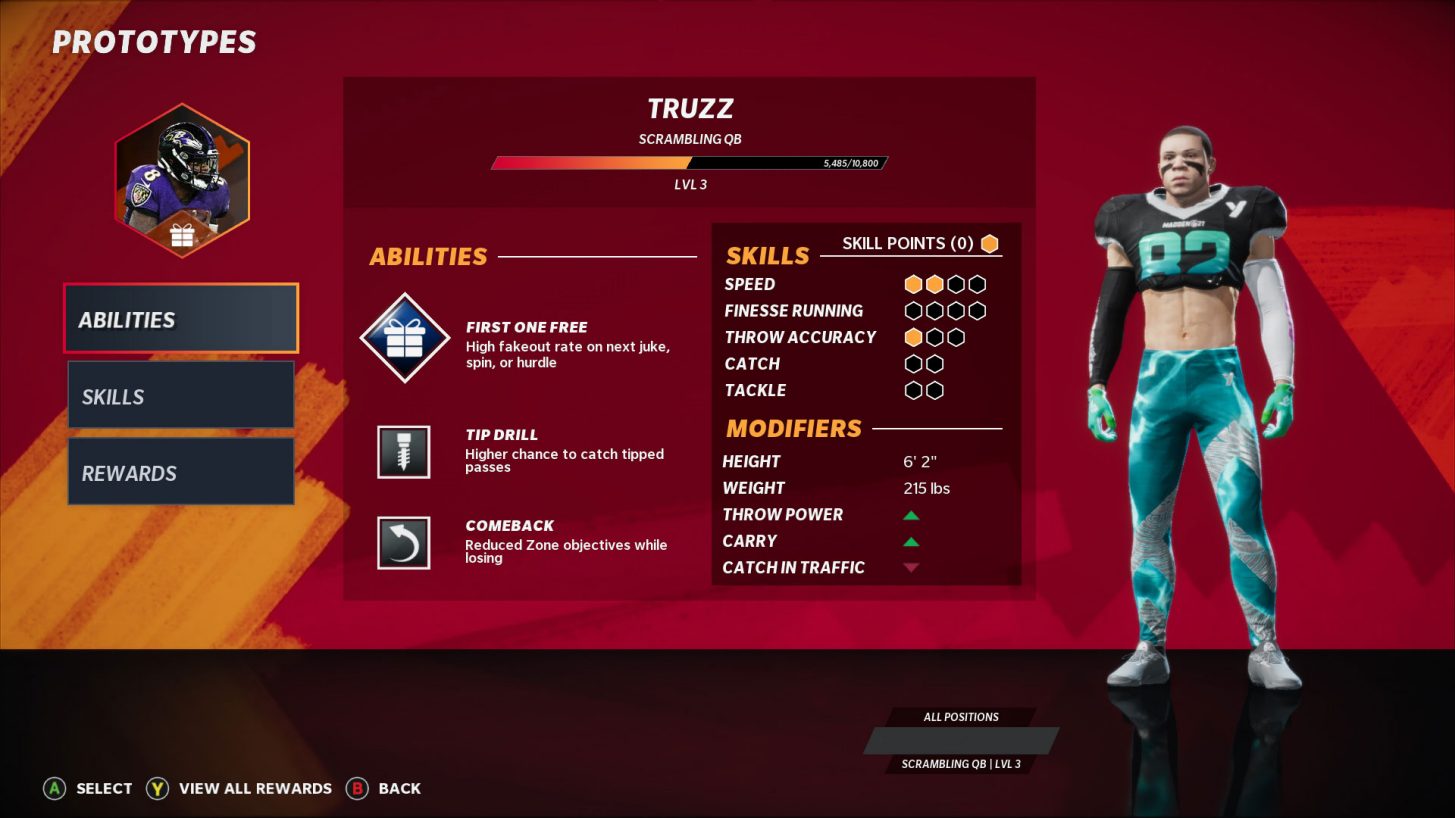 Your avatar also starts out with a few Abilities. As you level of up through Face of the Franchise and other ways you can add more Abilities. You can use two Abilities of your choose for each Prototype you have.
The Skill Points are acquired by leveling up your Prototype. With those, you can influence certain skills traits that your Prototype has. This will become secondhand as players begin to dive into the mode, but they'll see through menu screens which traits are maxed out versus not up to par.
Multiplayer options, four stadium locations
One of the other great aspects of Madden 21 The Yard is co-op play involving joining and competing against other gamers online. While The Yard games are 6-v-6, you can play solo, with another person, or two other people online.
Since it's 6-v-6, that means playing solo involves controlling two other players on your six-player team. In a duos game, each person controls two other players. If three people are playing, then each of them controls another teammate.
So far, there are just four unique locations where you'll play your games in The Yard. We saw those shown off in the official trailer above. There's Miami Port in South Florida, right near a shipping dock area.
Another venue is the Lambeau Tailgate, right outside of the Packer's historic stadium. With Forward Operating Base Nico, aka F.O.B. Nico, you're at an undisclosed location against NFL Combine stars. Finally, there's Berlin's Brandenburg Football Festival where you'll take on NFL Pro Bowl stars.
Each of these locations offers unique drills, challenges, and/or rules such as 1st and goal situations, or changing pass rush timers, or other things to keep you on your toes. These can also change from time-to-time, per the creative team.
A new Instagram page called @thisistheyard arrived with the new mode. That's because of the social aspect of the mode including sharing cool plays or moments from games. Check out the rules of The Yard in their IG post below.
See even more details about The Yard including scoring, screenshots, and more via EA's official Gridiron Notes on their website.
Visit our Madden news page to stay updated on the new game.