With Madden 22 coming out in a month, many fans are anticipating the big changes for the EA football game. Among them, Madden 22 Franchise mode is getting some much-needed attention. One of the most requested updates is a Scouting feature. However, it won't arrive until a month after Madden's release date. Ahead of the update, more details arrived during Monday night's EA Play Live 2021 Spotlight about Madden 22 Franchise.
EA Play Live 2021 Spotlight Series features Madden 22 Franchise Mode discussion
On Monday, July 19, a pre-recorded group discussion about Madden 22 Franchise Mode arrived as part of the EA Play Live 2021 Spotlight Series. This series brings additional EA content to gamers live online ahead of the EA Play event on July 22. Present for the panel was Seann Graddy, Madden Executive Producer; Tom Lischke, Madden Franchise Producer; and Andre Weingarten, Madden Game Designer.
During their chat, they talked about the big role the community has played in them implementing requested features for the Madden NFL 22 game. They also dove into a discussion of Franchise Mode's major addition, Scouting. They reiterated this is being targeted for release in September. It will be the first of three major Franchise content updates throughout the season after the game's release.
Check out the Madden NFL 22 All-Access on Scouting for EA Play Live Spotlight at around the 31-minute mark in the video below.
Latest Scouting details arrive for Franchise
With EA Play Live 2021 Spotlight Series, more insight into Scouting arrived. Madden 22 Franchise Mode features an entirely different way of scouting players compared to previous games. They're basically moving away from the Scouting points system. Instead, gamers are involved in making key decisions throughout the season that can help progress every single player on their specific draft big board.
There's a baseline Scouting report for every player in the latest draft class. The decisions gamers make each week in Franchise will shape how their specific board evaluates itself over the season.
If gamers don't interact with the system, the computer will handle it for them. So it won't end up costing those who don't interact as much. Realistically, gamers can just assign Scouts pre-season and then they'll go out and do their thing. In pre-season, it will come down to evaluating the big board, see a mock draft, and sending the scouts to areas of interest. Then they'll act accordingly.
Gamers can also adjust things weekly. It's really based on how people choose to play the Franchise mode.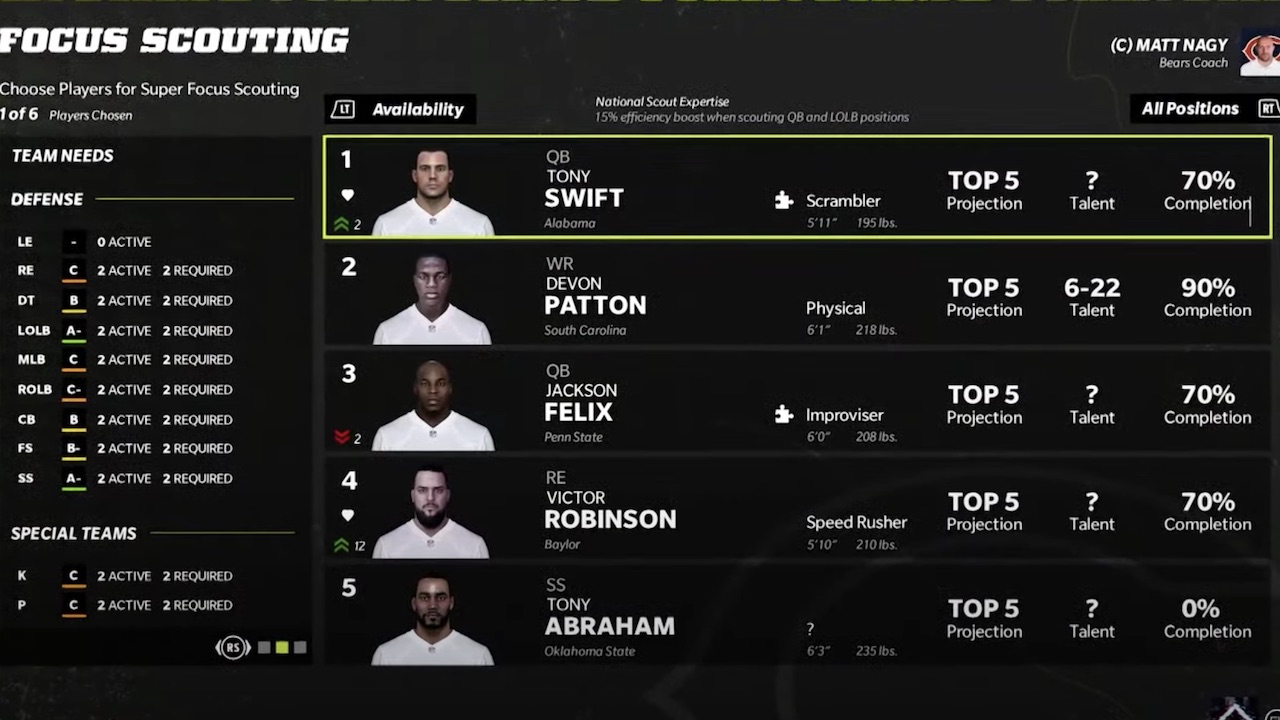 Regional and National scouts focus on specific positions, draft needs
With Madden 22 Franchise Mode Scouting, there are individual scouts, each with strengths and weaknesses. To assign scouts, gamers pick a specific position to evaluate for each of the four regional scouts and a national scout.
There will be tiers to the scouting department that gamers need to fill. That will modify how much bonus is given out to scout a position of expertise. So gamers can pick the scouts most logical for their needs.
As a tease, they said two positions of expertise will be revealed in the future. They revealed that the second position of expertise is grade out, which will be accessible post-launch.
There's a Draft "big board" just like the NFL has with players to scout. In addition, EA is aiming to have five mock drafts throughout the franchise season.
Players will move up and down the draft board based on various components. That could include a media report that a player had a string of good (or bad) games recently. The AI will draft players based on the changes in perception of the players' values, making Scouting a valuable addition to Madden NFL 22.
Check out more Franchise Mode details here and in the video below.
Madden 22 release date, early access options
The official Madden 22 release date is set for Friday, August 20, 2021. This is the release date for the standard edition of the game. However, customers who pre-order the MVP or Dynasty Edition get to play the game three days earlier on August 17, 2021.
There are also EA Play benefits which include even earlier access to start playing Madden 22. With an EA Play membership, gamers get a 10 percent discount off the price. In addition, there's early access starting August 12, 2021, which includes unique, limited-time Ultimate Team Challenges.
See more details about EA Play Membership here.
Visit VGR's Madden page to get more of our stories about EA's game.