After a teaser a day ago, EA revealed details for their Madden 20 Ultimate Team 10 promotion. It will feature new player cards over 10 weeks of the season. One of the first reveals was a major legend in the sports world too. In addition, EA addressed a huge Ultimate Team glitch that came about this past week with a special Training refund for those involved.
Madden 20 Ultimate Team celebrates MUT 10 with special player cards
Madden 20 Ultimate Team has already unveiled several big events including MUT 20 Flashbacks, Veterans, Heavyweights, and more. However, their new promotion celebrates the 10-year anniversary of Madden Ultimate Team. Each week, they'll unveil a brand new player card as part of the event with players who transcended their positions on the gridiron. In addition, each week of MUT 10 brings a brand new challenge for gamers to participate in.
For completing each player's weekly challenge, gamers get the player's Power Up item along with a collectible item that goes into a 10th Anniversary set. By earning all 10 collectibles for the set throughout the event, gamers get a Fantasy Pack. That special pack will include each of the weekly players from the MUT 10 event. Gamers will get to select a NAT version of one of the players.
Sure enough, on Friday, August 23, They dropped a major reveal with a look at what appears to be the first MUT 10 player card. It's none other than Bo Jackson! Bo is the popular two-sport legend who played for the Oakland Raiders in the NFL and Kansas City Royals in MLB, among other teams. Those who grew up in the late 1980s and early 90s remember the famous "Bo Knows" campaigns from Nike.
Here's a look at the special Bo Jackson MUT 10 card for Ultimate Team: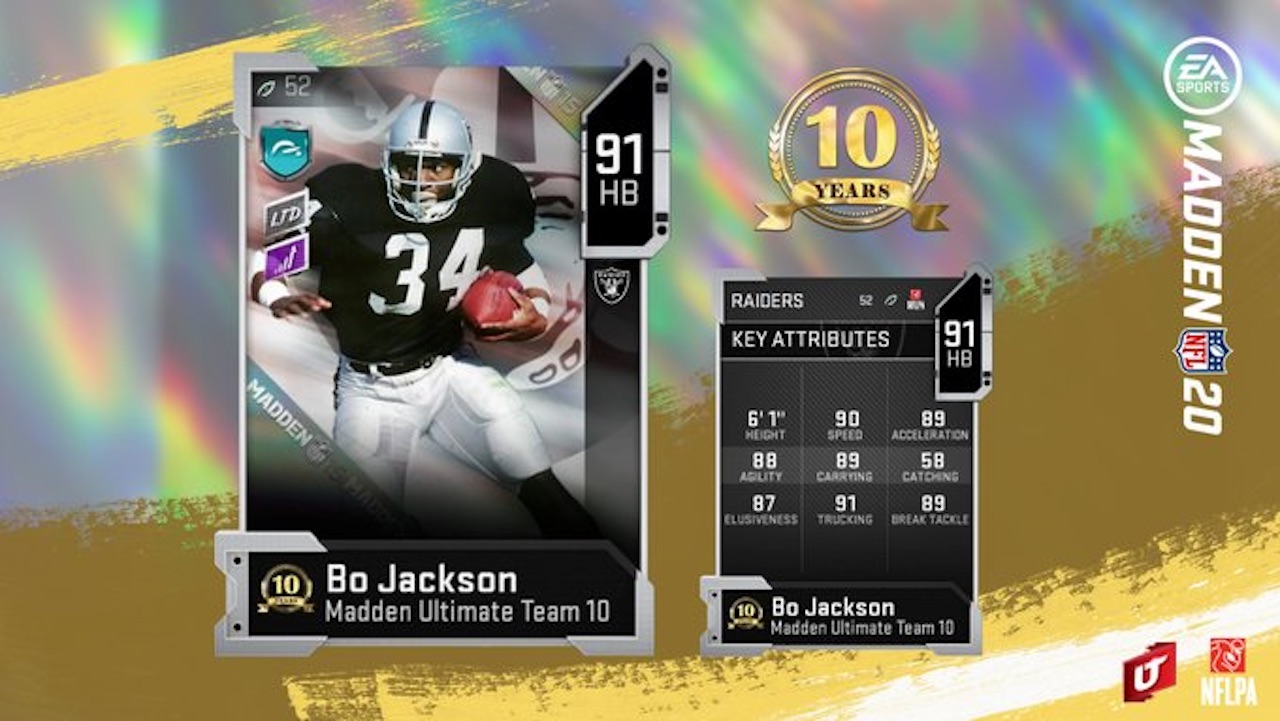 Bo Jackson's card brings a 91 overall and the Madden Power Up symbol for upgrade possibilities. However, it's pretty sweet before even upgrading with 90 Speed, 91 Trucking, and 89s for Accerelation, Catching and Break Tackle.
The first of the MUT 10 Player Challenges is now live too. You'll have Bo Jackson on your Ultimate Team and need to win games on different difficulty levels to earn the different Star levels. You'll also earn rewards for completing the challenge with Coins, a Bo Jackson Power Up item and the special MUT 10 Collectible.
EA addresses recent MUT 20 Training issue with a refund
The recent Madden 20 title update brought a lot of changes and fixes including new Superstar Abilities for offensive linemen. There were also gameplay tweaks, fixes for various glitches, and more. Unfortunately, the big update also caused a glitch allowing gamers to no longer honor certain requirements needed to unlock chemistries and abilities. The developers caught this issue a bit late but they put out a fix to re-hide those chemistries and abilities. They're now going to address the issue with a Training refund.
According to EA Madden Twitch video earlier, the folks at EA are looking at the six-to-seven-hour window for when the update hit PS4, Xbox, and PC until when the server issue fix arrived. EA Madden will remove all purchases for chemistries and abilities during those time windows. Gamers will get a refund for all their Training and an additional 20 percent Training for the trouble.
So keep an eye out for that refund if you might have upgraded your players during that recent time window after the August 20 update arrived.
Get more of the latest Madden 20 news here.