Figures released for the number of players who played Metro Exodus in its first 10 days on Xbox are now available, and they show a rise for the game over all previous outings of the series. Although the game's total gameplay only ranked at #32 at debut, and #27 in its first week, a number of factors show that this isn't necessarily an issue for 4A Games.
Metro Exodus Xbox Gameplay Figures
The new figures, highlighted recently by TrueAchievements, show that in its first 10 days, Metro Exodus had more players than any previous Metro game. The game launched with just under 5,000 players starting the game, and rose to over 7,500 within 10 days. The final figure was only matched on one occasion; by Metro Last Light on the Xbox 360. In its case, Last Light released at debut with less than 2,500 players, but saw more significant growth over time, eventually reaching roughly the same figure. However, it never went higher than Metro Exodus.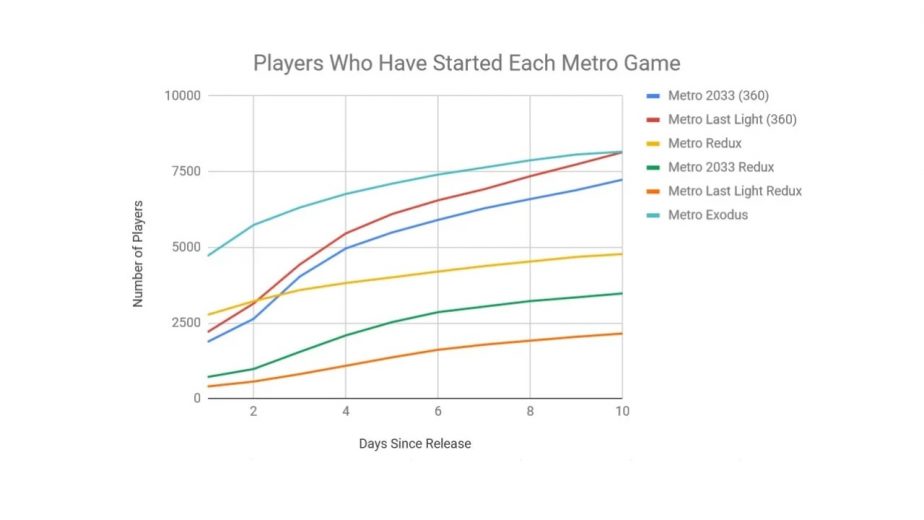 Sales-wise, Metro Exodus performed very well at launch. The game launched at #2 in the UK retail charts, less than 2,000 units behind Far Cry New Dawn; an increase of over 50% from the sales performance of the last instalment. When it comes to total number of players in its launch week, as stated above, Metro Exodus only managed to reach #27 in its launch week. However, that's not necessarily a poor showing. That ranking is dominated by long-term online multiplayer titles, with Apex Legends, Fortnite, GTA 5, and other such games dominating the top spots.
As such, it's tough for new titles to break into the higher spots, especially when they're single-player titles from lesser-known franchises, as Metro Exodus is. By comparison, Metro Exodus still placed higher than Far Cry New Dawn, its most obvious competitor. All told, 4A Games is unlikely to have any major concerns about their launch on Xbox. The game performed better than any previous Metro game, both for sales and player numbers on Xbox; those are certainly figures which are likely to support the franchise's future.