The New York Yankees and Houston Astros have "World Series or Bust" written on their jerseys in 2019! So far, the Astros have had their way with the Yankees. When the two meet up on Wednesday, (April 10) the Astros will try to complete the 3-game sweep of the Bombers. Can the Yankees scratch out a series finale win, or will the Astros pull out the brooms this evening? MLB The Show 19 Gameplay simulation has expressed their thoughts on the big game.
MLB The Show 19 Game of the Week
The Astros won Game 1 of their three-game series against New York on Monday by the final score of 4-3. On Tuesday Houston struggled with runners in scoring position in a big way.
Through six innings on Tuesday, the 'Stros were a dismal 1-for-10 with runners in scoring position. Yet in the end, their scrappy play led to a 6-3 victory. While it is early in the season, New York doesn't want to get swept by the team many consider to be the best in the American League.
How will Game 3 play out? The Sony masterminds have an opinion! They ran an MLB The Show 19 Gameplay simulation, and here is what they came up with.
Gameplay Simulation Results
In a classic pitchers duel between New York's James Paxton and Houston's Collin McHugh, runs were at a minimum.  
The Astros struck first in the third inning on RBI's from Jose Altuve and Alex Bregman giving Houston a 2-0 lead. It stayed that way until Tyler White smashed a double off the wall driving home the third of the evening for Houston, stretching their lead to 3-0.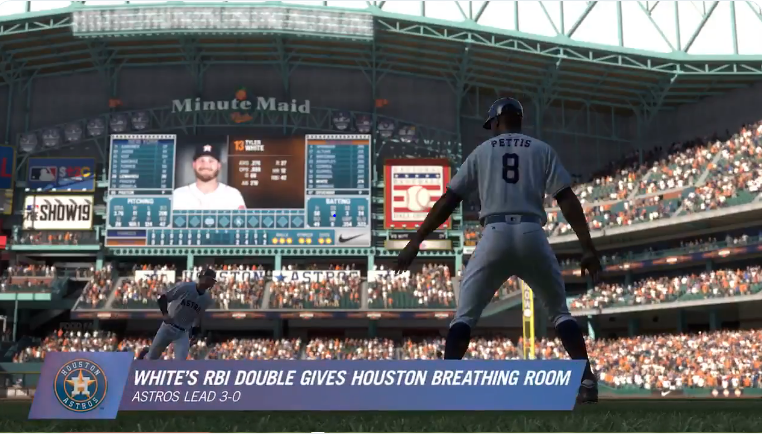 Those three runs were enough to stand strong as the bullpen closed out the Yankees by the final score of 3-0. James Paxton pitched well enough to get the win, however, the Yankees lineup was stifled by Houston's strong pitching.
Roberto Osuna was great in relief for the Astros, helping him earn the save.
Will the latest MLB The Show 19 Gameplay be accurate? Gamers will find out in just a few hours. Game 3 is scheduled to begin at 7:40 p.m. ET.